Prospects
A serious hand injury threatened the promising career of former Olympic boxer Bradley Saunders. However, after six fights in the last 18 months the 27-year-old is looking to make his mark on the light-welterweight division. Sky Sports caught up with him.
By Shaun Brown
Last Updated: 25/07/13 10:14am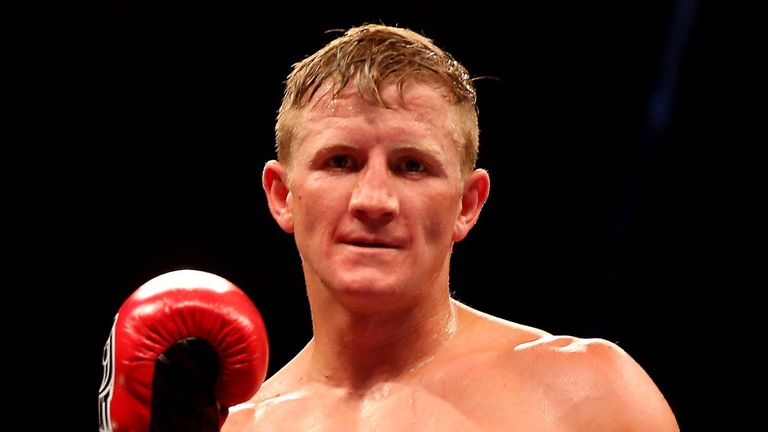 Set them up and I'll knock them down was the mood of Bradley Saunders after his victory last Saturday in London.
With an unbeaten record after six fights the 27-year-old is in a hurry. Despite entering the professional ranks just last year, the County Durham light-welterweight isn't concerned about what years are on the clock but does want to be fighting for meaningful titles as soon as possible.
Speaking to Sky Sports from Marbella, he said: "I'm not stupid when it comes to the boxing side of my life. I'm not saying I want to fight certain people.
"Darren Hamilton is British champion and he is very effective at what he does. He's getting results and knows how to win and right now I'm not looking at anyone in particular. But I'm wanting to be out three times this year and I don't want to be held back. I want to get a move on and I don't care who's put in front of me."
His stoppage win over Michael Kelly, who's only other loss inside the distance came at the hands of British welterweight champion Frankie Gavin, was Saunders' first outing in 2013 after suffering another hand injury (against Peter McDonagh last November) which threatened his professional career.
After a successful operation it's all systems go for the 2010 Commonwealth games silver medallist. And finally he doesn't have to worry about his hands in the ring.
"Before the operation it was always in the back of my mind about what might happen to my hands when I was punching. The professionals is already a completely different game with some really tough men without me having to worry about throwing shots.
"It definitely affected me but now I've had the operation (which involved taking a bone graft from his hip to fuse his hand together) I can relax and I can't thank the medical staff enough for what they've done for me, particularly the surgeon Mike Hayton."
Temptations
Saunders, who was first taken to a boxing gym by his mother, enjoyed his amateur career inside and outside the ring.
Winning championships and taking home medals became second nature but he admitted that at times corners would be cut and temptations couldn't be avoided. Charges of drug possession in 2008, which were dropped, being a notable example. Lessons have been learned and now his focus is on nothing but boxing.
"I'm old enough now not to listen to other people, I know what's best for me now. In the amateurs I'd grab late nights with the lads but I've done enough of that now," Saunders laughed.
"In my own mind I didn't turn too late as a professional. There were certain experiences and competitions that I hadn't done and that I wanted to be a part of like the Commonwealth Games. I did everything I could in the amateurs, I beat guys who were double Olympic champions, I was in with the best and I rarely lost. Part of that was because I always feared losing, I always had that in the back of my mind."
Under the banner of Frank Warren Promotions, Saunders has already sampled the big events. On the undercards of Dereck Chisora vs Malik Scott as well as Ricky Burns vs Kevin Mitchell last year is enough for the lad from the North East to give him an ambition to headline a show back home.
And with talent in the area like Josh Leather, Saunders is confident it won't be long before he and others are bringing big time boxing back to his area.
"My following is getting bigger all the time," said Saunders. "I've got a style that fans like. I'm heavy handed, I've got a chin, I can take a shot and I come to fight. Even though I can take a shot I don't want to be taking too many of them!
"We've got a lot of good kids coming through from where I am, my little brother [Jeff] has won a senior ABA too. Believe me, as soon as I win a title I'll be boxing in the North East and it will be packed out."
The journey of Bradley Saunders has barely even begun but already he has seen the highs of a world amateur bronze medal in 2007, his professional debut and five appearances last year, to a shock second round defeat in the 2008 Beijing Olympics Games and the word 'metacarpal' becoming part of his every day vocabulary. The roller-coaster has finally settled down and evened itself out.
"I don't know anything else other than boxing," he admitted. "We're a boxing family and when you turn professional it's pretty much your last chance before it's even started. It's make or break.
"I'm gonna make the most of my time in boxing and by this time next year I want to be a champion."