Prospects
Wadi Camacho was building a big reputation before suffering a surprise defeat to China Clarke earlier this year. However, he bounced back in style by lifting the Prizefighter trophy and is now looking forward to a British title eliminator.
By Shaun Brown
Last Updated: 23/08/13 12:50pm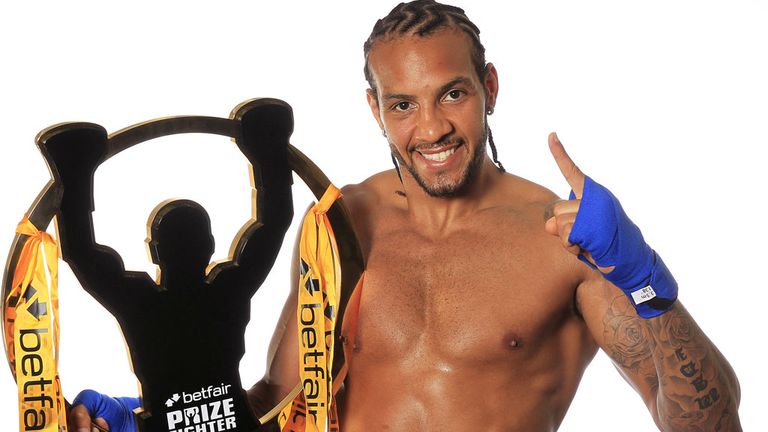 The bubbly 28 year old Spanish-born Londoner's year began with a demoralising defeat to China Clarke but looks like ending with a flourish.
The 10-1 (6 KOs) cruiserweight triumphed in May's Prizefighter event and has now landed a British title eliminator against Tony Conquest at the O2 Arena in London on October 5.
That night will see Matchroom's new heavyweight recruit Anthony Joshua grabbing the headlines but Camacho is keen to steal a bit of the spotlight for himself as he told Sky Sports.
"I'm going to go on to a different level from my last fight. Fans are in for a treat," Camacho said. "I've watched him [Conquest] through the amateurs and his professional career and there's nothing I have to change about my style to beat Tony Conquest.
"I'm better than him at all different aspects; he's not faster than me, he's not more powerful than me and he's not a better boxer than me.
"I'm really grateful that I'm on this fantastic bill. All the fights I've had told me it was going to lead up to something big, and it's good because the arena is only five minutes from my house!
"It's a final eliminator for the British title but when Eddie Hearn told me who I was going to be fighting I was even more pleased because I'm from Canning Town in East London and he's from Romford, Essex. A lot of his fans know me as well, it'll be a big fight with rivalry but I just have to go in and do the business."
Camacho will be hoping that the 'rivalry' doesn't spill over into the ring too much and cause a slip up as it did against China Clarke back in March. Both men went into the ring with their unbeaten records on the line and the English title at stake.
Bombs
Camacho admits that Clarke 'got under his skin' and that he threw his original gameplan away in order to knock his opponent out early doors. The 'Machoman' paid the price as he was stopped in the seventh round.
"With that fight, if you look at the video carefully then look at all my previous fights you can see I'm a boxer. Even though I have that raw power I am a boxer. I went into it straight away and I was throwing bombs from the first round.
"I was pumped up with anger from the beginning. When do I ever in my other fights throw bombs in the first round? I just don't do that. I was a bit annoyed in the changing room with my manager, my agent and I had certain people in the changing room that wasn't meant to be there.
"I took it on the chin, it was my mistake. I didn't feel once that Clarke got on top of me, it was a mistake by me going 100mph throwing a hundred punches. I'm not Superman", said Camacho.
Going at full throttle seems to have been something that Camacho has had to contain throughout his adult life. As a boy, Wadi searched for the one thing that would allow him to work off all his energy yet allow him to have enjoyment at the same time.
As an all-round athlete he tried various sports including a period of two years playing football for the juniors at West Ham Utd. That still wasn't enough. Then came boxing.
"I just had too much energy and I had to find a way to release it," he recalled.
"I loved boxing when I was younger but my Mum wouldn't let me do it. At a certain age I started doing it and then I got 100% support from my Mum, she knows now that I'm going all the way to the top.
"I came over to the UK when I was six years old from Spain so I see myself as both Spanish and British. My family are the most important thing to me. I have all my big sisters at ringside and they get a bit nervous when they see all the cameras but they're getting used to it more.
"I've got their support, they know how hard I train. I see my sisters and my Mum every single day. The most important thing is having my loved ones around me."
Changes
After the Clarke loss, Camacho left the tutelage of Brian Lawrence to begin working with Dereck Chisora's trainer, Don Charles. Camacho hasn't looked back and with Charles in his corner he is confident of cleaning up the cruiserweight scene before joining ranks with 'Del Boy' at heavyweight.
"Moving over to work with Don Charles has been fantastic", said Camacho. "Sparring with Dereck Chisora, you don't get better than that. What other cruiserweight spars with [David] Price, Chisora and do rounds and rounds with them?
"No other cruiserweight can do that and the guys know I can handle them so can you imagine what I'm going to do to normal cruiserweights? And when they're in the ring with me I'll show them the full power and full force from me.
"Once I've conquered the cruiserweight division I will be making the same move that David Haye did and move up to heavyweight. I'm 6ft 4ins, I'm taller than him and got power just like him. The more experience I get the more dangerous I'm going to be. I feel sorry for all those cruiserweights out there."
The uber-confident Camacho then told Sky Sports that there would be a gift for all the 'ladies' who buy a ticket to his fight.
"For everyone that's coming down to the O2 on October 5, all the ladies that purchase a ticket will get a small present from me so you can look amazing on the night. I've got all the time in the world for my fans. It doesn't matter what I do or what I've got, I'm Wadi and I won't ever change."