Prospects
Prizefighter winner Chris Jenkins has set his sights on a shot at the British light-welterweight title
By Shaun Brown
Last Updated: 29/08/13 3:12pm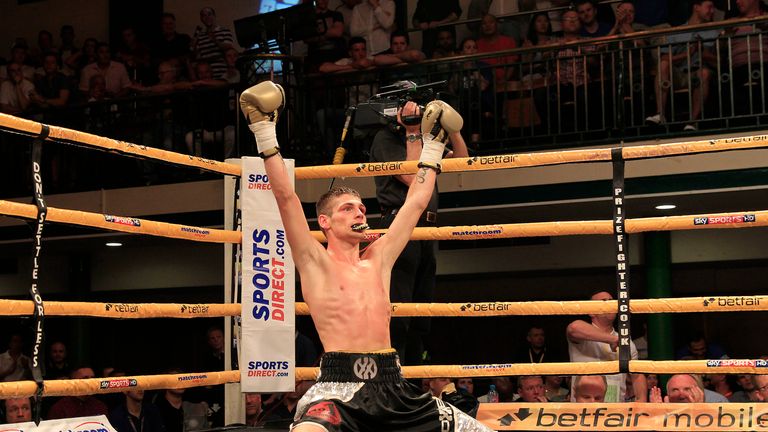 The exuberant Welshman has seen life go back to normal after his win in last month's Prizefighter event and the 25-year-old light welterweight says that fans have only seen a glimpse of what he can do in the ring.
"Those who saw me on Prizefighter have only seen a little bit of my abilities," he told Sky Sports.
"I've got a real rock and roll style; I can box, I can fight, I can have a bit of a war if I have to although my corner wouldn't like it.
"I want to be British champion, I want to defend it three times and win it outright and obviously move on one step at a time.
"I've got a good team behind me in Paul Royce Promotions and they're looking after me and keeping me busy and it's going to be my time now."
Before his Prizefighter success, Jenkins' first seven fights were the usual mix for a prospect. Four- and six-rounder's that consisted of facing the likes of 'journeymen' Arek Malek and the late, great Billy Smith.
Thanks to them Jenkins was picking up little tricks, learning how to pace himself and knowing when to throw his shots.
"I was coming along nice and steady," said Jenkins.
Then came the call to take part in Prizefighter.
'Tunnel vision'
"Well when I had the phone call from Mr Royce I was like 'whoa, say that again'?
"Obviously he's been working on getting me on to other shows but when I was in I looked at what boys were in there, and some had good records and some you didn't know nothing of.
"I just trained hard and on the night I took it one fight at a time and on the night I showed I can box, I can fight and I had tunnel vision on the night for the £32,000 which I won," he laughed.
The decision to pick up a pair of boxing gloves at 12 years old was paying off for Jenkins. After a mini-celebration with his fiancee (who he will marry in November), he then had to adapt to the life of being a mini-celebrity back home in Wales.
He added: "I had people asking me for autographs and I could be in the local shop just getting some bread and milk and be in there for a lot longer because the guy over the counter wanted to talk about what I'd done which is brilliant.
"Now it's time to move on. I've got a nice sponsored car and I've had people take an interest in and out of the ring. It's been mad but it's calmed down a bit now and it's now all about looking forward to the next fight."
The father of two finds himself on the fringes of the British 140lb top ten and is only looking one way. A six-round contest may be the order of the day in Glasgow next week but Jenkins will be soon seeking far greater challenges in the months ahead.
And studying in sports physiotherapy does have its benefits.
"I've been doing sports physiotherapy since I was 18 so I know when something's wrong, when I've got a niggle for example. I know what's going on with my body. I know when to slow down and when to pick up the training so that's one of the advantages from my job that I do."
Jenkins, born in Swansea, is aware of Wales' boxing's achievements, specifically since Joe Calzaghe won his first world title in 1997.
Welsh pride
After Nathan Cleverly and Gary Buckland's recent defeats, Jenkins hopes that the likes of he, Lewis Rees and Lee Selby can give Welsh voices something else to cheer about in the months and years to come.
Speaking about the future for Welsh boxing, Jenkins said: "It's just down to that individual person and if they want to train hard and really make something of their life.
"You've got some good lads in front of me, [Darren] Hamilton's still British champion obviously and I have a little gander here and there at what's going on above me," Jenkins said.
"The boys who are above me have had more fights but after winning Prizefighter there's been a boost for me in many ways. I'm happy where I am but I can't wait to get the chance to fight these boys because that's the way it's going."
By day, Jenkins is focused on becoming a fully qualified sports physiotherapist - a goal that's been assisted by helping out a local rugby team.
Having something to fall back on is vitally important to Jenkins in case all things boxing do not work out. But he admits that by next year the aim is turn full-time and attempt to emulate the great boxing feats achieved by some of his countrymen.
"Well I'd love to turn full-time straight away but as you're coming through the rankings you have to work your way through to physically fund yourself but I'm lucky now that I've got sponsors for things like my kit and my brain scans."
"Calzaghe was the best. Selby's on the scene. Buckland lost but we've got a few lads out there who can make it.
Me personally, I've tried to make something of my life and I'm good at what I do so why not keep going and hopefully one day I'll become a great boxer or at least someone who gave it their best.
"I want to make it, I've got my targets and as soon as I reach them I'll move on to the next. I'd love to be the next Joe Calzaghe, I'd love to be the next Floyd Mayweather but I'm a bit far away from that!"