Prospects
Top amateur Leigh Wood got a head-start on his former Team GB stablemates by turning pro before the London Olympics. Sky Sports' Rob Lancaster caught up with the youngster at the Ingle gym in Sheffield.
Last Updated: 02/10/13 7:48pm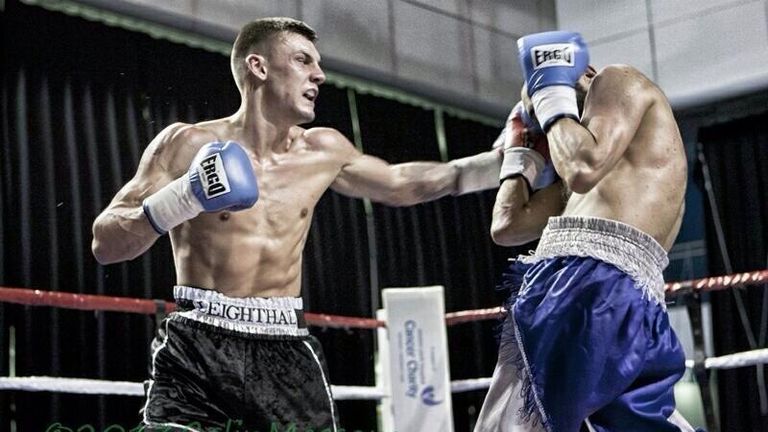 Not only is the unbeaten 25-year-old aiming to become a British champion in the not too distant future, he is also optimistic that his beloved Nottingham Forest could soon be back with the big boys in the Premier League.
While Wood can do little to help Forest achieve such a target, he is determined to do all he can to keep himself on the path to success in the ring.
At 9-0 he has made a pretty good start to life in the professional ranks, though quite at what weight he will end up challenging for a Lonsdale belt is not yet clear. Having fought at bantamweight as an amateur, he's since been in action at both super-bantam and featherweight in the paid ranks.
So exactly where does the man himself think his long-term future lies?
"If an opportunity comes up at featherweight I will take it, but I'm a bit of a monster at super-bantamweight," he told Sky Sports after a training session at the Ingles' Gym in Sheffield.
"It's not too rough for me to make it (the limit). That's the weight I want to stay at, that's the weight where the names are. It's the one that is the most exciting for me.
"As an amateur I was on Team GB as a bantamweight. I was making it on the day and it was killing me. Talk to (Team GB trainer) Rob McCracken and he will tell you I was running every day - I think he once caught me in Nottingham running on my day off.
"I'm just going to wait for an opportunity. I think the Commonwealth (belt) at super-bantamweight will be vacated very soon. Carl Frampton has that but will be boxing for bigger and better things."
Head start
Wood took the decision to turn pro in 2011 after realising his chance to represent Great Britain at the London Olympics had disappeared with a narrow defeat to James Dickens.
It meant that while several home fighters were enjoying success and celebrity status during and after the 2012 Games, the man nicknamed 'Leigh-thal' was getting a head start on his former GB team-mates.
He opted to become part of the rich history with the Ingle family in Wincobank, joining a stable that includes Kell Brook and newly-crowned British super-bantamweight champion Kid Galahad. It is a decision Wood feels has been crucial to his career.
"I was training harder as an amateur, but the guys who were guiding me off GB were not as experienced," he admitted, whilst sitting in the new gym area constructed to help aid the vast number of fighters who come to use the facilities.
"Now, with all the knowledge that has been passed on to me here (at the Ingles' Gym)...if I knew all this back then I would have done so much more.
"I love it here - I'm getting fitter and picking things up. If I didn't box here then I wouldn't box anywhere else. If I wasn't here I wouldn't be boxing at all, that is how highly I rate the gym."
Such is Wood's focus on his boxing career that he's now spending more time in Sheffield, though he still keeps right up to date with Forest's progress in the Championship under current manager Billy Davies.
"I'm hoping they get automatic promotion," he said of the two-time European Cup winners. "I don't want to jinx it. They're looking good.
"I'd like to get back more. Before I was going home at weekends and I was trying to see all my friends and all my family, because I didn't want to let anyone down. I was training twice a day Monday to Friday and then rush around, meaning I wasn't able to recover.
"Now, from about seven or eight weeks out from a fight, I'll stay in Sheffield every weekend. I'll get sent home on the odd Tuesday, allowing me time to see my mum and my sponsors.
"It's strict in that sense, but the last fight proved it worked because I felt great. It was perfect."
Perfect is what Wood has been so far, and although his next test against Ashley Lane has been pushed back until the start of November, it seems nothing will deter this youngster from achieving his goal. Now he just needs Forest to score a few more goals and his dreams for 2014 will come true.