Sky Academy Sports Scholarships: Johnny Nelson interview
Last Updated: 26/03/17 3:55pm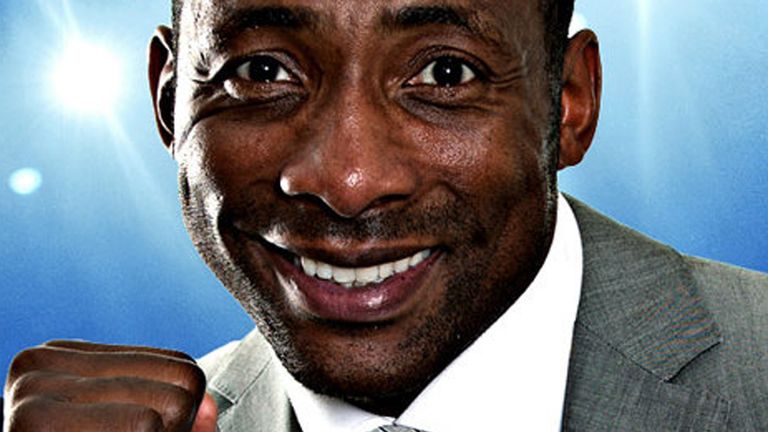 After Johnny Nelson was named the new Sky Academy Sports Scholarships spokesperson, we sat down with the former WBO World Cruiserweight champion to discuss his new role, his boxing career and much more.
In the first of this two-part interview, we spoke to the Ringside presenter about what his position as spokesperson will entail, the importance of a young sports-person having a mentor and the differences between amateur and professional boxing.
Firstly Johnny, you're the new spokesperson for Sky Academy Sports Scholarships. What was it that made you want to get involved with the programme?
Being a spokesperson, to simplify it, I'm kind of a middle man to try and relate to the athletes that are coming through. I suppose when I was younger coming through - there's nobody there, there's no rule book to stick by saying 'don't do this, don't say that'. To have someone guide you is most important. I was fortunate enough to have Brendan Ingle as my guide, my mentor. Not many people have got a mentor, not many people have got someone to guide them, to give them the unwritten etiquette of how to conduct yourself which obviously in the long run is good for your career.
How Jack Bateson conducts himself outside the ring is commendable. He's very respectful, very mature, very polite. He's the type of person you would have representing your company, he's the kind of person you'd have representing your sport
Johnny Nelson
Being a good guy or a villain, either way it's about the longevity of your career. It's about representing yourself, your family, your friend, your peers. I'm that person to help guide these young scholars coming through and tell this is how life could be, how life should be, how life can be and I'm quite sure that a lot of the scholars coming through, they are talented individuals and that's why they've got such an opportunity. So they've got to understand how fortunate they are to be in their position and how important it is that they grasp the here and now because if they let it slip, it's something you can never get back again.
You first got involved with the programme through the Head of the Scholarships, Tony Lester. Is that right?
Yes, Tony is like myself, a former athlete and he basically mentors and helps coach a lot of athletes. But to be a mentor, a spokesman, an organiser must be very, very hard. Tony is very well connected, he understands the game. Me and Tony clicked straight away because we kind of speak the same language. When we're in the offices at Sky we just get on because we get it and it's good when we come across Darren Campbell or all the sports people because we've got that nod, that click.
You're also going to act as a mentor. What sort of advice will you be looking to give the scholars?
"Again Brendan was my mentor and I learnt a hell of a lot from him. I wasn't his only student, he had many of us that he mentored and we all benefitted from it. I know I wouldn't have got to (where I did) without him, if I didn't go to his gym, which in a way is kind of sad because I could have lived in London and not boxed or whatever. Finding someone like Brendan made all the difference. I think it's most important that everybody has a mentor; everybody has someone who can influence them or guide them.
We only get wisdom through experiences and you're better off getting your wisdom through others' experiences rather than having to go through experiences of your own because not all experiences are good. Some are good, some are bad. So if you can get others' experiences and they say 'look, maybe you want to do this, maybe you want to do that' - I'm not saying they have to do what I say. What I'm saying is I'm giving them options and letting them see what's available.
So it's more focused on the mental aspects rather than giving any technical tips to the boxers, for example?
I've been asked many times if I'd be a trainer and I've said no. The reason why I wouldn't is because to be a trainer, to be a pair trainer, you have to give 100% commitment and I don't want to break my heart trying to commit to help a youngster unless I can give 100%. That means five o'clock in the morning I'm phoning them up saying come on let's get to the gym. Seven o'clock we're in the gym together after he's done his run and watching his diet then watching him after that - and that takes commitment.
I saw Brendan do that to me and unless I can give that as a trainer, I wouldn't be a trainer, just to be fair on the kid. I wouldn't step on anybody's toes in regards to overriding what a trainer's saying; I think it's a little bit disrespectful. I would give advice on stuff outside the ring because trainers are trainers and I've had the experience and I know I have the experience to give the individuals.
As you know, we have three boxers amongst our 12 scholars. They are all competing as amateurs at the moment but the possibility of turning professional in future can't be ruled out. As someone who has made the transition, what would you say are the biggest differences or challenges to overcome?
It's completely different. It's like a sprint and a marathon. It's a completely different game. The only thing in common is that you've got boxing gloves on. You're starting fresh so don't think or expect just because I'm an outstanding amateur, I'll be an outstanding pro. History has it that that's not the case. There's not many outstanding amateurs that have ended up being outstanding pros. It's the ones that are just below par or the ones that just miss out.
My message would be to the amateurs, that that is your experience, that the experiences that you have to go through to get your wisdom. Even when you turn professional, you're starting fresh but you're still able to look back and deal with the pressure and understand the difference between nerves and fear. Then as you turn professional you have to take one step at a time. You've still got to work for it, don't expect it to just fall into your lap because you've done x, y, z as an amateur. It's just keeping them grounded, keeping them focused because just because you've achieved it yesterday don't expect it to happen today. You've still got to put the work in and then you expect to get results.
With that in mind, we've just had the AIBA World Boxing Championships in Kazakhstan with two of our scholars competing. What do you make of the competition and does the fact boxers such as Vladimir Klitschko, Kostya Tszyu, Carl Froch and Gennady Golovkin are past medallists show just how high the standard is?
The tournament's massive. The boxing set-up that's there is unbelievable. I think it's a great opportunity for the amateurs to just have a taste of the professional world because it's very much like the pros.
This was the first tournament for more than 30 years in which headguards weren't used, bringing it closer to the professional game...
That's important and is probably a reason why they're doing it. I think this is an idea to try and keep the amateurs amateur- to keep them for a bit longer. Obviously you have blips where you have an influx of really good amateurs coming through then they turn professional and then you've got no more good amateurs for years.
In terms of the boxers we've got, how much have you seen of the likes of Jack Bateson, Jason Quigley and Savannah Marshall so far?
I remember meeting Jack Bateson in Bristol before he became a scholar and he stood out then. Adam Smith and myself saw Jack Bateson and straight away we saw that he was something special.
How Jack Bateson conducts himself outside the ring is commendable. He's very respectful, very mature, very polite. He's the type of person you would have representing your company, he's the kind of person you'd have representing your sport. He's the kind of person you wouldn't mind taking anywhere, to see a king or a tramp - this kid can talk to them all. They have got to understand that a loss doesn't mean the end. It's how you get up from a loss, how you brush yourself down. How mentally strong you are to turn that loss into a positive. It doesn't mean the end, there's only very few like (Vasyl) Lomachenko, who's just turned professional, who only lost one fight out of 397. There's very, very few gifted individuals who will walk through a career unscathed.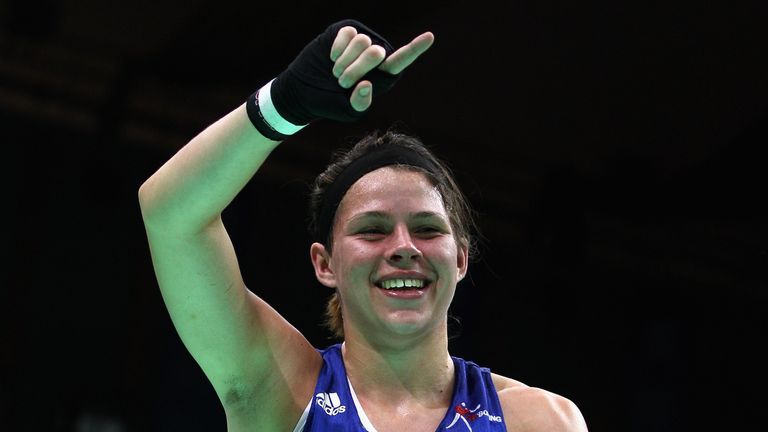 It's a new breed, all the facilities and everything and I think Jason and Savannah have the mental strength to take full advantage of that as well. I go into the Institute of Sport and I think 'I wish this was here when I was around.'
Before the Olympics I liked going into the place and I walked in and I thought we should have an abundance of medals because we have no reason to fail. Unless you're really lazy, you have everything that you want. So you've got no excuse, you've got someone setting out your diet plan, setting out your training regime, accommodation, you've got a team there behind you, one or two, three, four trainers helping you out, you've got facilities to work with. Why should you fail? You want for nothing - you've got no pressure on you.
These guys are getting lottery funding to help them out and I just think, I wish that was there when I was around. If you have got all the facilities going then you cannot expect failure. And if they get failure then they don't deserve what they've been given.
Obviously it was in a very different environment but do you think the work you've done in prisons and with children in recent years help you in your role, as a mentor specifically?
It does. I draw on it because for me again it's just through experiences of seeing people, who have got a lot more talent than myself, fail. I can see the look on their face when they bump into me and they're thinking 'I was in the gym at the same time as you and you were crap! I was a lot better than you, how come you've done that?' It's that's realisation on their face and the problem is going to be now that you're going to go home and realise that you've missed an opportunity in life that's most important to you rather than taking full advantage of it.
I go into the Institute of Sport and I think 'I wish this was here when I was around.' Before the Olympics I liked going into the place and I walked in and I thought we should have an abundance of medals because we have no reason to fail.
Johnny Nelson
I help mentor some kids in a school and I'll go and talk to them. We'll talk about just general stuff, life in general, and the reasons why they think they're not successful in life and why they think that success isn't made for them. I'll take them all over the place to football clubs, to factories with people doing 12 hour shifts and to football clubs where they'll see the high flying footballers training and getting into their flash cars when they finish, just to a normal factory or to a supermarket so that they see all aspects of life. How life could be, would be, should be, shouldn't be. Then to finish off each term I take them to a prison and let them inside. This is the worst life can get. These people have been so negative about their opportunities in life that this is where they've ended up.
We get to the prison gates and the prison governor says to them 'right, you're my responsibility now, not Johnny's' and he walks them through the prison and the prisoners are shouting abuse at them - it's not an act, it's not a film, it's not TV, it's real - and they're shouting abuse at them and all of a sudden these kids that are teetering on the edge of success or failure or getting into crime, they're seeing the reality of failure. They're getting abused by these prisoners, only verbally because they can't get to them. Then we take them onto the wings where they see the communal showers, communal toilets, communal bedrooms and we let them see how their liberties can be taken away from them if they make the wrong decisions.
On one occasion when we went in, there was a guy in there and we had started boxing together. He was nine years into a 16-year sentence. Me and him were the same age, we started boxing together and he was better than I was. What Brendan would do was when we got to the amateurs, he'd say 'OK, you box him' to this kid because he knew he could beat him. Then when he'd beaten him, the next time they'd face me so this kid was a lot better than me but he decided as he was growing up that he was going to take his path while I stuck to that same path. Now he's doing a 16-year stretch in prison so what frustrated me was him thinking 'oh my god, my life could have been like Johnny's, if not better because I was better than him.' So I let these kids see this and it's just to make them understand, there are consequences for your actions both good and bad. This is the worst it can get.
It usually has a good effect when we do that because if they have relatives that are in prison they're never going to tell them the real deal. They're never going to tell them how prison is, how scary it is - they're never going to tell them that so they have to see it for themselves. You can see the sigh of relief when they come out of the prison after about three hours, it's not three months or three years or thirty years and they're thinking 'thank god I'm out of that place' and then it's the last place they want to go.
Look out for the second part of our interview with Johnny Nelson on the Sky Academy Sports Scholarships page later this week.