British Face-Off #2 - Benn v Piper
When Nigel Benn had picked up a world title at 160lbs, it immediately put him in the same league as Chris Eubank. But his first defence was far from easy as he took on Nicky Piper, who had the highest IQ between the pair of them - and indeed, probably in boxing!
Last Updated: 11/11/13 12:31pm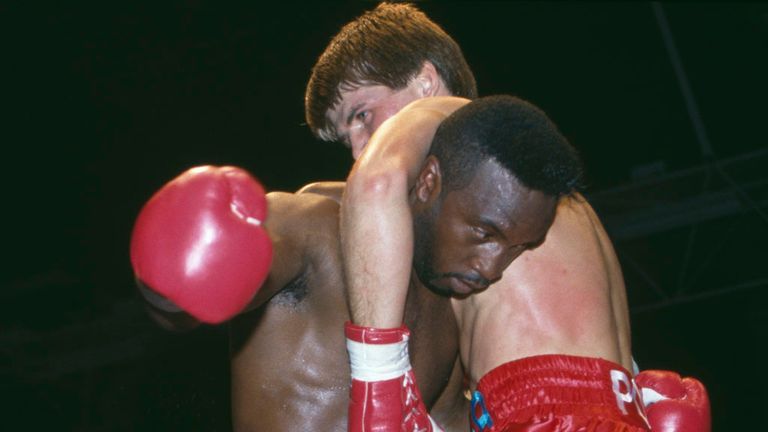 Who: Nigel Benn 34-2-0 (Champion) v Nicky Piper 16-1-1 (Challenger)
What: WBO Super-Middleweight title
When: December 12, 1992
Where: Alexandra Palace, Muswell Hill, London
WON: Nigel Benn won TKO 11
Who else was on
The chief support came from Francis Ampofo, who was taken the distance by James Drummong, but did enough to pick up the vacant British flyweight title. Herbie Hide stopped James Prichard in two. Gary Delaney and Mark Tibbs, son of Jimmy, both won while in the super-bantamweight division Michael Alldis beat Colin McCally making it back-to-back wins against him - in his first three pro fights. Across the pond, Phoenix, Arizona, played host to the second fight of a certain Oscar de la Hoya.
What we recall
"We all knew about Nigel Benn, but this introduced us all to Nicky Piper. He was educated, eloquent, had a nice haircut and the last thing yoou'd have thought is that he was a fighter! But the one thing he was was tough. In the fight itself, I remember Nicky looking after himself in there and not being out-classed but the one thing that sticks in my mind was the weight. It looked like it was too much for him and he was clearly a light-heavyweight, but cannot be knocked for giving it a go - and pushing Benn all the way. As for Nigel he was still explosive and did wear Piper down in the end bu I remember thinking that Eubank II had to happen - sooner rather than later! The first one was in 1990 and we had to wait three years to see them go at each other again and dare I say it, but Chris Eubank was always hovering in the back - and more often than not the front - of his mind." Glenn McCrory
"I thought Nicky did incredibly well all the way through it, it was just that Benn was a pressure fighter and a fitness fanatic and caught up with him in the end. Maybe he had boiled himself down for the opportunity and although there wasn't much between them on the cards, it had started to turn Benn's way. It probably wasn't the first or the last time I would leave remembering that Nigel still had plenty left in the tank, but that stood out this time." Jim Watt
What the winner said
"Nicky is a good fighter, under-rated, and everyone thought he was an easy target but he was the first British guy to ever take me past nine rounds! I'll tell you whats happening with Eubank; first he's saying I'm too scared to fight him and I remember when he had the WBO, he wanted £1.6million to fight me. Well, if he and Barry Hearn put it on and give me £1million... then I'll fight him." Nigel Benn
What happened next
Piper went back up to light-heavyweight and saw him back to winning ways in eight weeks' time, while Benn made the second defence of his WBC title a month later. Mauro Galvano's first attempt was stopped on cuts, this one on points but crucially, it reminded Eubank that Benn held the so-called superior belt. You know what that led to...