British Face-Off #3 - Eubank v Benn
The first time they met was at middleweight but it took three years and a weight division up to finally get them together again. The deal was signed on TV, both fighters were watched by millions, including a crowd of 42,000 at Old Trafford who watched with baited breath...
Last Updated: 12/11/13 9:22am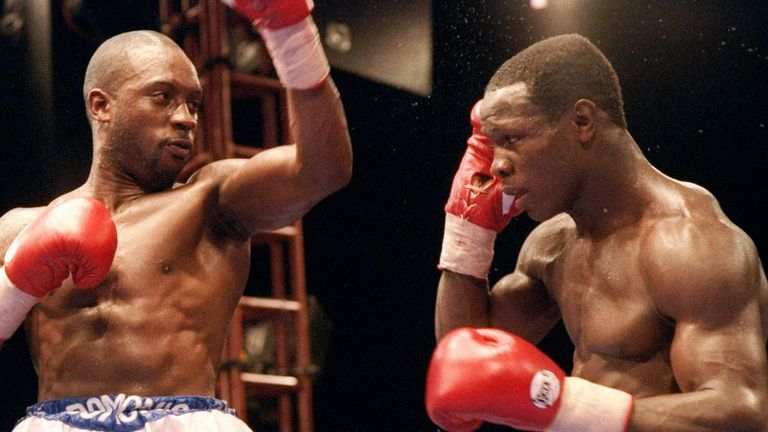 Who: Nigel Benn 37-0-2 (WBC Champion) v Chris Eubank 35-0-1 (WBO Champion)
What: WBC and WBO Super-Middleweight titles
When: October 9, 1993
Where: Old Trafford, Manchester
Won: Nigel Benn and Chris Eubank Drew (115-113, 113-115, 114-114)
Who else was on
With 42,000 crammed into Old Trafford and millions watching on television, a big undercard was never going to be needed! Chief support saw welterweight Cristiano Espana - who would challenge Ike Quartey next - beat Donavan Bouch, Bury local lad Warren Stowe and future world super-featherweight champion Barry Jones were winners, while a certain Robin Reid won his fifth pro fight - and would get a lot closer to the world super-middleweight titles!
What we recall
"What a night! A massive, massive crowd and a huge, huge occasion. And only these two could produce such a close fight - and a draw! And it was split right down the middle; one person would've given it to Benn, turn round to the guy on your other side and they would say Benn. I thought Eubank had nicked it again. But I wouldn't have worried if it had gone Benn's way either. These two were always back and forth and maybe not standing there toe-to-toe trying knock seven bells out of both, but there was some sort of connection they could not get rid of Benn always went for it but he just couldn't get through to Eubank, simply because Eubank wasn't intimidated by him. They always remind me of Mike Tyson and Evander Holyfield; Benn was the Tyson, Eubank the Holyfield and always, always got in his head. The bully could not bully and Euank had Been's number." Glenn McCrory
"It was a big event, an open-air occasion and the fight itself lived up to it! Again it wouldn't be the first or last time you would wonder how the decision went in Eubank's way, but I thought Benn had won this one. Of course it wasn't clear cut, but he'd just done enough in my eyes. I remember speaking to Chris at the hotel afterwards and he asked what I thought about it. Well, I just told him I thought he'd got beaten and he just said 'OK' and that was that! I always liked Chris because anything I said about him, any criticism I gave him on commentary, he never took it too heart or took me to task. It was by far and away the biggest fight that could've been made in Britian and it was another cracking night involving the pair of them." Jim Watt
What they said
"It was a close, but I thought I'd nicked it with the better boxing. He was hitting hard with scoring shots and he is not the man I thought he was. I thought I would knock him out, that his legs would go. What a good fighter he is though and I am glad I got the draw because we can do it again and finally settle the score!" Chris Eubank
"It was a long fight - the full 12 rounds, but by the end I was sure the match was mine. And I wasn't alone - when a draw was announced, the crowd booed and the boxing press afterwards seemed to be on my side. I was disgusted with the score. I was convinced I had won and believed, like many others, that I had beaten Eubank on points." Nigel Benn
What happened next
The third fight was on everybody's lips immediately afterwards - and for years after - but after such intensity, the pair went their separate ways, quite literally, in February. Benn kept it domestic and defended his title against Henry Wharton, while Eubank went much further afield, beating Graciano Rocchigiani in Berlin. And of course, the trilogy was talked about even after McClellan and probably even after Benn retired three years later!
What do you recollect from one of, if not THE, biggest figth Britain has hosted? Get involved by using the feedback below...