The Great British Face-Off
In the last 20-odd years, the super-middleweight division has had a barrage of British world champions in its midst. The biggest names in the game belonged at this weight and all fought each other or a compatriot, so the Great British Face-Off will look back at these stunning showdowns...
Last Updated: 08/11/13 5:14pm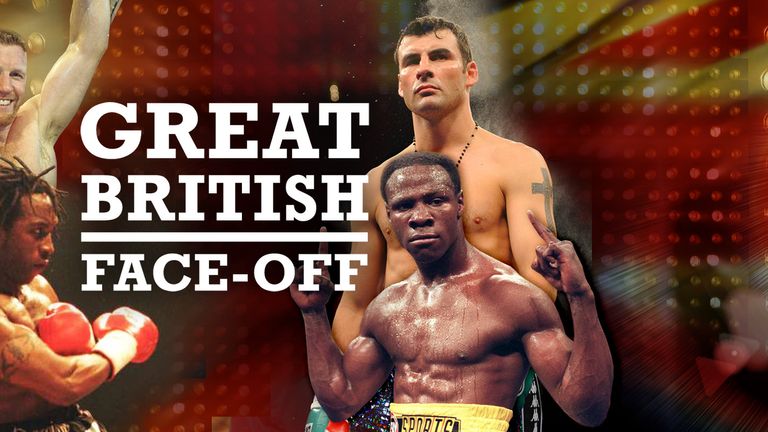 On November 23, Carl Froch and George Groves will join an elite band of brilliant boxers who have taken on their compatriots in often classic encounters.
The first came in 1991 and for the following decade the showdowns came thick and fast and when we tell you that the biggest names led the way, you will know who we will be talking about. But there are so-called lesser names who have not only been challengers but have also been world champions.
The Great British Face-Off should whet the appetite so when Froch and Groves finally get it on, the tastebuds will be tingling...
Here is a brief taste of what's coming your way, so get involved and throw in your memories too...
Who: Watson, Eubank, Benn, Collins, Calzaghe and more
What: Took on fellow British boxers for a super-middleweight world title
When: 1991-2000
Where: All over Great Britain
Won: British boxing
Who else was on
We look back at the cards and find out who was starting out as our established super-middleweight champions were in action. There are also fighters at the other end of the scale in terms of their careers and capabilities and across the pond and the odd American was in action on the night British boxing stole the show.
What we recall
If you want former world champions telling you what went on, who better than Jim Watt and Glenn McCrory to reminisce? Both commentated from the word go and both were ringside for some of the biggest fights boxing has seen. And they both remember more than just the fight.
What the winner said
We relive some post-fight interviews at ringside, we catch up with the odd triumphant super-middleweights and just simply share what they said - and indeed though - after winning the world-title showdown with a British challenger. That means Benn, Eubank, Collins, Calzaghe, Reid, Catley and Woodhall as well.
What happened next
Even the world champions did not pick and choose and certainly did fight once a year! So we see who they take on next and of course with rivalries never far away, what was in the pipeline. And for those that were beaten, there is always a different and indeed disastrous outcome...