British Face-Off #4 - Benn v Wharton
Nigel Benn was back to winning ways but with Ministry of Sound sponsoring his shorts, it was clear that life out of the ring was starting to play a major part in his career. Henry Wharton's career was also about to change inside the ring as he stepped up a level. Not for the last time...
Last Updated: 12/11/13 7:46am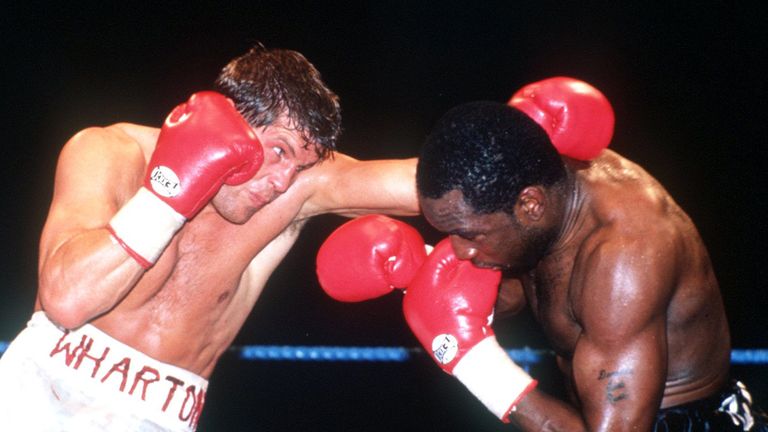 Who: Nigel Benn 37-2-1 (Champion) v Henry Wharton 18-0-1 (Challenger)
What: WBC Super-Middleweight titles
When: Febrary 26, 1994
Where: Earls Court, London
Won: Nigel Benn won UD12
Who else was on
Michael Nunn was the chief support with the small matter of the WBA super-middleweight title, which he won by beating Steve Little - and no doubt a showdown with Benn or even Chris Eubank was an obvious possibility. Two-time world champion Lloyd Honeyghan stopped Kevin Adamson in six in what turned out to be his penultimate fight, while Dennis Andries also won, trying to rebuild after losing world and European titles recently. Oliver McCall made his British debut on the card but across the pond a certain Bernard Hopkins made his pro record 26-0... in what was his sixth year as a pro!
What we recall
"Henry was a friend of mine back in the day and a lovely, lovely guy. He had a real reputation as an amateur that he could knock you out, so you never wrote him off, he always had a chance. He hadn't lost before this one, but I just remember thinking that the fact that Benn had been in with much better opponents than Henry, really showed in what was a close fight. Henry couldn't punch but if he couldn't land he didn't quite have the class to break Benn down. And don't forget Benn was truly world-class." Glenn McCrory
"This was Wharton's big chance and I remember being very impressed with his style. It was a great pro style, a good, aggressive, American style. He was upright, hands up, elbows down and he threw body shots and hooks and I will always recall him being good to watch. I bet Henry sits there now wishing he was boxing now because he would probably be a star but he was just around at the wrong time. Benn was just too good, too strong and too confident but it was no means a walkover and I think one of the judges even went against Benn. That showed just what Wharton was capable of." Jim Watt
What the winner said
"Wharton was one of my toughest fights. Not necessarily the hardest, but certainly the toughest. Although I beat him on points and retained my title, I'd never come out of a ring as bruised as I did after that fight. I'd been whacked in the kidneys before but I'd never felt it like I did with Wharton. I thought our fight would run the whole course so I didn't go for a knockdown." Nigel Benn
What happened next
It clearly took it out of Benn and while he admits his lifestyle out of the ring was taking up more and more of his time, he was back in seventh months to outclass Juan Carlos Giminez. But then, everything changed as a showdown with Gerald McClellan was signed - a day short of a full year since he beat Wharton. The challenger though was in action again in September and October, blowing away Guy Standford and Sipho Moyo. And before the year was out, Wharton would challenge again. This time against you-know who...
What do you remember of Benn at this stage of his career? And just how hard was Wharton? Fill in the feedback form with your memories...