Whatever happened to... Henry Wharton?
Henry Wharton was the nearly man of British boxing. He talks about life in and out of the ring.
Last Updated: 17/11/13 5:30pm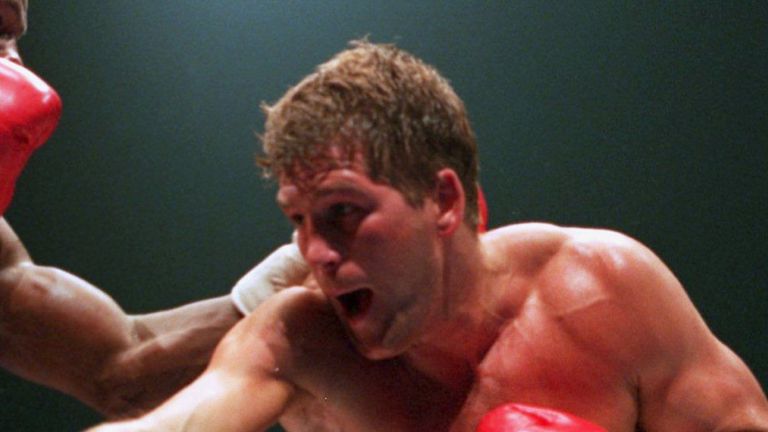 The super-middleweight took on modern greats Nigel Benn and Chris Eubank in the same year, before then also facing up to another Brit, Robin Reid, as he looked to secure the one belt that eluded him.
With the division set to take centre stage in Great Britain again when Carl Froch clashes with George Groves live on Sky Sports Box Office on November 23, we talk to a man who knows all about that weight category.
Now a trainer in his own gym in his home city, he talks about his career inside the ring and his life out of it since he retired at the age of 29...
Sky Sports: So was Henry Wharton always destined to have a career in boxing? How did you start out in the noble art?
Henry Wharton: I was one of 11 children and, I don't know why, but it was just always going to be boxing for me. From the moment I first stepped in the gym it just felt like something I was meant to do. I just loved it. I started when I was 14 in the amateurs and then went right through until I was 29, when I finally retired.
SS: Did you always feel you had the potential to go to the very top of the sport?
HW: People kept telling me often enough that I had something very, very special and unique. I don't think you know direct, you just have to take their word for it. It happened to be true. I did everything in the sport as an amateur, boxed for England all over the world. That's a great achievement, a real pat on the back for me because it means you've done it then, you're one of the best in the country. They value you enough to send you all over the world.
The idea was always to turn pro. It was a brand new start, because much of what you're used to is pushed to the back. The amateur grounding did stand me in good stead, though, and the pro game was more suited to myself. I was suited to it. Even though I had good results as an amateur, being a pro worked better for me due mainly to the length of the rounds and the fact I had a good engine.
SS: But at that stage when you entered the paid ranks, would you ever have believed that one day you'd be taking on world champions such as Nigel Benn and Chris Eubank?
HW: No, no I wouldn't. It wasn't a realistic dream. But when you build up, get result, after result, after result, you then deserve it. You get there and then it's expected of you. I was no 1 in the world and they had to fight me - that was the position that I was in. They had to fight me because I had deserved my chance. I had won British, European and Commonwealth titles before then and it was a natural progression to then go on and challenge for a world title.
SS: So do you feel lucky to have been around in that same era as those great British super-middleweights, or a tad unfortunate?
HW: I am lucky that they were around. I always said in my life that if I was to fight for a world title, I wanted it to be against the best. If you win it then, it's almost like you've won two world titles in one - like you've got a double bonus for your success. You've beaten the best. I know people who have won world titles after I've retired and they get no credit for it. There were less people around and it means less, even though it's still a world championship belt. They just don't get the same plaudits. I would have preferred to have beaten one of them because it would have meant more. If you're crowned the no 1 sprinter in the world but Usain Bolt isn't racing, it doesn't mean the same. You would sooner beat him because it would mean more.
SS: So let's get onto the fight against Benn, which took place at Earls Court in the February of 1994. It was undoubtedly the biggest night of your career so far...
HW: It was massive. You can't get any bigger than that. We had a plan, we had a plan to tuck up a little bit, keep the hands up high and protect myself for three or four rounds, then come on strong. It just didn't work; I maybe sat back a little too long. I've seen it back a few times and it haunts me a little bit, but I can't change it now. It wasn't as hard as I made out in my mind it was going to be - I'd built it up far too much in my mind, though perhaps you have to do that for your preparations. Perhaps I was more capable than I realised.
SS: Manager Mickey Duff certainly believed you would take the WBC title from the 'Dark Destroyer', placing a sizeable wager on you for victory.
HW: He had done the same with Michael Watson (who Duff also managed when he beat Benn back in 1989). But Benn didn't come out fighting the same as he had done against Watson, he didn't come straight out and tear it up like he had done in that fight. He learned from his mistakes, he'd moved on and matured. He was a thinker who had been in 44 fights I think by the time he met me. He had matured. He was a completely different character when he fought me.
SS: You took Benn the distance - what were your emotions when that final bell sounded?
HW: I knew it was close, I knew it was really close. A lot of the Americans in the audience had me winning. But with him being the champion, you've got to take it off him. I just didn't do enough and the first four rounds cost me.
He has told me that it was one of the hardest fights he had. I wanted to get straight back in with him, straight in. But he wouldn't do that, so I had to climb my way back to that no 1 position again before anyone would give me a chance. I was in that unique club where nobody wants you. It's not always good when you get in a position like that - I was side-stepped so many times. I took Benn to the WBC court because he didn't want to fight. He gave me $50,000 so I stood aside so he could have another defence instead of fighting me again.
SS: That rematch with Benn never happened, but you did get another world title shot at the end of 1994. Tell us about the clash with Eubank.
HW: He was completely different. If I'm telling the truth, because I'd held back a little bit against Benn I went all out for Eubank, like a bull in a china shop. Styles make fights, and that style suited Eubank. I suited him because I was coming forward onto a counter puncher. I suited him down to the ground. He said recently that I didn't break his spirit, but I did break his heart. I didn't really get to know him but he's always been alright when I've spoken to him. He had had so many fights before me when he hadn't looked himself. I must admit that made me think he couldn't live with my pace. I thought after six or seven rounds I'll keep going, if he's tired like he was in those fights then I'll go through him. But I kept going and he was still there. The British Boxing Board of Control had monitored him in the build-up because he had previously been fasting before fights, they had weighed him regularly and because of that he was more prepared. He'd done things better for me.
I think looking back now that I tried so hard in that fight that it took something out of me. The results were never the same after that, even though I went on to win the European title again and then defended it several times. I also went on to fight again for the world title, but something was lost in me that night (against Eubank) by trying that hard.
SS: You quickly regained the European and Commonwealth titles after losing to Eubank, but a third attempt at becoming a world champion didn't arrive until 1997. This time, Robin Reid stood in your way...
HW: I had to wait quite a while for that fight because I had to reclaim my position as no 1. That was tough, I was fighting top European after top European. I was due to fight Sugar Boy Malinga but had a defence against Vincenzo Nardiello while I was waiting for that bout. I knocked him out in four rounds and on the strength of that, he got the chance before me to fight for the world title. The man I had just beaten won it, too, so I was upset. I thought there was a good chance I could beat him again - but then he wanted another defence again. It just kept turning around like that - nobody wanted me. It wasn't necessarily because they couldn't beat me, but they just knew that it would be tough. Now when people ask me if I was good enough to be a world champion, I just say that if two men I defeated went on to win titles, why wouldn't I have been?
This is the way I always sum it up against Reid - he lost his last few fights, obviously he's retired now, against people who really couldn't have beaten him when he was in his prime. I was going to say to him 'you know when you fought me, Robin? It was pretty much like that for me'. I feel like I could have beaten him, I really do. I only had two fights after that but I was gone. That's why I retired. My days as a fighter were over.
SS: So did you know what lay ahead for you once you'd hung up the gloves?
I didn't have a plan. I bought a run-down building and turned it into a fish shop and flats. I invented opportunities for myself, because that was the way to overcome feeling down. Nothing could ever match boxing.
I do have to confess that for the first 12 months I struggled. Everything stopped, it was like the phone didn't ring any more. My life was boxing - I had a focal point, somewhere to go. When I retired there was nowhere to go. It sounds strange, but my life was empty for a while. Even though I've got my family and my children, it emptied for me. I can understand how people can struggle.
Boxing was about peaks and troughs, about the ups and downs. The celebrations after a fight went on for a long time, almost carrying on until the next fight. But when you retire it's gone. I can understand why a lot of them come back because they've still got that urge, that hunger. It was just the thing that you did.
SS: Now, though, your back involved with the fight game. Opening a gym in York - was it always the idea to do such a thing in your own back yard?
HW: I searched for the opportunity for 12 months, then this site came along - it took me 12 months to renovate it and I have loved every minute of it. There were a lot of times I thought it would never get there. But with one step at a time you can walk miles. I used to say to a few people that helped me that one day it would happen. It has and now it's a fantastic venue.
Now we're in a position where the lads are boxing, where we are going up and down the country doing it. At this point in our life we're only young in terms of how long we have been going. But we are doing really well and it's showing now that for the effort we are putting in we are getting a little bit of a reward. They don't have to win every time, but we're giving them an opportunity. I know we use this saying every day with boxing in that we are taking them off the streets, but we are doing that. We are giving them a focal point. They've got somewhere to go and they feel at home here. Without knowing they are learning discipline - that's what you get in a boxing gym.
SS: So now the aim must be to find a fighter capable of following in your footsteps?
HW: I'd absolutely love it... and to win one this time! I think I'm a good coach but good fighters make good coaches. You only need one good fighter to come through the doors. But the future is looking bright. I've got sons of my own that are looking good, too.
SS: So now, as two modern-day super-middleweights from Britain prepare to clash, does the Froch v Groves fight bring back memories for you?
HW: Your goal is always to get there (to a world title fight), but when you do reach it you don't celebrate. You've simply got too much to do. You can't enjoy it, you can't step out of your body and see where you've reached. Others can enjoy it, you don't see it from the seats in the venue or sat at home watching on television. It's like you're in a bubble. I think Groves will be prepared for it, he's been on enough big bills to be ready.