British Face-Off #6 - Eubank v Wharton
Chris Eubank was busy, busy, busy in 1994 but no-one made him work harder than Henry Wharton...
Last Updated: 13/11/13 12:37pm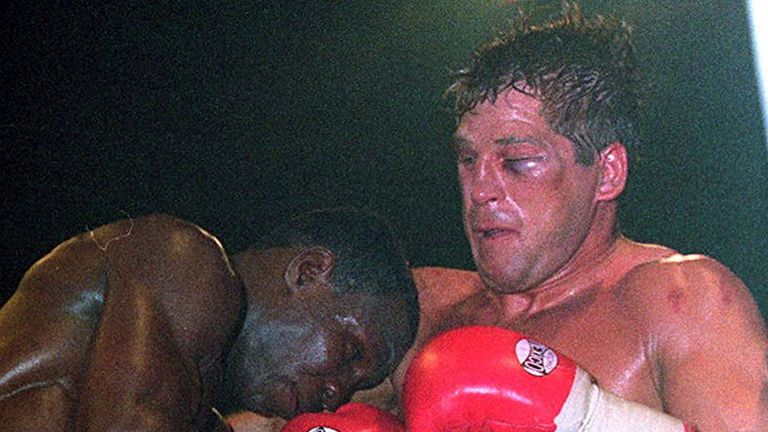 Who: Chris Eubank 40-0-2 (WBO Champion) v Henry Wharton 20-1-1 (Challenger)
What: WBO Super-Middleweight titles
When: December 10, 1994
Where: G-Mex Leisure Centre, Manchester,
Won: Chris Eubank won UD 12
Who else was on
World WBO welterweight champion Eamonn Loughran from Northern Ireland was chief support and put on a show, blitzing former holder Manning Galloway in four. One of Eubank's Brighton neighbours Scott Welch was victorious, out-pointing Michael Murray, middleweights David Johnson and Derek Wormald drew - the former's third draw in 13 outings - while Darren Corbett made his debut and almost 15 years later the cruiserweight would appear in Prizefighter! Across the pond, Oscar de la Hoya defended his lightweight world title in Los Angeles, while there was a massive night in Mexico when Julio Cesar Chavez defended his WBC light-welterweight belt and Felix Trinidad defended his IBF strap, going down in the second himself!
What we recall
"About this time in his career it had become obvious that if an opponent wasn't good enough and he didn't have to dig deep to come through the challenge, then he was nowhere near his best. Wharton was tough and decent enough but Eubank didn't really have to fight. It was a big stage up in Manchester and he performed, but didn't need to dig at all. He won and won widely enough. But it was still a great time to be around Eubank. His so-called world tour wan't really global but even if his fights weren't always great, you never ruled out a surprise, a shock or an incident that would keep boxing on the back pages!"Glenn McCrory
"During 1994 Eubank fought five times which was unheard of back then and is even more unheard of nowadays! We had just seen Henry Wharton give Nigel Benn a real go but this one, well it wasn't as good - or as close. Eubank was in control and that means he was in charge from start to finish, particularly ensuring it was going to go the distance. Wharton did all he could, I am sure, but when Eubank took over there was little he could do because he was a step down in class. Eubank would never go for the knockout like Benn, and all he wanted was to win, no matter how it came about." Jim Watt
What they said
"Yes I had won the fight and it was a spectacular performance. However, when you hit a guy so heavily and repeatedly but he just keeps on coming, it eventually breaks your morale. I couldn't stop Wharton, he was like a choo-choo train, huffing and puffing, he just wouldn't stop coming forwards. Before the fight I had given him a six for technique ability which was accurate but he was easily a 10 for persistence. His spirit was unstoppable."Chris Eubank
What happened next
Wharton bounced back in the best possible way, beating Mauro Galvano to become European super-middleweight champion eight months down the line, while Eubank was ready to build on what he called his best display since Nigel Benn. And although a third match was probably mentioned more than once, a new chapter was about to open up. Earlier in the busy 1994 a certain boxer had entered his dressing room when he beat Ray Close in King's Hall, Belfast. That fighter was to become Eubank's next opponent and would turn the division on its head... Steve Collins.