British Face-Off #7 - Eubank v Collins
The Great British Face-Off entered a new era as Steve Collins introduced himself to Chris Eubank!
Last Updated: 15/11/13 10:51am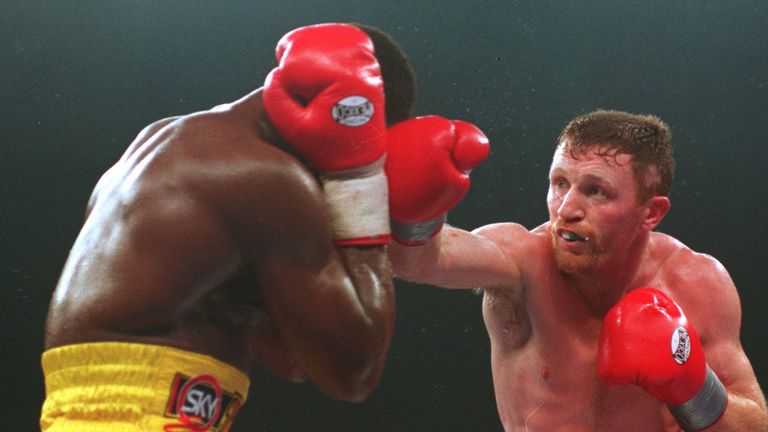 Who: Chris Eubank 41-0-2 (WBO Champion) v Steve Collins 28-3 (Challenger)
What: WBO Super-Middleweight titles
When: March 18, 1995
Where: Green Glens Arena, Millstreet, Ireland
Won: Steve Collins won UD 12
Who else was on?
He was the only four-rounder on a card of eight, but Pashcal Collins got the family off to a winning start, going 3-0 against Spencer Alton, before of course, being part of his brother's triumphant team! Chief support came from light-heavyweight Gary Delaney, who beat Earnest Mateen in seven, while Eubank's last victim, Sam Storey, returned after seven months out with a win. Simon Hamblett has just won back-to-back wins for the only time in what turned out to be a 3-13-2 career but was beaten by Bernard McComiskey. But over in the USA, Pensacola to be precise, another super-middleweight star blew Antoine Byrd away in a round and the name Roy Jones Jnr was more than mentioned!
What we recall
"Ah, Millstreet in what looked like a horse arena, down near Cork, in the middle of nowhere! This one was weird because it was the night when you started to think that things were going wrong for Eubank. He walked in as usual but there was a problem to the sound system and I think Simply The Best was cut off halfway through. The crowd booed, he didn't get to make his usual entrance and above all I remember Collins sitting in his corner with a hood over his face and had used a hypnotist! Eubank went down in the 8th and Collins in the 10th and it was close - I had Collins by a point - but Collins did one thing no-one else managed... on that night he took away his aura."Glenn McCrory
"If Chris Eubank had a problem it was filling three minutes of a round. He looked in great shape, almost like a body builder but he can't have trained to fight for the full round. Well the one thing Steve Collins did was train for three minutes per round, if not more! He was based in America and he knew exactly how to beat Eubank: fight for every minute, every second, of every round. And then they met in that ring, that is exactly what he did! Neither of them looked in trouble even though they both went down but Collins' sheer persistence meant there was only going to be one winner." Jim Watt
What the winner said
There was no doubt I was going to win but those people who doubted me, I will forgive them, it's not their fault. Don't believe the hype, believe in man that is Steve Collins. I'm not just the best Irish fighter ever, I am the best pound-for-pound in the world. Roy Jones? Who's next? I had no doubt I would win, no doubt at all - and I hadn't boxed for 10-and-a-half months and look how easy it was!" Steve Collins
What happened next
Steve Collins immediately declared himself as the best pound-for-pound fighter on the planet and then of course, went for Roy Jones Jnr who would win later that night. Nothing came from across the pond so Eubank II was a no-brainer, not just given the closeness of this one. As for 'Simpy The Best', was a six month break just what he needed ahead of the Collins rematch? No, Bruno Ruben Godoy was the warm-up in King's Hall in May. And lasted just a round. All eyes were clearly on Cork in September!