Great British Face-Off #8 - Collins v Eubank
Steve Collins had taken Chris Eubank's title away, so would the rematch bring a different outcome?
Last Updated: 15/11/13 10:34pm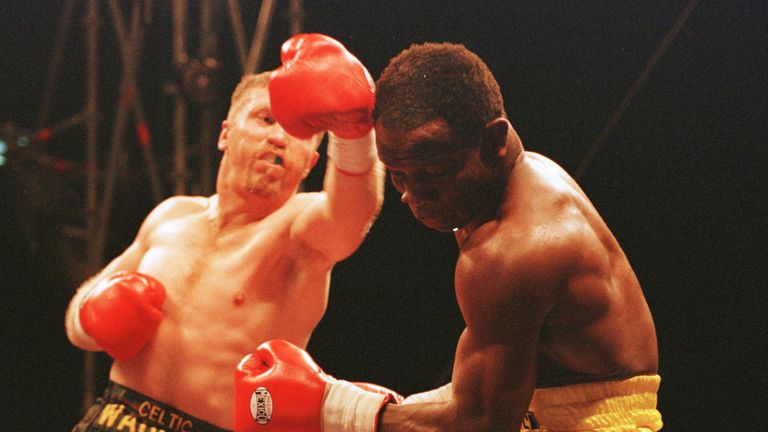 Who: Steve Collins 29-3 (WBO Champion) v Chris Eubank 43-1- 2 (Challenger)
What: WBO Super-Middleweight titles
When: September 9, 1995
Where: Pairc Ui Chaoimh, Cork, Ireland
Won: Steve Collins won SD 12
Who else was on
Again the main event was the only 12-rounder on the night and not surprisingly, because all eyes at the Pairc Ui Chaoimh and on Sky were watching the rematch. Terry Dunstan, who had just won the British cruiserweight title, beat David Robinson in five, while two of the younger fighters were starting out! Mark Prince beat Scott Lindecker in five and made a comeback in April 2013, 14 years after calling it quits, while Paul Griffin, who lost to Kid Galahad in 2011, beat the wonderfully named GG Goddard. Out in Las Vegas, Oscar de la Hoya was the star attraction in Caesar's Palace and defended his WBO lightweight belt against Genaro Hernandez, with Kevin Kelly, James Toney and Erik Morales also in action.
What we recall
"Well the one thing that was clear is that Eubank had to up his game because Collins could fight and certainly didn't take any of his rubbish. It was very similar to the first fight but it was much, much closer. But I remember people liked Chris Eubank more - which is not something you hear every day. It was a pretty big stadium, almost made for Eubank. Collins couldn't recreate the same intensity that had worked so well in the first fight and they meant it was always going to be closer, even if it didn't change that much. Eubank has some very good spells, but he still had those spells of preening and posing rather than working and if this was one of the fights that had he not done that, he would've probably won!"Glenn McCrory
"I think this was pretty much the same and the one thing everyone agreed on was that Collins had Eubank's number. He knew the formula and again he did just that. From the first bell he was off again, coming forward, not sitting back. Not only was he fit, Collins was every bit as tough as Eubank - and there are not many who can say that. To give Eubank credit, he was beaten twice but they were close fights and the second one was even closer than the first." Jim Watt
What they said
"I never stopped throwing punches. Chris gave me a very hard time before the fight, loads of personal stuff, loads of bravado, but I still went to him - and he became victim of his own insults! I said to Chris before the decision 'let's call it quits and let's be friends. Well, I won't tell you what he said and I won't repeat it on television, but he pushed me away. This is not the end of it: I've finished fighting with Chris Eubank but I still have a few bones to pick with him."Steve Collins
What happened next
Eubank announced his retirement straight after the loss and the failure to retain the WBO belt he had owned, but he later admitted it was a knee-jerk reaction. The following 13 months were the longest we had been without him before, so it was no surprise when he announce a comeback - Luis Dionisio Barrera in Egypt! As for Collins, he was still chasing down Roy Jones Jnr, but had to settle for 10 weeks before defending the WBO title against Cornelius Carr, who took him the distance.