Froch Diary #2 - Carl Froch underlines just how crucial his trainer Rob McCracken is
Fight Week is here and Carl Froch underlines just how important Rob McCracken is to his success...
By Carl Froch
Last Updated: 18/11/13 2:32pm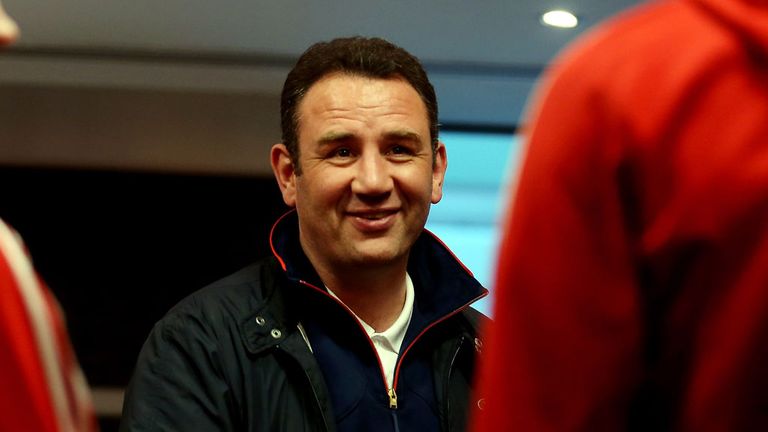 Today is my public workout in Nottingham, a great chance for the brilliant fans in my home town to see me up close and personal before I head to Manchester.
It also fits my training pattern as my trainer Rob McCracken MBE usually travels up from his Essex home on Monday's and trains me in Nottingham before we work in Sheffield alongside Team GB the rest of the week.
Rob continues to be the most important man in my career and we go into our 11th world title fight together on Saturday night, our 34th in total and over 11 years together. Rob brings the best out of me in training, in sparring and on fight night. I couldn't do what I do without him.
At the top level - I'm talking about elite level fighting - you need your trainer. Your trainer gets you prepared for the fight and takes you through the fight. Yes, he climbs down behind the stairs when the bell goes and he's out of the ring and you're in the ring on your own but you know your trainer gets you mentally ready for what you've got to do and then in-between the rounds he tells you what you need to do or what you need to stop doing to continue forward to win the fight. It's very, very important. It's more important than anything else your trainer.
I've said time and time again without Rob there's no way I would have performed at the level I've performed at and had the success I've had. No way at all. It would have been impossible.
Rob has been there and done it himself and that's a massive part of his brilliance as a trainer. He brings all that experience in to his students and I'm one of them and he passes all that knowledge and experience, hands on experience, to us.
As well as having his own mental demeanour, his own positive mind-set and his do or die attitude and his 'couldn't really care less' attitude as well which sometimes you need in the boxing ring so Robert for me is invaluable but I don't want to big him up too much because he might send me an invoice!
Robert and I have never had a business contract or a fighter trainer contract. I box, I do the business in the ring because I've got Rob and I pay him and that's the relationship we've got. We are very good friends but there is a line there where we don't cross or I don't cross cause I've got so much respect for Rob.
He's more like a big brother figure to me or even a father figure rather than just a coach or just a trainer or a mate so for me the fighter trainer relationship I can't emphasise enough how important it is and how important to me personally it is to have that rapport and that respect for your trainer.
I don't know what the relationship was like between Adam Booth and George Groves prior to them parting company so for me to say whether it is a negative or a positive it would be unfair.
If he wasn't getting on with Adam Booth and they weren't working well together then it's good that he has left him, good from his point of view because I couldn't imagine being in the gym with someone you didn't get on with, who you didn't want to listen to and who you have got no respect for because you're not going to be doing the work, you're not going to be enjoying it and if you're not enjoying your job you don't do a good job.
It could be a positive, it could be a negative, one thing's for sure changing your trainer 10 weeks or however many weeks it was prior to your first world title fight is never a good thing. It can never be great having to restart but it could be better continuing on from what he had before.
He might be in a better position now than what he was with Adam Booth but again that would be looking at George Groves and focusing on him and concentrating on his negatives which I'm not doing. I focus on myself. I've done it before in the past when I was inexperienced; what's my opponent doing? What's he up to? Whose he fought? How good is eh? Is he quick? Can he move? What does he like to do?
Forget all that. I'm World Champion because of what I do. I look at what I do best and how fit and strong and mentally switched on I am come fight night and I make sure I can get there so I'm in my best physical, mental possible shape for fight night and as long as I concentrate on myself and do what I do 99 per cent of the time it's enough and I do the business.