Great British Face-Off #12 - Calzaghe v Eubank
Joe Calzaghe was on the way up and with the WBO title vacant, who was stepped in his way?
Last Updated: 19/11/13 12:39pm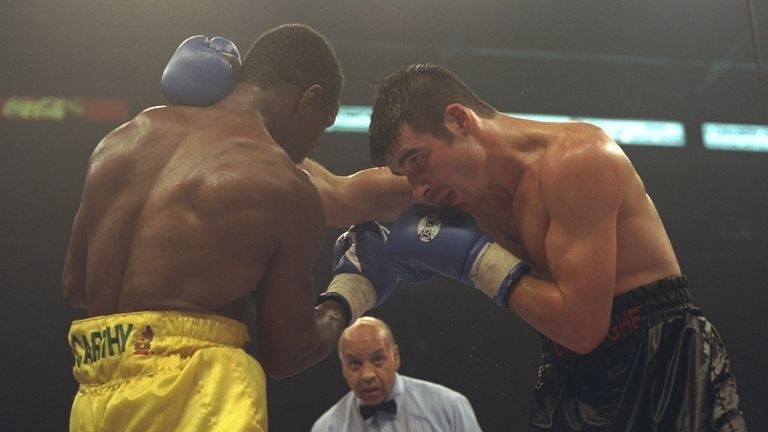 Who: Joe Calzaghe 22-0 (Challenger) v Chris Eubank 45-2-2 (Challenger)
What: Vacant WBO Super-Middleweight titles
When: October 11, 1997
Where: Sheffield Arena, Sheffield
Won: Joe Calzaghe won UD12 12
Who else was on?
Sheffield took centre stage, hardly surprisingly given The Full Monty show and the small matter of Naseem Hamed defending his WBO featherweight title for the seventh time and dealing with Jose Badlillo in seven. But even bigger than that was Johnny Nelson putting his European cruiserweight title on the line for the first time and blew Dark Wallyn in 73 seconds! He would fight 16 more times, 14 as a world champion, but would never get close to a first-round finish again! Paul Ingle defended his British super-featherweight strap against Jon Jo Irwin and added the Commonwealth to his collection. Including Chris Eubank and Joe Calzaghe, there was a whopping nine 12-rounders scheduled, although only their's and Mark Winters's win over Carl Wright went the distance. The one fight that wasn't supposed to go that long was an eight-rounder for Ryan Rhodes, who overwhelmed Yuri Epifantsev in two - and would fight for the world title in as many months.
What we recall
"It was the night that Joe Calzaghe won the world title and took over the super-middleweight division from Eubank. Looking back you can see why and how it happened but at the time we thought it was going to be a tough test and even if he was unbeaten (22-0), we didn't know if he was going to pass. He hadn't really fought anyone close to Eubank's standard and he had been looked after and very well-matched... until now. And we knew Calzaghe wasn't the hardest hitter and Eubank had a decent chin, so it was always going to be a long night and when we would find out just how good Joe was. And of course, he put Eubank on the floor inside the first round. It was the speed of the punch that caught him and as we all knew he still liked to pose and he could not afford to do that. He liked to fight at his own pace and you just can't do that against Calzaghe." Glenn McCrory
"Eubank had come back for this one because if my memory serves me correctly, Steve Collins was actually the champion and Calzaghe was supposed to be challenging him. He came over here but injuries proved too much and he had to pull out and indeed, retire. That's why this was for the vacant WBO. Of course Eubank was as big a name, but he never got into this one. He went down in the first and I think that was the first, big-time show in which everyone could see just how tough Calzaghe was to beat - and was going to be. Don't forget that Eubank almost killed himself making super-middleweight throughout his career, so for him to step in was never going to be anything other than tough." Jim Watt
What the winner said
"I put him down quite early in the first round and in a way I was disappointed that I couldn't knock him out. I had the capability to stop him. I had him down, had him in trouble a couple of times and it shows that I've got punch power. But is was an experience and I showed I had the fitness and I showed that I had the chin, because he hit me with some good shots - but it didn't even bother me. There's only better to come!"Joe Calzaghe
What happened next?
This was the end of one legendary era and the start of another. Joe Calzaghe would defend his super-middleweight world title for another 21 times, with Branko Sobot the opener three months later, with Wales welcoming their new champion at the International Arena. Eubank took longer off and finally stopped making the weight and moved up to cruiserweight, where he had a crack at Carl Thompson and his WBO title, which he failed to win in his last two fights - and before Johnny Nelson did what he couldn't!