British Face-Off #14 - Joe Cazalghe v Robin Reid
The Grim Reaper nearly put an end to Joe Calzaghe's unbeaten record in a controversial classic...
Last Updated: 21/11/13 2:33pm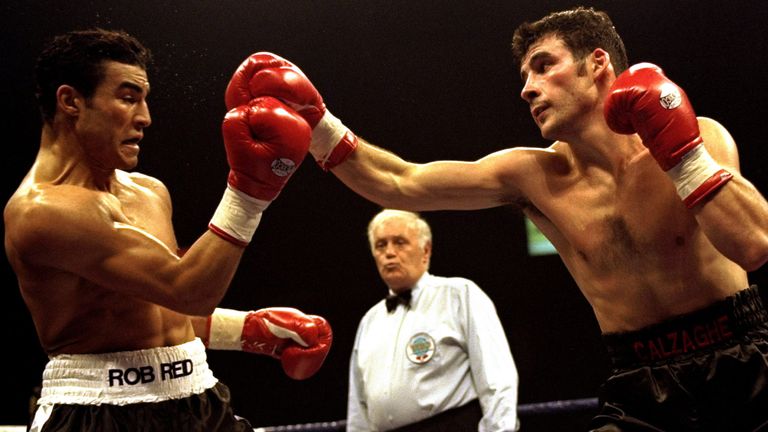 Who: Joe Calzaghe 25-0 (Champion) v Robin Reid 26-1-1 (Challenger)
What: WBO Super-Middleweight titles
When: February 13, 1999
Where: Telewest Arena, Newcastle
Won: Joe Calzaghe won SD12
Who else was on?
There were two super-middleweight world titles on the line and the pair eventually facing each other a year or so down the line. Richie Woodhall was chief support and stopped Vincent Nardello - who he was supposed to fight last time out - in the sixth, leaving the Italian with an 0-4 record against Englishmen, losing to Woodhall, Robin Reid, Glenn Catley and Nigel Benn! Junior Witter won a world title of sorts, beating Malcolm Melvin in two to take the World Boxing Federation light-welterweight strap, while Jon Jo Irwin defended the British featherweight, seeing off Alex Moon over the full distance. Over in America, the Thomas & Mack Centre saw Erik Morales continue as WBC super-bantamweight king, while the big one saw Oscar de la Hoya - now up at welter - stayed unbeaten but inflicted Ike Quartey's first defeat as they went head-to-head.
What we recall
"I think there was a bit of bad blood and they got under each other's skin. He was young and I remember Joe trying to have an image; a bragger who didn't believe anyone could fight. Well Robin Reid could, believe me. This was so, so close that many people thought Robin Reid had won. It was nip and tuck all night long and while Joe's speed meant he would throw lots of punches, they were not hard and Reid just stood there, waiting to hit him with a big one. Calzaghe came out with all the combinations but I definitely remember Robin landing the big, eye-catching shots. It depended what the judges preferred and it genuinely could've gone either way. I've been wracking my brains and I am pretty sure my scorecard had it down as a draw. This is probably the closest Calzaghe came to being beaten." Glenn McCrory
"He gave Calzaghe a really, really good fight. But the one thing that I always look back at is why he didn't beat the drum for a return match? Reid was landing the better punches all night and I thought the judges might well have picked him on that. I think there was an issue for Calzaghe, possibly a hand injury during the fight, so he wasn't hitting hard at all whereas Reid landed plenty of big shots - and a lot of his work was of better quality than anything Joe came up with. It was one of those difficult ones to score, depending on what you like and although Calzaghe got the decision, the biggest surprise for me was that Robin started screaming the place down asking for a return!" Jim Watt
What the winner said
"I definitely thought I'd won but it was a very disappointing performance. Robin fought the perfect fight, the right fight, so respect. I'd been out of the ring for 10 months, but I am still the world champion. But respect to Robin because he got caught with some good shots early on but he just kept coming back." Joe Calzaghe
What happened next?
Well Calzaghe was straight back into action four months later and again the judges were called upon but there were no doubts as he schooled Rick Thornerry in Wales. There was no real clamour for a Reid rematch either and although the male model did not box again until the new millennium, he was never far away. He got back in the ring in June 2000, beating Silvio Brancon at Hampden Park, Scotland, where a certain Mike Tyson had dropped in!