Great British Face-Off #15 - Joe Calzaghe v Richie Woodhall
This was the last Great British Face-Off, when Joe Calzaghe and Richie Woodhall fought.
Last Updated: 22/11/13 11:46am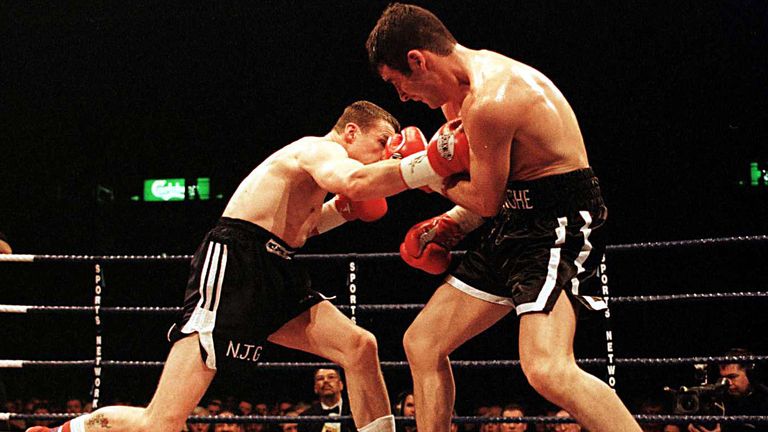 Who: Joe Calzaghe 29-0 (Champion) v Richie Woodhall 26-2 (Challenger)
What: WBO Super-Middleweight titles
When: December 16, 2000
Where: Sheffield Arena, Sheffield
Won: Joe Calzaghe won TKO 12
Who else was on?
It will always be remembered for what happened to chief support, Paul Ingle. He was the IBF super-bantamweight champion but went down in the 11th and 12th before laying motionless on the canvas before the paramedics came and took him away. He was taken to hospital and immediately he had an operation to remove a blood clot from his brain. The first all-super-middleweight British world title fight ended in disaster but at least boxing cleaned up its act and Ingle, an inspiration like Michael Watson, was saved. Before it all went wrong, Esham Pickering's world title tilt also ended in failure as he was stopped by WBO bantamweight champion Mauricio Martinez inside the first round. Neil Sinclair's world title charge also came up short, thanks to welterweight champion Daniel Santos, while over in Pittsburgh, the infamous Paul Spadafora - two jail spells, attempted murder and drug-related incidents - kept hold of his IBF lightweight belt.
What we recall
"This was another one of those nights we will never forget - not for the right reasons, this time poor old Paul Ingle. I remember arriving at the weigh-in after my cousin's funeral and Paul looked so drawn, I just didn't feel good going into this. Richie Woodhall is one of my favourite people in boxing and such a good guy and a great technician but this was a step too far for him. Calzaghe's speed was always going to tell but this time he brought some power in with him too and a tall, upright, classic boxer like Richie was always in trouble. His jab was great but once Calzaghe got past it, he started breaking him down, bit by bit and then chopping him down. He went down in the ninth and that was the beginning of the end. Don't get me wrong, Calzaghe looked good as he always did, but given what had happened to poor Paul Ingle, it wasn't really the right time to celebrate." Glenn McCrory
"Calzaghe was too good for Richie Woodhall, simple as that. This was a typical Calzaghe defence; him in complete control, fighting at pace and landing plenty of shots and slowly but surely, taking the game away from his challenger. I think he went down later on simply because of constant pressure and nowhere for him to hide. Yes, Richie had been a world champion and such a smart boxer, but when he came up against Joe I think it didn't take long for him to realise he was taken on the best. As for poor Paul Ingle it just puts everything into perspective and I am so glad we see him more and more these days. He was a cracking little fighter but boxing didn't really matter that night." Jim Watt
What the winner said
"I knew I had to be good because I think Richie is better than all the other champions, and I said that - and he proved it with 10 really tough rounds. At times I was missing wildly and only someone as good as Richie can make me do that, because he's an intelligent boxer. Richie's a good fighter but I was too strong in the end and got my second wind in the ninth and 10th and got my combinations together and won." Joe Calzaghe
What happened next?
That was the last time we saw Woodhall in the ring, but he is now a respected co-commentator, pundit, trainer, and a vital member of the amateur set-up in Sheffield. His farewell saw Calzaghe finish off his next two inside the distance, Mario Veit lasting less than a round, in April. As an established world champion the, WBO holder would dismiss all comings for another 14 fights... and now 13 years on, we are seeing two British boxers battle it out for not one, but two, super-middleweight titles.