Froch v Groves wrap
We bring together all the reaction in the aftermath of Carl Froch's victory over George Groves.
Last Updated: 25/11/13 10:40am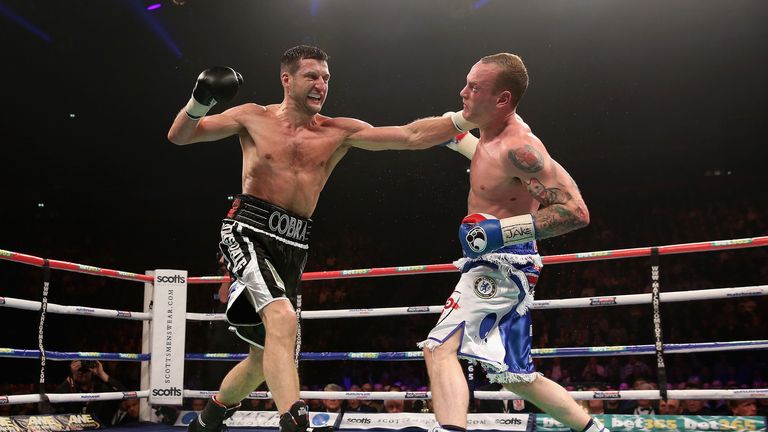 However, it could have been an all-time classic had referee Howard Foster not stepped in and ended it in the ninth round, so ending George Groves's brave challenge for Carl Froch's world titles.
Would Groves have survived Froch's onslaught, or taken unnecessary punishment on the way to a brutal defeat?
Or would he have fought back and beaten Froch who had been so conclusively knocked down in the first round. George was ahead on all three scorecards.
Maybe Foster should have given Groves a standing count, and taken that time to judge whether or not he was able to continue.
We will never know the answers to these questions as the events of Saturday night pass into history.
However, the combatants and those closest to them all had their say over the next 24 hours, and here we present those views.
Froch far from magnanimous
Tension was still at fever pitch as Froch and Groves were interviewed by Sky's Ed Robinson in the immediate aftermath of their gruelling fight. Carl did not endear himself to the fans by claiming Foster made the right call, while heroic George - who had been booed into the arena - was suddenly the fans' favourite.
McCrory livid
Up in the Sky Sports Studio our guests Glenn McCrory, Amir Khan and David Haye were all in agreement...we were all robbed of seeing the fight reach its natural conclusion. McCrory was 'disgusted' by the decision, saying Groves had deserved the benefit of the doubt the way he had fought up to that point.
Eddie backs Groves
Promoter Eddie Hearn heaped praise on Groves, whom he said had announced himself on the world scene. "He's going to be around for a long long time and he'll get his shot whether it's Carl Froch or another world champion - and I think immediately," said Hearn.
Froch unmoved
Froch was steadfast in his belief that Foster did the right thing in ending the fight, believing Groves was ready to go. Despite winning only two or three rounds Carl insisted he would have gained the stoppage sooner or later. "I got off the floor, carried on fighting and forced a stoppage in round nine. I turned the fight around and defended my title in style," he said.
George demands rematch
A gutted and bruised Groves believes he has a right to a rematch with Froch after dominating the fight from the opening round. "I deserve one after everything I put up with. It was an unfair and unjust decision and if Carl does decide to box on, his next fight should be a rematch against me," said Groves.
McCracken backs Foster
Froch's trainer Rob McCracken believes the fight would never have got to the end of the round, such was Froch's pressure. "The fight was over for George at that point and I'd be amazed if anybody thinks it wasn't. There was no coming back from that - he was gone." He also praised Groves' ability but insisted the second half of the fight was always going to belong to Froch.
Fitzpatrick slams ref
Paddy Fitzpatrick, who had taken over as Groves' trainer 10 weeks out, was furious with Foster for denying his man a right to earn a living. He called the referee 'amateurish', and is determined that this should be the last time a fighter is stopped too early in a fight. "If we continually leave it to referees they will continually do the same thing. So something has to be done," he said.