We look back at 10 fights that were prematurely brought to a halt
In the wake of Froch v Groves, we look back at 10 other fights that were thought to have ended early.
Last Updated: 26/11/13 12:22pm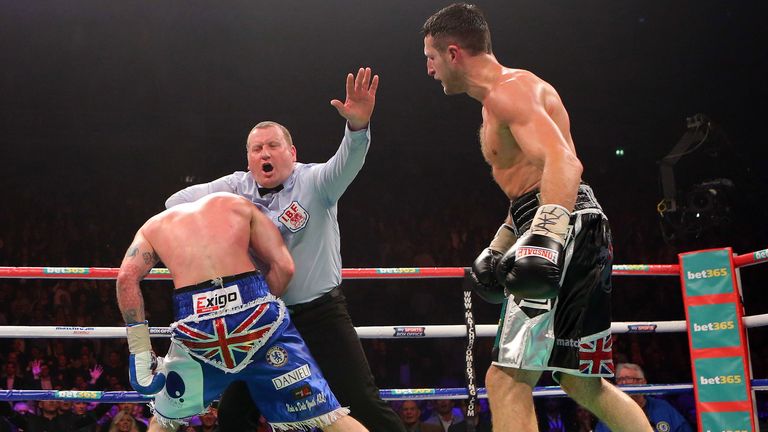 Meldrick Taylor v Julio Cesar Chavez - L TKO12
Former Olympic champion Taylor was unbeaten in 25 fights and IBF light-welterweight champion - Chavez entered with a flawless 68-fight CV and holder of the WBC strap. Something had to give, and for 11 rounds Taylor was on top, despite terrible damage to his face. He only had to stay out of trouble in the 12th, but was floored heavily by a right hand late on. Referee Richard Steele reached a count of eight, and, with two seconds of the fight left, waved it off. The fact that the brawl was The Ring's Fight of the Year was little consolation to Taylor, who was never the same again.
Vitali Klitschko v Lennox Lewis - L TKO6
Lewis, now 37, was coming to the end of his career and, a year on from beating Mike Tyson, was due to defend his heavyweight titles against Kirk Johnson. When he pulled out just days before, former WBO champion Klitschko stepped in. In a ferocious fight that saw both men land huge right hands, the Ukrainian was ahead on the cards but increasingly troubled by deep cuts above and below the left eye. After six rounds the damage was so severe the doctor instructed the referee to call the fight off, much to the protestations of Klitschko.
Carl Williams v Mike Tyson - L KO1
In Tyson's last victory before his life and career spiralled out of control with defeat to James Douglas, he came up against the much taller Williams, a legitimate contender who had only lost to Larry Holmes and Mike Weaver. However, he was susceptible to the left hook and sure enough just 90 seconds in Tyson landed a shot that put 'The Truth' on the seat of his pants. He beat the count, but twice failed to answer Randy Neumann's question 'are you alright?'. The referee waved it off, and unlike most of Tyson's opponents, Williams complained bitterly that he should have been allowed to continue.
Carl Thompson v Johnny Nelson - L TKO6
Thompson had twice defended his WBO cruiserweight title against Chris Eubank and came up against bitter rival Nelson, who had lost 12 times but was on a six-fight winning streak. Nelson was soon on top, dropping 'The Cat' in the fourth, and heaped pressure on in the fifth, knocking Thompson off balance with a right hand prompting Paul Thomas to call it off. Thompson, well known for his durability, immediately remonstrated with the referee and was clearly not hurt. Five years on, he would stop a young David Haye in five, while Nelson, went on to defend the title on 14 occasions.
Peter Manfredo v Joe Calzaghe - L TKO3
American Manfredo was a star of HBO's 'Contender' series but this was a routine defence for WBO champion Calzaghe - his 20th in all. The Welshman went through his full repertoire in the early going, trapping Manfredo on the ropes and teeing off at will. Yet while Calzaghe's rapid-fire shots were impressive on the eye, the American was deflecting many of them on his arms and gloves and it came as a surprise when the Belgian official stepped between the pair. Manfredo was not amused.
Enzo Maccarinelli v Ovill McKenzie - L TKO2
Popular Enzo had been knocked out, often heavily, five times in his career as a cruiserweight but after serving a ban for a failed drugs test returned in 2012 as a light-heavy. His fight, for the Commonwealth title, saw him face the heavy-handed yet fallible McKenzie, making his second defence of the belt. The pair traded blows early in the fight but it was nothing more than a routine exchange on the ropes that was surprisingly ended by Ian John Lewis, who himself didn't seem convinced that he'd made the right decision. It was one occasion where a fighter's previous form counted against him, and he duly went on to win the rematch.
Donovan Ruddock v Mike Tyson - L TKO7
Tyson was on the comeback trail a year after his defeat to Douglas, and there was bad blood between the pair with Tyson threatening to kill his opponent in the ring. The fight was brutal - with Tyson's aura of invincibility now shattered 'Razor' stood toe to toe, taking Iron Mike's best shots and dishing out some of his own. Ruddock had been dropped in the fourth, but was on the end of a three punch combination although still on his feet when Richard Steele - he of Taylor-Chavez fame - stepped between them. His actions sparked a mini-riot in the ring as both entourages piled in, but opinion was divided. Tyson dominated the rematch three months on but was incarcerated shortly afterwards.
Anthony Crolla v Derry Mathews - L TKO6
'Million Dollar' was making his second defence of the British lightweight title and was being touted as a future world champion. But things started to unravel against Mathews, who went into the fight on the back of a sixth career loss but dropped Crolla with a big right hand in the third round. Manchester's Crolla then suffered a nasty cut in the fourth as the drama turned into a crisis. But the tough-as-teak champion was fighting back and appeared to have weathered the storm when referee John Keane called a halt in the sixth round. In the rematch, they boxed each other to a standstill in a thrilling draw.
Diego Corrales v Joel Casamayor - L TKO6
Corrales, on the comeback trail more than two years on from a battering at the hands of Floyd Mayweather, would become a legend in his own, short, lifetime. He was put down twice by Casamayor but dropped the Cuban once as well and fought back to wobble his opponent in the sixth after taking another shellacking. The fight could have been a classic but the doctor called it off mid-round with 'Chico' suffering two nasty cuts around the mouth. They fought twice more, each earning a win via split decision. Sadly, within a year of the trilogy Corrales was dead.
Audley Harrison v David Haye - L TKO3
Not a travesty by any means, but big Audley always maintained he still had his wits about him when he was stopped on his feet. Harrison had frozen on the big occasion - his first world title fight and what he believed to be his destiny - barely throwing a punch. Haye had also been unable to pull the trigger until round three, when a blizzard of heavy blows dropped Harrison to the canvas. He beat the count, but only a few punches later the fight was over. We all wanted to see more, but whether Audley was up to it is debatable.