British P4P rankings
The British fight scene is awash with talent, now with four fully-fledged world champions and several other contenders on the verge of title shots. We assess the relative ability of the best fighters around.
Last Updated: 08/12/13 8:24pm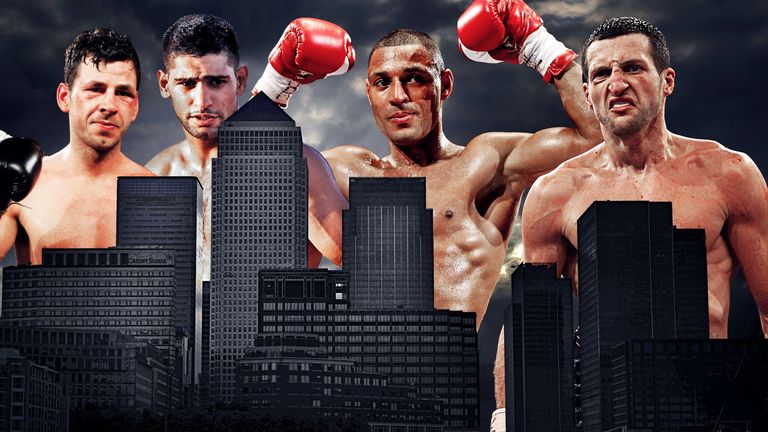 Boxing in this country is on a high with four active world champions and several others on the verge of breaking into the elite level.
With Sky Sports' Saturday fight night proving increasingly popular with the fans, you can follow the latest fortunes of your favourite pugilists right here.
Our pound-for-pound ratings will be updated on a regular basis, providing food for thought and much debate! Rankings are based on performances over the past 12 months or so.
We want your views, so please leave your comments in the box below...
1.Carl Froch
From: Nottingham
Age: 36
Division: Super-middleweight
Record: 32-2
The 'Cobra' has carried all before him over the past few years, reaching the final of the Super Six, regaining the world title against Lucian Bute and avenging his earlier loss to Mikkel Kessler. In George Groves he faced, for the first time, a younger man representing the new generation. And Froch required all his reserves of experience, strength and skill to claw his way back from a heavy early knockdown to force an admittedly premature stoppage in the ninth round. Carl was behind on everyone's scorecard but his strength over the 'championship' rounds is well documented and who could say he wouldn't have forced a later stoppage anyway. That said, rising 37 Froch does not have many more fights like that left in him.
2.Darren Barker
From: Barnet
Age: 31
Division: Middleweight
Record: 26-1
A long-awaited entry for the likeable North Londoner after a difficult two years during which he considered retirement. After losing to Sergio Martinez the former European champion had hip and elbow injuries that threatened his career and kept him to just two low-key outings before he was matched against IBF champion Daniel Geale. Although Barker entered the ring a slight underdog there were few in the UK who felt the win was beyond him - and so it proved. 'Dazzler' showed tremendous heart to get off the floor from a body shot in the sixth round to secure a points victory and set up a potential fight with Martin Murray. Felix Sturm awaits.
3.Martin Murray
From: St Helens
Age: 30
Division: Middleweight
Record: 25-1-1
Rising from virtual obscurity to force a draw with WBA champion Felix Sturm, Murray immediately put himself in the running for the list. Largely avoided since, the middleweight got another shot at the championship against Sergio Martinez, dropping the WBC titlist before going on to lose narrowly on points. A defeat rarely sees you elevated but in doing so Murray nevertheless proved beyond doubt he is an elite fighter. Hopefully he doesn't join the 'who needs him' club and will be involved in a big domestic fight soon.
4.Scott Quigg
From: Bury
Age: 25
Division: Super-bantamweight
Record: 26-0-2
Quigg secured the WBA title in somewhat unsatisfactory circumstances after he was upgraded from 'interim' champion without stepping into the ring. However, his explosive two-round demolition of Argentina's Diego Silva in his second defence went a long way to reaffirming his world-class credentials after a frustrating majority draw against Cuban Yoandris Salinas just six weeks earlier. The fight most fans want to see remains a showdown with arch-rival Carl Frampton, but that is proving tricky to make.
5.George Groves
From: London
Age: 25
Division: Super-middleweight
Record: 19-1
'Saint' George had won few fans with his pre-fight attitude in the run-up to his first world title fight with Carl Froch, but he - unlike so many - believed he was ready to take up the challenge. In the fight he won over fans and critics alike, flooring Froch with a huge right hand in the opening round and continuing to bombard the shell-shocked champion throughout the contest. However, the older man would not back down and in a massive ninth round he had Groves in trouble on the ropes before the referee stepped in prematurely. We'll never know whether Groves would have hung on for another three rounds to claim the titles, but we do now know he belongs at the top table.
6.Ricky Burns
From: Coatbridge
Age: 30
Division: Lightweight
Record: 36-2-1
Ricky remains high on the list despite being fortunate to be handed a draw in his latest WBO lightweight title defence. The Scot suffered a broken jaw in the second round of his fight with Ray Beltran, and while credited with immense bravery his belt should have gone home with the America-based Mexican, who dropped the champion in the eighth and dominated large parts of the fight. It was the second lacklustre performance in a row from Burns, and the jury is now out pending his return - when, or indeed if, that happens.
7.Amir Khan
From: Bolton
Age: 26
Division: Light-welterweight
Record: 28-3
We'd like to see Amir fight more often - his ascent to elite level and defeat - a shock at the time - to Danny Garcia means he has fought only three times in two years. And we still don't know when he will be fighting next after a potential December date with Devon Alexander fell by the wayside. Victories over Carlos Molina and Julio Diaz are not exactly the best preparation for a fight with Floyd Mayweather - but who knows what Team Khan has in store?
8.Jamie McDonnell
From: Doncaster
Age: 27
Division: Bantamweight
Record: 21-2-1
Jamie is prominent in the list and not before time - it's three years since he added the European title to his British and Commonwealth straps. He has been ready to step up to elite level for some time and after a frustrating 18 months that saw him fight just 10 rounds he took on Julio Ceja for the IBF bantamweight title. And, in front of a home crowd in Doncaster, McDonnell did not disappoint as he out-battled his opponent for a majority decision. However, contractual wrangling has meant another period of inactivity with the IBF ultimately stripping him of the belt. Back in action in November with a win and returns with another low-key fight on December 14.
9.Kell Brook
From: Sheffield
Age: 27
Division: Welterweight
Record: 31-0
The 'Special One' remains poised in the lower reaches of the list as we await his ascent to world level. The Devon Alexander saga may yet rumble on, with Brook still the mandatory challenger for the American's IBF belt. Kell remained on course with a four-round demolition of Vyasheslav Senchenko, once again showing his undoubted class in the process. All he needs to do now is prove it against a top quality opponent, like Alexander or even Amir Khan.
10.Tyson Fury
From: Wilmslow
Age: 25
Division: Heavyweight
Record: 21-0
His fight with David Haye may have fallen through but Fury's performance against Steve Cunningham earlier this year had already proved him to be Britain's best active heavyweight. Fury's career has arguably contained more hype than substance but there is little doubt that the curve is an upward one, with the 6ft 9in giant now highly ranked by all the sanctioning bodies. However, he does need to put his first period of inactivity behind him and engage in a meaningful fight in the new year.