Shocked by Darren Barker's defeat - Carl Froch, Kell Brook and Glenn McCrory reflect on loss to Felix Sturm
Carl Froch, Kell Brook and Glenn McCrory reflect on Darren Barker's devastating loss to Felix Sturm.
Last Updated: 09/12/13 9:27am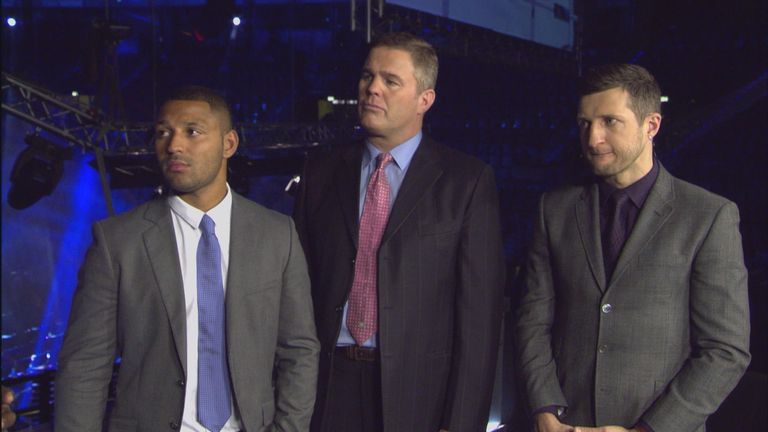 The 34-year-old opponent made a blistering start and was relentless with his attacking approach knocking Barker to the floor in the second round which led to the Londoner's trainer, Tony Sims, to throw in the towel for an early stoppage. After the fight it was confirmed that Barker had dislocated his hip, an injury that could prove career-ending.
After the fight in Stuttgart the Sky Sports Fight Night International team asked Carl Froch, Glenn McCrory and Kell Brook for their views on what went wrong for Barker.
CARL FROCH: "I'm really shocked, I think everybody is shocked and I think all the British fans will be shocked. You expected Darren Barker to be in there and hear the final bell. From round one they started in front of each other they were exchanging big blows and Darren Barker took a couple of shots round the back of the ear and they're the ones that make you wobble a little bit and he was making himself low and looking down a lot.
"Sturm came out and rose to the occasion. There was a lot of pressure on him and he just stood in front of Darren. It was exciting while it lasted because they were exchanging left hooks in round one and that's not a shot that usually goes in but Darren broke down and got caught on the back of the head and one hit him and forced the dislocation of his hip. I 'm so devastated.
"If Darren Barker had of boxed through and got behind the jab and used his range and stood tall - which he wasn't doing - he'd have knocked that out of Sturm. If he'd of boxed and moved and used his boxing ability he'd have got in to a later round.
"I don't think he would have underestimated Sturm because I know he's trained really, really hard for this and he would have taken him seriously, especially being in Felix Sturm's backyard in Germany.
"The towel came in at the right time from Tony Sims because he was taking shots and you could see that he couldn't walk properly."
GLENN McCRORY: "I think what shocked me the most was the way Sturm started, He shot out of the corner and he looked so sharp and so strong, total self-belief. I would have thought that he'd of given Barker a little bit more respect and got behind his jab a bit but he didn't, he boxed with confidence.
"It is quite shocking to see Darren get beat in that sort of fashion and it's a fight that if you look at the records you didn't think Sturm would win like that. It was really against the odds but he had thorough confidence. I was bit surprised why Darren was stooping so low and not standing and getting his height and was cowering away from that right hand which was leaving him open to the right hand. He was thinking early on and got caught with some very big punches. If he's dislocated his hip, that's how hard he was getting hit.
"I wonder, had he walked out the dressing room before the start of the fight and seen what was in store for him because the atmosphere was unbelievable; we all got a bit of a shock about how intense it was, I just wonder when he was coming out did it all of a sudden daunt on him that this is a big, big night and everyone wants to see the opponent win."
KELL BROOK: "I thought Sturm started fast and I was shocked with that. We don't know how Darren Barker's training has gone. His hip has gone, he's had injuries before but nobody knows what goes on behind closed doors. He was shocked by the way Sturm started out. We're all shocked here we expected it to be a tough, gruelling fight.