Boxing review of 2013
We reflect on some of the highs and lows in the world of boxing over the past 12 months
Last Updated: 20/12/13 7:49pm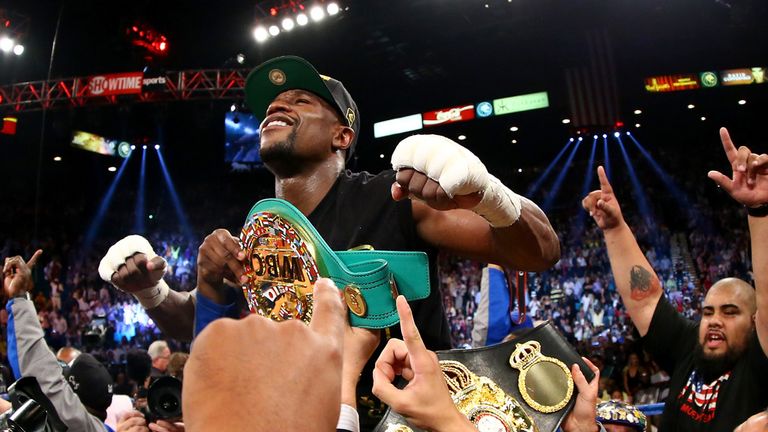 Mayweather cashed in on his 'Money' brand by picking up monster paydays against Robert Guerrero and Saul Alvarez, proving at 36 he still has all the attributes to be called the best on the planet.
His fights bring such great revenues that every elite fighter from 140lb to 154lb will be angling for a clash with Floyd in 2014, top of that list being Britain's Amir Khan, whose exceptional hand speed and vulnerable chin make his fights compulsive viewing.
'Canelo' Alvarez was the first opponent to be genuinely bigger than Mayweather, yet the unbeaten American had his measure as early as the third round and pounded the popular Mexican to a one-sided points defeat.
That was the second in a six-fight promotional deal Mayweather had signed earlier in the year with TV network Showtime, turning his back on a career-long association with HBO. It means he could yet retire with a 50-0 record intact.
Timothy Bradley and Danny Garcia are two possible future opponents for him and they both advanced their records with two victories apiece.
Bradley, scarred by a victory over Manny Pacquiao in 2012 that came via dubious judging, won fans over by brawling with dangerous Russian Ruslan Provodnikov for 12 thrilling rounds before shaking off the effects of that fight with a more calculated success over Juan Manuel Marquez.
Garcia struggled to beat a past-peak Zab Judah and went into his fight against Lucas Matthysse as the underdog, only to prove his doubters wrong once again with a fine victory that saw him take the fearsome Matthysse's best punches before putting the Argentine on the floor on the way to a points win.
Pacquiao had just one fight this year, beating Brandon Rios over 12 one-sided sessions that proved that he, too, still has a lot to offer and could yet entice Mayweather into a fight that should probably have happened two years ago.
Middle and super-middleweight kings Sergio Martinez and Andre Ward also had a quiet year - Martinez resting more injuries after picking up a narrow decision in front of 55,000 home fans against St Helens' Martin Murray, who fell to some questionable judging in a world title fight for the second time, while Ward returned from shoulder surgery to beat Delvin Rodriguez in a fight that saw both fighters docked two points for unsportsmanlike behaviour.
Two fighters to emerge with big futures, however, were Adonis Stevenson and Gennady Golovkin. The latter has reigned as a middleweight champion for some time but continues to be avoided by the big names on account of his fierce power. He had four fights against sub-standard opposition, but did what he had to do in stopping each well inside the distance.
Stevenson, by contrast, emerged from virtual obscurity to win his four fights by KO, most impressive of which was his one round icing of WBC light-heavyweight champion Chad Dawson (see below), while his vicious left hook was in evidence again as he stopped our own Tony Bellew in his second title defence. Like Golovkin, Stevenson will be a hit at the box office in the coming months.
In the same division, the indefatigable Bernard Hopkins bettered his own record by becoming the oldest world champion in history at the age of 48 when beating Tavoris Cloud to claim the IBF strap. Not only that, but his first defence against Karo Murat was his most fluent performance of recent years, and will ensure that the 'Executioner' will box on in 2014 and past his 49th birthday.
Broner Bombs
Adrien Broner took care of Gavin Rees in five rounds and then stepped up two weight classes to take Paul Malignaggi's WBA title to make him a three-weight champion at just 24. However, in one of the shocks of the year the bandwagon came off the rails when 'The Problem' ran into a freight train in the shape of Marcos Maidana, who dramatically upset the odds with a wonderfully entertaining 12 round beating of the largely unpopular Broner, making the hitherto unbeaten 24-year-old eat some much-needed humble pie.
Froch added the WBA belt to his IBF strap by avenging his loss to Mikkel Kessler, and then defended against George Groves in one of the most thrilling, and ultimately controversial domestic battles of the past decade. Groves knocked the champion down in the first round and dominated the first half of the fight before Froch started to turn things around, only for the referee to stop the action prematurely with Groves coming under the cosh.
It was an unsatisfactory conclusion for all concerned leaving the public demanding a rematch in 2014, with only Froch seemingly unwillingly to co-operate at this stage.
Scotland's Ricky Burns endured a difficult year - inactivity owing to cancelled fights and a contractual dispute with his promoter played it's part in a 'life-and-death' fight with Jose Gonzalez, who eventually quit on his stool, before the WBO champion suffered a broken jaw on the way to a contentious draw with Ray Beltran in which he was knocked down and appeared to be beaten, only to be rescued by the judges.
The heavyweight division failed to ignite after David Haye had potential fights against Manuel Charr and Tyson Fury called off due to injury, most latterly a career-threatening shoulder problem. It left Wladimir Klitschko clear to make routine defences against Francesco Pianeta and Alexander Povetkin, a one-sided pummelling of the latter earning the champion in excess of $17m from a Russian promoter.
Brother Vitali was not asked to defend his WBC strap and while the likes of Deontay Wilder, Bryant Jennings and Kubrat Pulev all manoevered themselves into positions to challenge it remains to be seen where the heir to Klitschko's throne will emerge from.
Tyson Fury was denied his place in the limelight after seeing a blockbuster clash with Haye fall through having defeated former cruiserweight champion Steve Cunningham on his American debut. All the talk at the start of the year was of Fury taking on David Price, but that, too, was pie in the sky as the Liverpudlian was exposed by Tony Thompson as he stepped up from domestic level.
Britain saw Darren Barker, Scott Quigg and Jamie McDonnell win world titles although only Quigg remained champion by the year's end - Barker's brief IBF middleweight reign ended in heartbreak and probable retirement after being injured in a stoppage loss to Felix Sturm, while McDonnell lost his out of the ring after failing to defend his IBF bantamweight strap in the time allocated by the sanctioning body.
Nathan Cleverly lost his long-held WBO light-heavyweight belt in a one-sided beat down from Sergey Kovalev and Gavin Rees, Lee Purdy, Martin Murray and Tony Bellew all saw shots at titles come up short.
Domestically, Frankie Gavin made three defences of his welterweight title to claim the Lonsdale Belt outright and will be looking to step up a level in the New Year, while Liverpool's Smith brothers Paul, Liam and Stephen became the first three siblings to concurrently hold British titles while a fourth, Callum, became one of the sport's hottest properties with five successive first round stoppage wins.
Fighters of the year
Floyd Mayweather
There isn't much left to be said that hasn't already regarding 'Money' Mayweather, although perhaps he took his 'brand' to another level this year with two fights that brought in huge box office numbers and Floyd himself enormous wealth. Having had only four fights in the five years since he beat Ricky Hatton, Mayweather announced a new six-fight deal with Showtime that marked the end of a career-long association with rival broadcaster HBO. It meant the promise of a more active fighter, with the likelihood of two fights a year over the next three, starting with Robert Guerrero in May. Guerrero had moved swiftly through the weights in a bid to lure the bigger names, and it worked perfectly as he secured a shot at Mayweather, even though few gave him a chance. And they were right - as game as he was, Mayweather soon dispelled the notion that he struggles with southpaws by outfoxing his foe over 12 sessions. And it was a similar story when he stepped up to light-middleweight for only the third time in his career to face Saul Alvarez, the young, unbeaten Mexican hailed by many as the one to rough up and unsettle Mayweather's rhythm. But within four rounds it was as good as over, the much bigger 'Canelo' visibly frustrated by his unsuccessful attempts to catch an opponent as mobile as ever and still as slick at the age of 36. Mayweather's lead rights were devastating and while it was one of Floyd's most accomplished performances, a score of 114-114 from judge CJ Ross was plainly absurd. It was another expert display of pure boxing and while Mayweather's defensive style doesn't please everybody, he continues to rake in the megabucks as he reached a career slate of 45-0.

Carl Froch
For the second year in succession the 'Cobra' is handed the domestic fighter of the year gong after coming out on top in barnstorming encounters against Mikkel Kessler and George Groves. A reliable vehicle for Sky's Box Office audience, Froch once again delivered the goods in fights that will be talked about for years to come. The Nottingham brawler had long sought a rematch with Kessler after his narrow defeat in Herning three years previously, as Froch had always contended he was not at his best that night despite helping turn the fight into an all-time classic. He was definitely on top form at the O2 Arena on May 25 though as months of anticipation boiled down to 36 minutes of intense action. Froch set the pace as he established the jab early on, and although Kessler fought his way back into it, a massive ninth round for the Briton confirmed his authority. The Dane, courageous to the end, continued to throw bombs and even wobbled Froch late on, but the home hero would not be denied his victory. By November he had turned 36, and his next assignment was against mandatory challenger George Groves, who at 25 years of age was 11 years his junior. And the difference was stark as a fresh, hungry challenger came out in the first round and delivered the first telling blow of the night - a massive right hand that floored Froch for only the second time in his career. Emboldened, Groves continued to pour forward and repeatedly caught the champion flush in the face, racking up round after round. But Froch has been fighting at elite level for five years and clawed his way back... by the ninth round the pair were exhausted but it was Groves who wilted under the attack and after a barrage of punches the action was halted by referee Howard Foster, to the surprise of all. The fans were robbed of a natural outcome to proceedings, Groves robbed of the knowledge of how deep he could go, and Froch of a most fabulous comeback. And, ultimately, that is what it was. At 36 he still stands tallest of all UK boxers.
Fight of the year
Bradley v Provodnikov
The March 16 clash for Bradley's WBO welterweight title laid down an early marker that was not to be surpassed. Bradley entered the fight looking to prove a point after being handed a victory over Manny Pacquiao by the judges that few thought he deserved, while Provodnikov was an unheralded Russian known to have heavy hands. And so it proved as Bradley went to hell and back in the first six minutes of the fight - he was dropped in the opener but it was ruled a slip, however worse was to come in the second when Provodnikov turned his legs to jelly with only the ropes holding up the champion. However, Bradley hit back and picked up the marauding Russian in the middle rounds to set up a lead and cause cuts and swelling around the challenger's face. It still wasn't over though, and Provodnikov rallied strongly late on and another heavy barrage had Bradley down in the 12th, this time legitimately. But it was too late, as Bradley survived to hear that all three judges had given him the verdict. The American later admitted it took him three months to fully get over the bout, and to this day he cannot recall anything that happened in the fight after the first two rounds. It was brutal... yet compelling.
Knockout of the year
Stevenson v Dawson
As sensational as it was chilling, Stevenson's first round icing of Chad Dawson sent shockwaves through the light-heavyweight division. The naturalised Canadian, born in poverty-stricken Haiti, had just avenged the only defeat of his career to a journeyman named Darnell Boone and was looking for his next opponent at super-middleweight. None was forthcoming, including a potential clash with Carl Froch, for whose IBF belt he was mandatory challenger. But with the Briton unsurprisingly opting for a unification fight with Mikkel Kessler, Stevenson was left with little option but to move up a division and face the returning Dawson, who was back at 175lb to defend his WBC title having unsuccessfully challenged super-middleweight king Andre Ward for his two baubles. Stevenson had never fought at such an exalted level and entered the contest as a big underdog, but his tally of 17 stoppages in 20 wins rang alarm bells for some and it didn't take long before he left his mark on Dawson. The two southpaws locked jabs early in the fight as they sought to find their range, but Stevenson was the first to unload his backhand which crashed against the temple of the champion, whose legs stiffened as he fell to the floor. The American beat the count of 10 but was clearly still spaced out and referee waved it off, causing wild if embarrassing celebrations from the new champion after just a minute and 44 seconds of action.
Shock of the year
Price v Thompson
David Price entered 2013 on a high after blazing a trail through the domestic heavyweight division, and was looking to establish himself on the international scene ahead of what seemed to be an inevitable run at a world title. In Tony Thompson he was put up against an American who at 41 was thought to be past his best and out of shape, tipping the scales almost 20lbs heavier than when losing his second world title shot against Wladimir Klitschko the previous summer. But it turned into Pricey's worst nightmare as his inexperience showed when it mattered most. Having missed with a right hand against the awkward southpaw, Price was struck with a cuffing shot behind the ear that dropped him to the canvas, and the home crowd were silenced as the popular Liverpudlian struggled to get his 6ft 9in frame upright. As he did so it was clear his senses were scrambled, and the referee made the correct decision to call it off. It was a stunning upset that so rattled the former Olympic bronze medallist that he then lost a rematch five months later, leaving him to face an uncertain future in the sport.
Prospect of the year
Callum Smith
Of all the former Team GB boxers to have joined the paid ranks in the last two years, surely none has impressed more than 23-year-old Smith. Denied a place on the Olympic squad by a quirk of qualification, Smith joined his three elder brothers as a professional in 2012, winning his first two four-rounders on points. Nobody could have anticipated the run 'Mundo' would go on this year, when he went on a record-breaking spree that saw him stop six consecutive opponents in the first round - quite a feat for a super-middleweight. But it wasn't even the headline-grabbing nature of the victories that impressed most - it was the way Smith went about his business in such a patient and controlled manner, somewhat rare for a hungry, ambitious tyro. Such an approach will surely stand him in good stead for the future, and with brother Paul expected to vacate the British title next year his younger sibling is likely to take that route on the way to much bigger things, having already collected the English belt in just his eighth contest.
Quotes of the year
"I've been getting robbed every time. It is just so frustrating, there is so much sacrifice. We put ourselves on the line. Everything was against me, it always is. In the people's eyes I am world champion."
Ray Beltran after his fight with Ricky Burns ended in a controversial draw.
"I would have fought with two cut eyes, I would have fought with a broken leg. There was nothing that was going to stop me from fighting."
Tyson Fury on the news that David Haye pulled out of their fight a week before with a cut above the eye.
"I'm going to come out, I'm going to meet you centre of the ring first round and I'm going to win the jab exchanges and I'm going to hit you with two right hands, just two, just to let you know whenever I want, I can hit you with a right hand."
George Groves makes a prediction prior to knocking Carl Froch down with a right hand in the first round of their fight in Manchester.
"It was an unfair and unjust decision and if Carl does decide to box on, his next fight should be a rematch against me. It would be the biggest fight for him out there so there's no reason not to."
Groves believes a rematch must happen after being stopped controversially by referee Howard Foster.
"He got booed into the arena and he's getting cheered out of it. But let's not forget who won here. It was a very educated decision."
Carl Froch backs Foster's decision.
"He's been knocked out off a guy who has lost 20 fights. Not one, 20 fights. He's been knocked out off a journeyman. He is so small he looks like he's fallen off my key ring. He is not getting to me. I'm cool, calm and I can't wait for Saturday."
Tony Bellew before being stopped inside six rounds by Adonis Stevenson.
"There was no stopping me because I wanted it so badly and when I was on the floor, even though I couldn't breathe there was no way I was staying down."
Darren Barker gets off the floor to beat world champion Daniel Geale.
"Alvarez hasn't faced 42 Floyd Mayweathers, because he'd be 0-42, so I don't really worry about who he's faced. Whatever any fighter can do good, I can do great. I was born to be here, to be at this level."
Floyd Mayweather tells it how it is before his victory over Saul Alvarez.
"We boxed the whole camp but I ignored the gameplan. The night before I just wanted to take him out. But I started listening to my corner and started moving. I hit him with the kitchen sink and he just laughed at me. I was beaten up bad but he was worse."
Timothy Bradley admits he wanted to prove a point in his fight against Ruslan Provodnikov.
Gone, but not forgotten
Ken Norton, 70, former heavyweight
Tommy Morrison, 44, former heavyweight champion
'Baby' Jake Matlala, 51, former two-weight champion
Franky Leal, 26, former title challenger
Emile Griffith, 75, former two-weight champion
Dean Powell, 47, cornerman and mentor