Luke Campbell is already pushing himself for perfection after four professional fights
Luke Campbell admits he is already pushing himself for perfection, particularly after his last performance...
By Richard Damerell
Last Updated: 06/02/14 3:15pm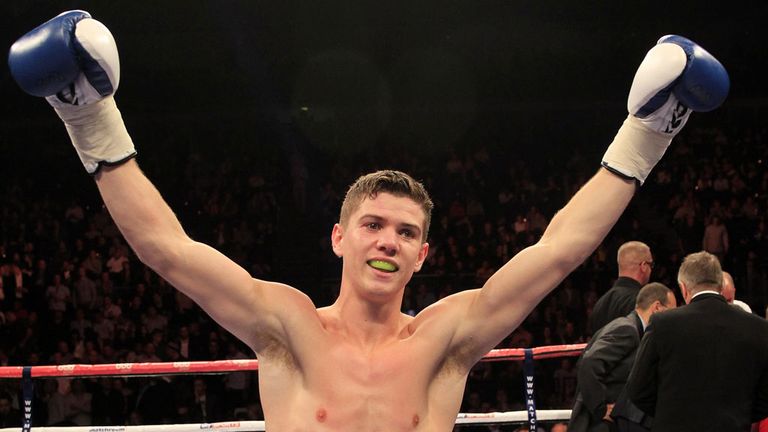 Campbell was a conquering champion of London 2012 - winning gold in the bantamweight final - and with it, the praise and profile that accompanies an elite sportsman.
Even at the age of 26, he has become accustomed to the spotlight, finding new fans in a TV celebrity ice-skating competition - although on this occasion he was a beaten finalist.
Away from the ice-rink, Campbell announced his arrival in professional boxing -an equally treacherous environment where dreams are also shattered in a second, with the fallen competitor left beaten and bruised.
The Hull hero made smooth progress in his first two fights, halting Andy Harris and Neil Hepper in a haze of precise punches, but he would encounter more stubborn foes in the paid ranks.
Campbell patiently picked apart Lee Connelly over five rounds in his third fight, but endured frustration in his next chance to shine, with the gutsy Chuck Jones forcing him to settle for a first points win.
Memories of the fight, which came in front of a big TV audience on the Carl Froch-George Groves bill, still irritate Campbell, who sets himself the highest of standards.
Exciting
"I wasn't particularly happy with my last performance," he told skysports.com
"Then again, I am a perfectionist. I like to do everything right but that's only put me in a frame of mind where I want to be better. I need to be better."
There will be more expectation on Campbell to impress when he resumes action against Scott Moises in his hometown of Hull on February 22.
Large crowds greeted Campbell when he returned to the city with his medal and a phone box was even painted gold to mark his Olympic triumph.
Campbell will not let Moises tarnish his achievements and intends to return to his dazzling best.
"It's about putting on a great performance every time I get in the ring and it's about wanting the fans to come back and see you again, so hopefully they are in for a treat," he said.
"I'm preparing myself and they are going to see an exciting performance."
Giving
The exciting lightweight has added star quality to a domestic division already filled with explosive punchers and equally combustible characters.
Those lying in wait for Campbell are local rival Tommy Coyle, brash Liverpudlian Derry Mathews and Manchester's John Murray, who do not shy away from confrontation.
Gavin Rees and Gary Buckland, two warriors from Wales, produced a savage struggle last weekend, before the latter emerged victorious.
The fresh-faced Campbell would appear far removed from his battle-hardened new rivals but he was warmly welcomed by men who know the hazardous road that lies ahead
"It's very nice, it's the good thing about boxing you know," he said.
"A lot of boxers are gentlemen and it shows. Some of the guys in my division who I could possibly face in the future are giving me compliments and I'm giving them compliments as well.
"It's a gentlemen's sport and we can get in the ring, go toe-to-toe with each other, get out, shake each other's hand and have a friendly chat."
Calling
Campbell is a young man with an old-fashioned attitude to boxing, distancing himself from the crude squabbles that act as a sideshow for many fights.
When asked who he wants to challenge in the future, Campbell preferred to focus on his own career, rather than seek out a rivalry with others.
"I'm not really one for calling out people. I think my performances will show and then people will be calling me out," he said.
There are questions to be answered by Campbell as he strives to defeat another set of competitors, with a world title instead of a medal at stake for the victor.
It remains to be seen whether he will wilt or rise in a sport where every challenger is keen to rip away his golden reputation.
But not even Campbell is giving much away.
"Time will soon tell," he said. "That's all I can say on that one."