Joe Gallagher Q&A
Sky Sports caught up with Bolton-based trainer Joe Gallagher to discuss Saturday's successful night in Manchester and the future prospects of his four winning fighters.
By Adam Norman
Last Updated: 09/05/14 11:46am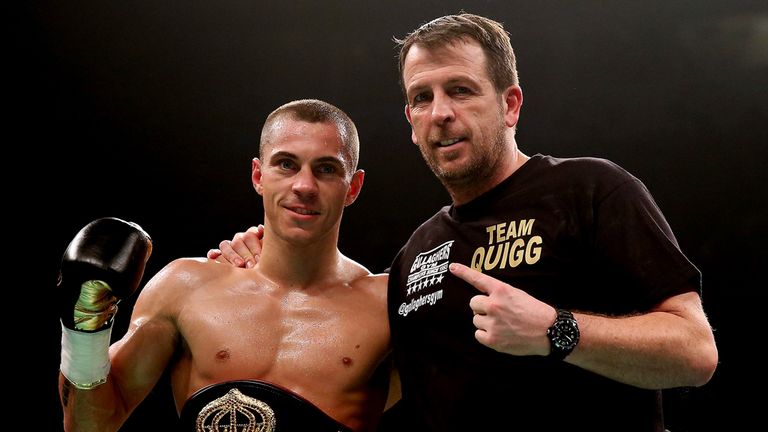 Saturday night at the Phones 4U Arena saw Gallagher prepare four of his fighters for victory, headed by Scott Quigg's latest world title defence and Anthony Crolla's Manchester derby against John Murray.
Joe looks back on a great night of action and ahead at what lies in store for his victorious quartet...
Was Saturday night the best of your career so far?
Too right. I grew up in Manchester watching all the greats at the MEN Area, and for Quigg to headline a show and to have Anthony Crolla, Callum Smith and Hosea Burton to make it four from four, I was proud as punch.
Was that Quigg's best performance or was he made to look better by a weight-drained opponent?
There's too much been mentioned about Munyai being weight-drained. He'd been over here sparring, was in training and was only 5oz over the weight, not 2lb or something like that. The problem he had was that he couldn't handle the power of Scott Quigg. He's growing into the role of world champion and Saturday showed world class power. Other fighters have been over the weight but still performed - there's too much emphasis on Munyai's weight.
Assuming the WBA mandates a fight with Guillermo Rigondeaux at some stage, is there a way to beat the Cuban?
We'd have to get Floyd Mayweather Snr, Roger Mayweather, Freddie Roach and Virgil Hunter to sit down and get together a plan. He's out there on his own and I don't think Mayweather Jr would like to fight him. Maybe Father Time catches up on him but I don't think he'd be there for the taking anytime soon. If it happened we'd put a gameplan together where Scott Quigg can give a good account of himself and maybe shock the world.
Before then, who would you most like to see Scott fight? Is Cermeno still in the frame?
Cermeno is unfinished business and he's still interim champion. We prepared nine weeks for him and it would be great to get in there and finish it off. But we've been looking at Leo Santa Cruz for a couple of years and Kiko Martinez has just defended his IBF title and Jorce Arce is another possibility.
When was Quigg back in the gym?
He was in today (Wednesday) and he'll be in a few times a week now just ticking over until the next date.
Anthony Crolla's win against John Murray must have been one of mixed emotions for you?
During preparation, watching videos and seeing Crolla in Murray's corner was a bit weird at first, but come fight night no, it was all about Anthony doing the business and after seeing the fight on tape for a second time I think it's a bit of a shame, but like I said before the fight I just hope the people around the kid look after him because I don't know how he will cope with the loss. On the night it was strictly business
Have you spoken with John Murray since the fight?
No
Once again the gameplan worked - Crolla must be one of the most adaptable fighters around?
Yes, I think he and Scott are similar in that respect - Quigg exposed Munyai with a right hand over the top and Crolla has adapted his style several times since he lost to Gary Sykes before he joined me. Since losing to Derry Mathews he's come back even better and if form is a guide in his last three fights he's beaten three former European champions and world title challengers.
How has Crolla improved recently - is it more mental than ability-wise?

I think both. Anthony's approach, he's thinking more about what he's doing, but he's also pulling more out. The Sky cameras came down the other week for sparring and he wasn't doing it, I tore a strip off him in front of everyone - there was a job to do and he has raised his game. The things we worked on came off and there's nothing more satisfying - on Saturday night he was on the money.
Who would you like to see Crolla fight next?
I think he's due a world title shot. Twelve months ago no one would say he was on Ricky Burns' radar but sparring with Ray Beltran in January I knew he wasn't far off. Crolla's beaten two of the premier domestic lightweights in Gavin Rees and John Murray, and the top four have all fought for world titles. On form he's up there and I don't know if he's up for the winner of Terence Crawford vs Beltran but (WBA champion) Richar Abril is a good fight for Anthony. They all want to test themselves against the best in the world and you want to finish boxing knowing you've found your level and whether you're world class.
Callum Smith made it eight knockouts in a row - how do you see him being moved this year?
I want to move him fast, I don't want him having hard rounds at British level, I want him to get in, earn his money and get out. If the British title is there to fight for then great, but I don't want him putting mileage on making silly defences. I can see him having two more fights and fighting for a world title. I'd put him in with James DeGale in the next 12 months - this time next year I want to see Callum's name in lights.
Hosea Burton was your fourth winner on the night - how do you see him progressing through 2014?
I'm really pleased with his win on Saturday. We've had to move him up to light-heavyweight because we've got Callum at super-middle, but with Tony Bellew and Nathan Cleverly moving up the door's opened a little bit. I'd like to see him fighting for a title in his next fight and challenging for the British by the end of the year.