Back-to-back bouts
We pick out 10 famous occasions when the calls for an immediate rematch were too powerful to resist
By Alex Williams
Last Updated: 27/05/14 10:19am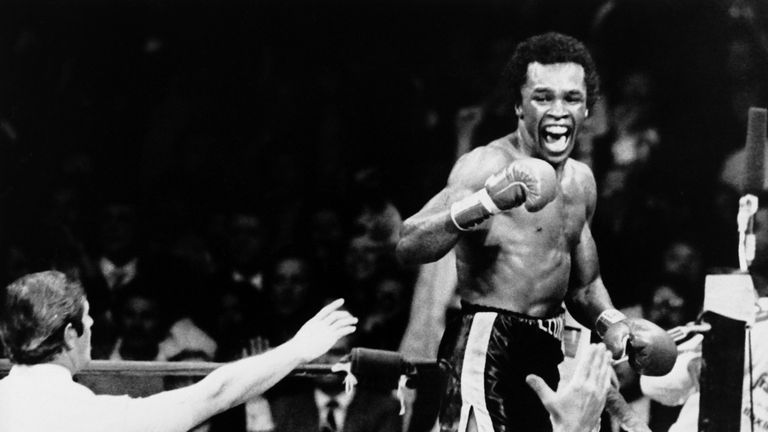 Carl Froch and George Groves will go toe-to-toe on May 31 in the most eagerly-anticipated all-British encounter for many years.
Their clash will be the latest in a long line of immediate rematches, when two fighters produce a bout of such drama, excitement and/or controversy that the only logical move is to do it all again as soon as possible.
Here, we pick out 10 occasions when the clamour for a rematch led to two fighters getting straight back in the ring with each other.
Turpin v Robinson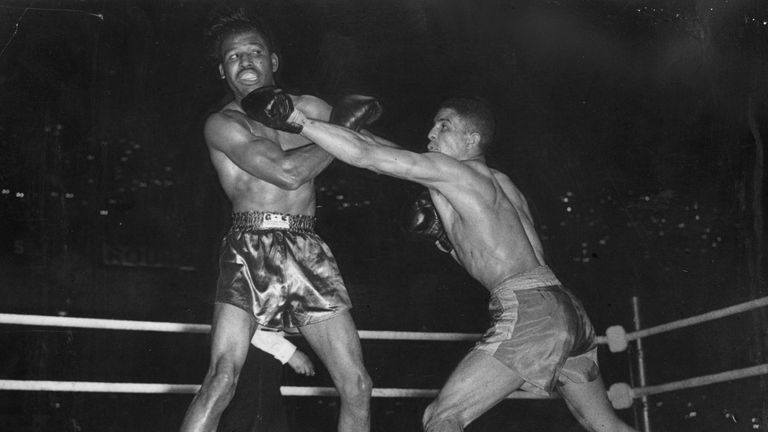 Randy Turpin's defeat of the legendary Sugar Ray Robinson in July 1951 is often held up as the greatest ever victory by a British boxer. The world middleweight champion was embarking on an exhibition-like tour of Europe until things turned deadly serious when he lost his title on points in London.
It was only the second defeat of Robinson's career, the American having gone into the bout with a record of 128-1-2, and a rematch was set for September in New York. Turpin, an instant British hero after his win in the first fight, was again very competitive second contest and had Robinson cut before the pound-for-pound great rallied to win by stoppage in the 10th round, regaining his title.
Liston v Patterson
Sonny Liston and Floyd Patterson's rivalry was played out over three years, two fights and a grand total of 4 minutes 16 seconds of boxing. The brooding, menacing Liston was already the top challenger for Patterson's world heavyweight title in 1960 but had to wait two years for his chance due to his links to crime.
When the fight finally was made, Liston dispatched the PR-friendly champion in the first round to enhance his reputation as an indestructible knockout artist. Patterson, in a commendable act of bravery, chose to enforce his rematch clause but managed to last just four seconds longer in the return bout.
Clay/Ali v Liston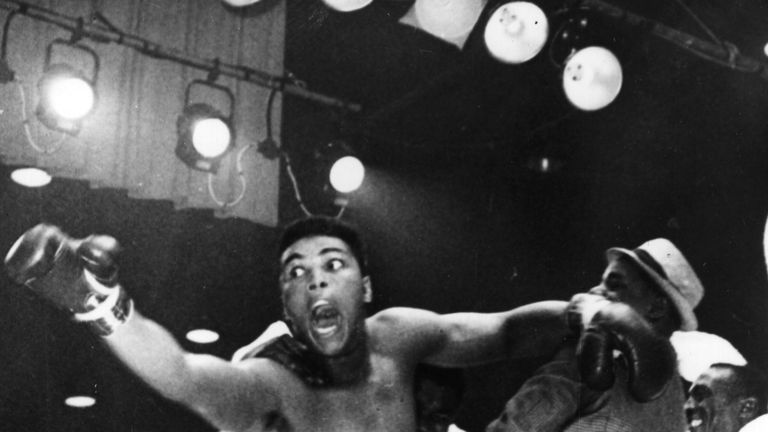 Incredibly, Liston had turned into the designated 'good guy' for his series with Muhammad Ali under a year later, such was the youngster's perceived arrogance, outspoken attitude and emerging links with the Nation of Islam. Ali, then known as Cassius Clay, backed up his braggadocio with a virtuoso performance in the first fight in February 1964, making an apparently injured Liston quit on his stool despite claiming to be temporarily blinded by a foreign substance.
A rematch was set for November but had to be postponed by eight months and was held in the unlikely location of Lewiston, Maine, where amid a venue change, death threats and allegations of a fix, the newly-named Ali knocked out Liston in the first round of one of the most controversial fights in boxing history.
Ali v Spinks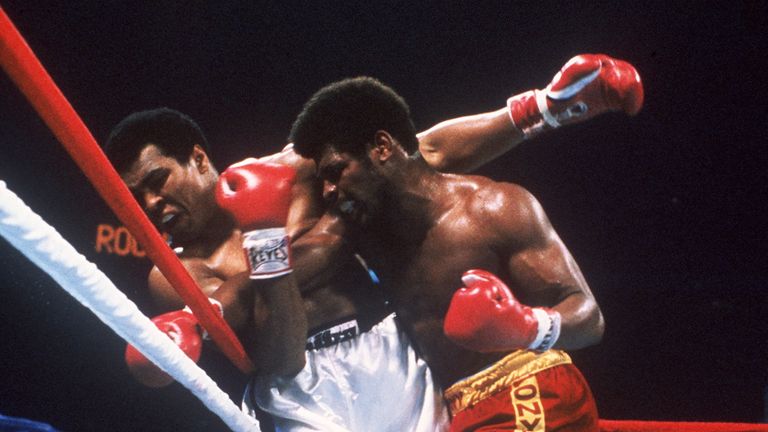 An ageing Ali was expected to cruise through a 1978 world title defence against Leon Spinks, who despite being an Olympic champion had participated in just seven professional fights. But 'Neon Leon' shocked the boxing world by beating the out-of-shape champion on points.
The WBC ordered Spinks to fight Ken Norton but he instead opted for a lucrative rematch with Ali at the Lousiana Superdome, with the WBA belt on the line. Over 60,000 fans were in attendance to see Ali become the first man to win the world heavyweight title three times.
Leonard v Duran
Sugar Ray Leonard was the golden goose of US boxing in the late early 1980s and his first welterweight world title clash with lightweight legend Roberto Duran was one the marquee bouts of that decade. In a classic boxer v puncher match-up, Duran's relentless pressure proved too much for Leonard and the Panamanian won a close unanimous decision.
With many believing Leonard was beaten because he used the wrong tactics, a rematch was held five months later. This time the slicker technician built an early lead on the scorecards and a frustrated Duran quit in the eighth round, telling the referee that he wanted "no mas", according to boxing lore.
Collins v Benn
Nigel Benn was coming to the end of his career when he took on Steve Collins for the WBO super-middleweight title in July 1996, but the way in which he lost his first fight with the Irishman left the 'Dark Destroyer' with unfinished business. Benn injured his ankle and could not continue and a rematch was agreed for four months later.
There was a conclusive ending second time around as Collins pounded away on his opponent, who did not answer the bell for the seventh round. It was the last fight of Benn's career.  
Tyson v Holyfield
Heavyweight champion Mike Tyson and former cruiserweight king Evander Holyfield were on a collision course in 1990 before the former's loss to Buster Douglas and subsequent spell in jail meant the blockbuster bout did not happen until six years later. When it did, most predicted another knockout from the fearsome Tyson, but in reality Holyfield put on a boxing master class before claiming a stoppage win in the 11th round.
Tyson's team believed that headbutting from Holyfield contributed to the result and a rematch was held in June 1997. It ended in shock and farce when Tyson was disqualified after biting a chunk out of his opponent's ear, prompting worldwide headlines.
Lewis v Holyfield
Lennox Lewis emerged as the biggest challenger to Holyfield's supremacy and a world title unification bout between the two was arranged for March 1999. There were echoes of Randy Turpin as Lewis controlled the fight from the start to ease to what seemed to be a comfortable points win, but when the scorecards were read out the British fighter was denied history by a controversial draw.
The decision was widely condemned and the sanctioning bodies involved ordered a rematch, which was held eight months later. Holyfield was much more lively in the return bout but Lewis still did enough to earn the decision and become the first Brit to be undisputed heavyweight champion in over a century.
Lewis v Rahman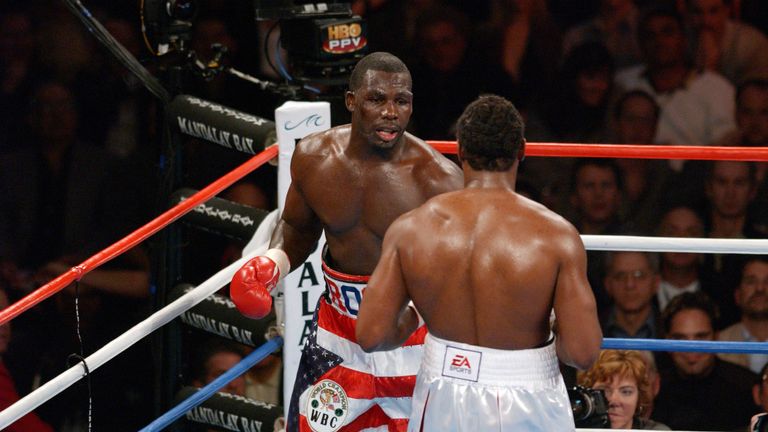 Lewis' reign atop the heavyweight division lasted a year and a half before he was sensationally poleaxed by a right hand from huge outsider Hasim Rahman in the fifth round of a fight most expected to be a virtual walkover.  
After some legal wrangling Lewis managed to enforce his rematch clause and the second bout was set for November in Las Vegas. After a comical pushing match on television in the build-up, Lewis did what he was supposed to first time around, dominating Rahman and knocking him out in the fourth round to regain his belts.
Gatti v Ward
Although neither fighter was ever rated near the top of any pound-for-pound lists nor were even the best in the light-welterweight division, Arturo Gatti and Micky Ward's trilogy is one of the most celebrated in boxing. The first fight, in May 2002, was undoubtedly the best, Ward winning a majority decision after a brutal back-and-forth brawl.
An immediate rematch was the most rewarding option for both men and was arranged for six months later. This time Gatti, the superior boxer, perforated Ward's eardrum en route to a comfortable points win. However, the pair had not quite knocked enough lumps out of each other yet and faced off for a third straight time in June 2003, with Gatti winning again.