Froch-Groves II: The war of words
We look back at fighting talk from Carl Froch and George Groves
Last Updated: 26/05/14 4:05pm
Fair to say there is no love lost between Carl Froch and George Groves. The battle to dominate out of the ring has been as fascinating as what might happen in it. We pick out some quotes from both fighters as we recap the story from the very beginning...
OPENING GAMBIT
Having righted the wrong of losing to Mikkel Kessler in a classic at the O2 Arena, Froch was booked to face George Groves - who had fought on the same card in London, extending his unbeaten record to 19-0 - in an all-domestic dust-up that was scheduled for Manchester. It was seen as the tried and tested champion against the rising star. Few would have expected what was to follow, even before the first bell had sounded on November 23... 
Carl's very good at demeaning my achievements and almost talking down to me with back-handed compliments. He should probably be a politician he's that good at it. I don't think he really wants to fight me.
George Groves
It all started off in (relatively) friendly fashion before the first fight, with the champion confident…
"He's a trained fighter, he's unbeaten and he's got quite a high knockout ratio against a level of opposition but boxing, unfortunately for him, is all about levels and I'm in a totally different league than George Groves."
Yet challenger Groves insisted he was ready for the biggest fight of his life…
"I am more than ready to fight Carl Froch and I will beat him. I can't wait to get in there and do it. I'm supremely confident, hopefully it doesn't come across as arrogance, because I know whatever happens in this fight, I will find a way to beat Carl Froch."
And then things began to heat up. No one wants to be likened to a politician these days…
"Carl's very good at demeaning my achievements and almost talking down to me with back-handed compliments. He should probably be a politician he's that good at it. I don't think he really wants to fight me."
RINGSIDE
Things came to a head when the pair appeared on the same edition of Sky Sports' Ringside show, with promoter Eddie Hearn having to sit between the fighters in an attempt to keep the peace. While the threat was never there of things esculating the tension was palpable, even through a television screen.
Froch offered his reasoning for the youngster's chatter…
"You listen to a young kid coming through and you expect it from them because they've got to draw some confidence from somewhere. He's got to try and draw some confidence from somewhere and if that means minimising what I've done and downplaying my achievements and who I've beat then let him have that."
And Groves responds by giving a personal testimony...
"The fact remains that all I've done is tell the truth. I told the truth about how he's been exposed in previous fights and I've shown where's he's looked vulnerable and shown weaknesses. It's up to me to go out there and exploit those weaknesses."
The Cobra was spitting at the behaviour of his fellow Brit…
"I just thought he was very childish, very arrogant and at times very, very rude. I wasn't impressed with George Groves at all. He spent a lot of time around David Haye, but David Haye does what he does. He believes in what he says and David means business. He's also quite a classy guy, David Haye. George Groves isn't any of those things."
But all that seemed to do was add fuel to the fire of a man in Groves who was firing on all cylinders…
"He's shown me weaknesses in his personality as well as in his boxing ability. I'll take advantage of all of it. He's very insecure. He has a superiority complex which is great when you are the greatest fighter of all time, but when you're not, that will help you come unstuck."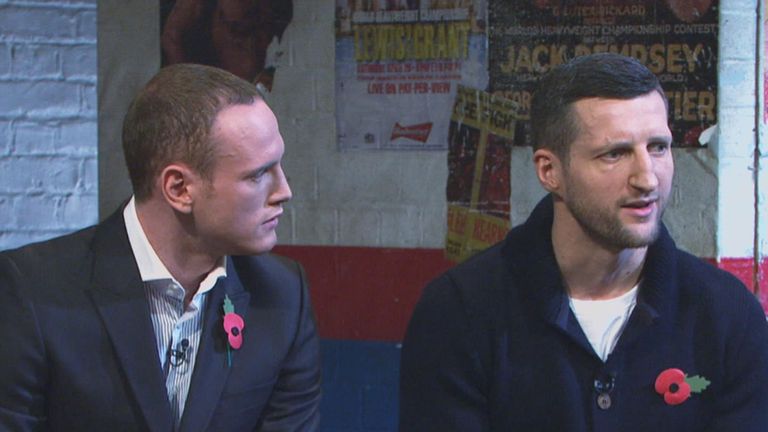 TALKING TACTICS
The pre-fight presser didn't fail to disappoint in the build-up to a fight that, by now, had seriously caught the attention of fight fans. Groves had Froch firmly in his sights and was so confident of victory. The pressure was being cranked up by both parties, with the media lapping up the battle to win the physchological war

'Saint' George was so confident he was even willing to declare his gameplan for the big night…
"I'm going to come out, I'm going to meet you centre of the ring first round and I'm going to win the jab exchanges and I'm going to hit you with two right hands, just two, just to let you know whenever I want, I can hit you with a right hand."
Froch wasn't too perturbed by what he heard, instead offering his own suggestion…
"My experience at top level, my punching power and George Groves' lack of ability to be able to take a punch is going to be the reason why he's not going to do what he said he's going to do. He's going to come in the ring and run for his life, jab and grab and try and get through it. He's not going to stand and fight."
FIGHT NIGHT
And so on to Manchester and November 23. Groves stayed true to his word, hitting his opponent with a right hand in the opening round that caught the champion cold. Froch managed to beat the count and survive the early onslaught, and eventually began to get a foothold in the contest. In the ninth it was Groves' turn to come under pressure, leading to referee Howard Foster stepping in. Many felt it was a premature stoppage.
Groves certainly believed he had been hard done by…
"If you look, probably near enough every round beforehand I had Carl buzzed and buzzed much heavier, and because he's got this warrior image I think he got the benefit of the doubt a lot of the time. Because, for some reason I've got this chinny image, it was stopped prematurely in my opinion."
Froch, though, felt Foster had made the correct call - with a knockout imminent...
"Howard (Foster) is a very experienced referee. George had his head low and I had a free shot and the referee had a split-second decision to make. It was dangerous and he had to put the safety of the fighter first. Let's have a rematch and sort it out."
THE REMATCH
All the talk after the first bout was the need for the two men to do it all again. Groves pushed hard for another crack at the titles, but it seemed for some while that Froch had other ideas as to his next opponent. Negotiations weren't easy, but eventually a deal was done - the rematch was on!
Having been unimpressed with the way the first ended, Groves had demanded a second fight...
"If the rematch happens I will stop Carl Froch in six rounds. Adamant. That's the improvements I have made already, without even stepping back into the gym. These are improvements that will let me know a little bit more about Carl Froch."
The man holding the belts wasn't so keen, initially…
"Do I want to go over old ground? Not at the minute, no. I like to move forward in my career and the only old ground I like to go over again is for a defeat."
But, eventually, Froch was persuaded to do it all again…
"I'm bored of listening to his whingeing and moaning and cursing. You'll find out I do actually call the shots - I've got two world titles and he's not got any because I beat him and defended my titles. Another thing which was spoken about was options and he's talking about all these options that he's got - he's got very, very few options, especially without those world titles. The British public are behind this and this was almost the only fight out there for me to reasonably take. I've given the British public what they wanted for years and years and I won't stop doing it now."
And when the pair met at Wembley for a press conference, Groves began the games again…
"This is not a fight that he can take, it's a fight that he can't get up for, it's a fight that he didn't want, and he is going to struggle for motivation. He wanted to go to Vegas, he wanted to fight (Julio Cesar) Chavez (Jr), he didn't want to take this fight, but he's been forced to take this fight. I think that's round one to me, round two is because we are sitting here in Wembley, my home city. Carl has now got to travel down to London now, he's got to come all the way here to my home town and fight in front of my fans."
THAT stoppage was still at the forefront of his mind, too…
"The first fight, we went in believing, now we go in knowing and more importantly Carl Froch knows, he knows there is nothing he can take from the first fight, absolutely nothing apart from the gift that he was given in the ninth round by (referee) Howard Foster."
The media event ended with photos with the pair on the famous turf…and a famous push...
"We will look at it how we want to look at it. I know I'm going to be ready. I know I'd never prepare for a fight and not be ready. If he has, that's unprofessional, but at the same time he's just shown that he's unprofessional because he just pushed me when we tried to do a head-to-head. He's struggling to hold it together right now and I don't blame him. I understand why. He's in a fight that he can't possibly win."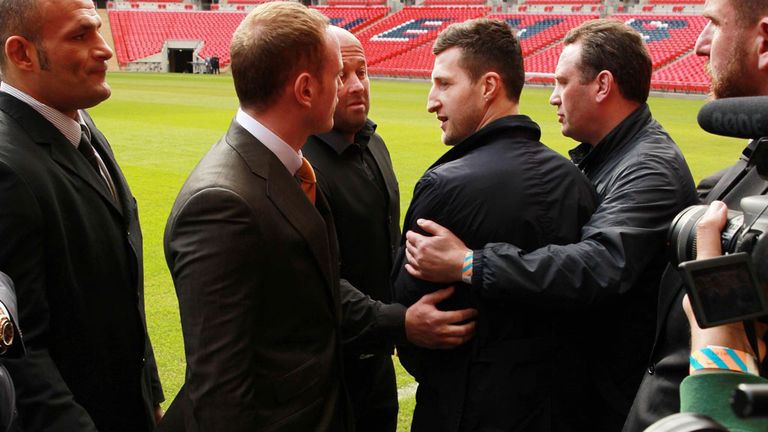 RINGSIDE - TAKE II
I couldn't even say his name before. I can say it now without it winding me up. I let him get under my skin and it affected my performance in a very negative way.
Carl Froch
Back in the studios to preview their May fight in London, Groves and Froch were once again split by the presence of promoter Hearn. A live studio audience only added further to the tension.
Froch came clean and admitted he lost his cool in the build-up to the first bout…
"I couldn't even say his name before. I can say it now without it winding me up. I let him get under my skin and it affected my performance in a very negative way. That will not be happening again. I'm in a much better place. There's certainly not anything he's going to say that's going to wind me up. It's impossible."
Even if that didn't stop Groves from trying to rile him again…
"He lost his cool. I don't need to get under his skin - if he winds himself up, that's his problem. The psychological battle can be a massive advantage. Fights can be won and lost before you get into the ring."
Could it be capital gains for the Londoner? He believes the crowd will be on his side...
"For the first time I think in Carl Froch's career, on home soil he is going to be facing hostile fans, people who have paid money to come and see him lose. I have faced that and I've dealt with it. Carl Froch I feel needs it, he certainly needs reassurance from people and to seek approval from people. I see that behind the cameras and in front on the cameras."