George Groves told Soccer AM his relationship with Carl Froch is "like a loveless marriage"
George Groves told Soccer AM his relationship with Carl Froch is "like a loveless marriage".
Last Updated: 28/05/14 4:26pm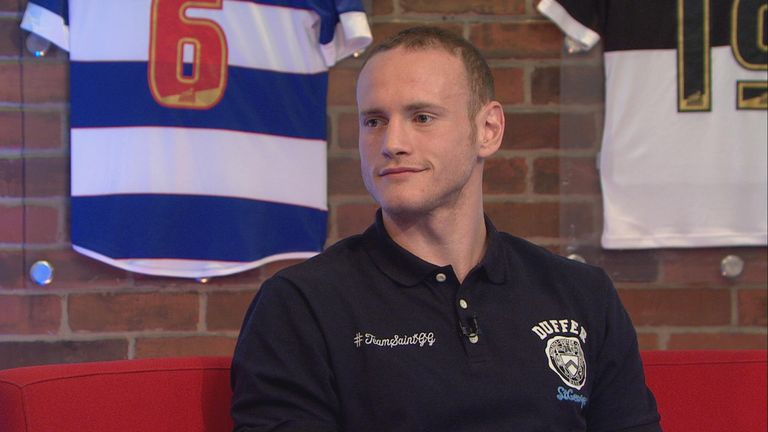 The two meet in the ring at Wembley on Saturday May 31 - live on Sky Box Office - for the hotly anticipated rematch after the controversial stoppage last time around.
The reigning champion has threatened to take the bout to Groves next Saturday, insisting he will be the one in control, but the challenger laughed it off.
"Carl's funny," said Groves. "He says he's going to come out and take the centre of the ring - that's what I told him the first time, and that's what I did. What makes him think he's going to be able do any different?
"I hope he's found confidence from somewhere. As the fight gets closer he seems he's getting really wound up.
"Apparently he's been on fight weight for months and he looks great - he looks like he's blending in to his t-shirt. But I don't think he's necessarily as confident as he makes out."
"It's like a loveless marriage, I suppose. We've got to spend a lot of time together, and we probably bitch about each other behind our backs, but ultimately I just 'nothing' him."
Froch declined an invitation to come on Soccer AM last week, saying it was too close to the fight to appear, but Groves said his proximity helped.
"He's probably watching this going 'oh, he should be in the gym' or finding something negative about it, but he can do what he wants", he added.
"I live 10 minutes away so it's no biggie for me - I walked here this morning!
There have been plenty of heated exchanges between the two in the build-up to the fight, with Froch pushing Groves at the Wembley press conference.
"The very first press conference before the first fight, he was sat there and all ready to go," he said.
"We came to the face-to-face and he had what was probably a set routine of verbal, and he was chatting away. This time round he decided 'I've come unstuck, I just won't look at him'.
"Just before the push I said 'Carl, hold it together' and - I suppose because he doesn't like doing what I tell him to do - he pushed me. That caught me off guard for a second because I thought he was a professional."