Tale of the trade
Sky Bet sift through the fluctuating odds on the night of the first fight between Froch and Groves
Last Updated: 29/05/14 9:34pm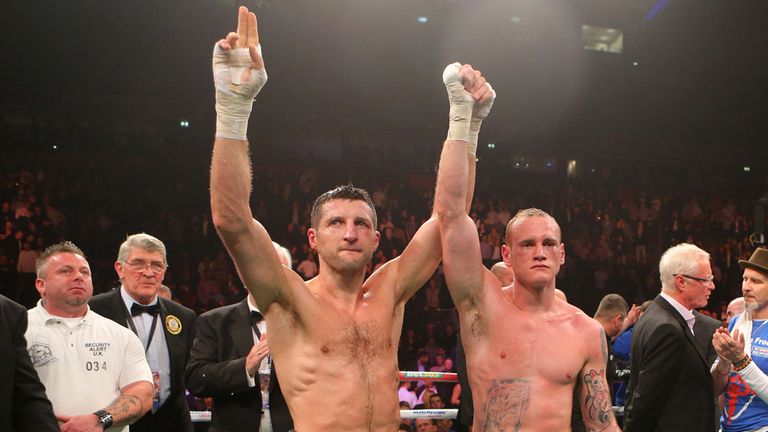 Less than one minute into the third round of the first fight between Carl Froch and George Groves, Sky Sports commentator Nick Halling quipped: "It'd be interesting to see those bookies' odds now, I bet they've swung back the other way."
It was a casual reference to the fact that Groves, a 100/30 underdog before the fight, was proving a real handful for the odds-on champion, Carl Froch. And Halling was right, for at precisely eight minutes to 11 that Saturday night, Groves became the 4/5 favourite with Sky Bet.
It was the first time favouritism changed hands, and it wouldn't be the last on a truly memorable night for British boxing, which happened to prove a stressful one for traders in the bookmaking industry. Here, Sky Bet dissect exactly how the odds fluctuated on November 23, 2013 - and why.
Round 1
The challenger goes off at 100/30 but Groves sets the early tone with a few solid jabs, despite having the shorter reach. His movement is excellent and he forces Froch to miss with his first few throws - it's enough to see Groves' price shorten to 9/4, with Froch's pre-live odds of 1/4 drifting to 2/7. Soon after, Groves throws the first of his two overhand rights, as promised, giving Froch something to think about. The second soon follows and it proves to be the punch of the night, as Froch is floored for only the second time in his career. The champion gets to his feet and sees out the round, clinging to his tag as favourite, albeit now 1/3, with Groves 2/1 at this point.
Round 2
Froch looks to get a foothold in the fight with a handful of soft jabs, which fail to connect, but he has some success with a couple of right hands of his own. At this point, a draw is cut to 20/1 having been 28/1 before the opening bell. Froch has catching up to do with a 10-8 deficit from the first round, and on that basis Groves briefly becomes the favourite at 4/5, pushing Froch out to evens (1/1). Groves continues to impress with superior hand-speed and diversity with his punches, yet Froch's guard remains customarily low, seeing the champion drift further to 5/4 and then 11/8 by the end of the round.
Round 3
Froch is still chasing the fight having lost the first two rounds, one by two points, meaning Groves is the 4/6 favourite in a cagey first minute of the third round. Froch looks tentative and short of ideas as Groves feints, inviting him to make another mistake. The draw continues to shorten at 18/1, but Froch still has catching up to do - he needs to take this round. As such, 'The Cobra' comes to life with a late flurry in a desperate bid to convince the judges, seeing Groves finish the round with some swelling above his right eye. A turning point? The bookmakers are momentarily fooled into thinking so - Froch regains favouritism, he's now 10/11 with Groves back out to evens.
Round 4
Groves reverts to his jab as he looks to avoid losing control of the fight - a double jab and follow up reminds Froch how dangerous he is. It's not the round Froch was hoping for after finishing strongly in the third, as Groves finishes with an attack, including another right hand. 'The Cobra' is forced to rough up the challenger to ride out the pressure, earning a talking to from referee Howard Foster. Groves edges the round and regains favouritism at 5/6, pushing Froch back out to evens.
Round 5
Froch starts the round aggressively, yet his odds drift out to 5/4 as Groves answers every flurry with a body shot, landing cleaning each time. Groves is 4/5 at this point, but he soon drifts out to 10/11 by the end of the round as Froch forces the younger man onto the ropes. In hindsight, it would appear Groves was actually in full control of his defence, ducking and weaving while his opponent unloads, but Froch finishes the round in a stronger-looking position with the bookmakers at 11/10, although Groves remains the slight favourite.
Round 6
While the pair have a breather on their stools, the odds change to 8/11 in Groves' favour, with Froch 6/5 by the time "seconds out" is called. The pair then engage once more, with Groves making an impression with a strong left hook and a few combos. Froch soon takes another big right hand as they trade off in the centre of the ring - Groves connects more often than not, seeing him cut to 1/2 favourite - his shortest price of the night so far. Froch is out to 7/4 by this point, seemingly really up against it. But then in what Jim Watt labels "the foolishness of youth", Groves toys with Froch, inviting pressure. 'The Cobra' advances with a barrage of inaccurate punches, with Groves' ducking and weaving a manoeuvre clearly worked on. It's enough to fool the bookmakers into making Froch 8/11 favourite, pushing Groves out to 6/5.
Round 7
The respite in between rounds sees Sky Bet's traders revert Groves back to favourite - he's well ahead on points with half of the scheduled 12 rounds completed. Froch comes out for round seven up against it at 6/4, Groves is back to 4/7 favourite. Groves appears to be using the round as a breather, sticking almost exclusively to his jab, but Froch fails to take advantage - another scrappy round for the pre-fight favourite, who is a 2/1 outsider by the time the bell sounds.
Round 8
Froch comes out for the eighth round like a bull, chinning Groves with one of his best punches of the night. Groves looks shaken up in the opening minute of the round, seeing Froch's price to win come in to 11/8, with his opponent now 4/6. 'The Cobra' loses momentum though, as he leads with a forearm, causing the referee to intervene. He gets a talking to and is lucky to escape a points deduction. Groves sees out a sloppy round and comes away with a slight cut above his eye as he trudges tiredly towards his stool. Froch finishes the round as 6/4 outsider, with Groves now 4/7.
Round 9
Before the ninth round commences, referee Howard Foster calls the two men together in a bid to prevent tensions boiling over. Froch begins the round at a big price of 7/4, with Groves 1/2. The current favourite makes a decent start with some probing jabs, but it's not long before he's in trouble. Froch rocks his opponent and forces him onto the ropes, he lays into the younger man, connecting fiercely. Groves scrambles off the ropes but he's still taking punches - the bookies don't even have time to flip the odds as Foster waves an abrupt end to proceedings. Froch, the pre-fight favourite at 1/4, gets himself out of a hole to justify his original status.
Book Froch v Groves II: Unfinished Business now, online at skysports.com/frochgroves2 or via your telephone on 08442 410888.