Froch v Groves II: It is finally here and here's a guide to what we've got coming up before the main event
It is finally here so here is how, where and when you can follow the build-up and of course the main event itself.
Last Updated: 31/05/14 3:46pm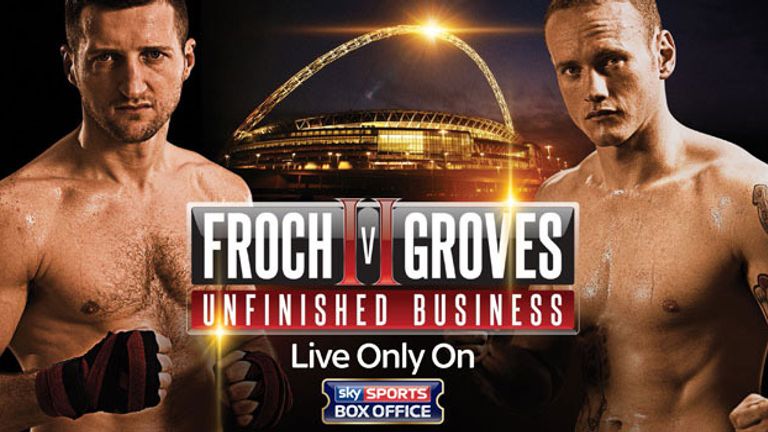 It is a matter of hours before the bitter rivals get it on in front of 80,000 fans at Wembley and live and exclusive on Sky Sports Box Office in what is going to the biggest night in British boxing.
But there is a whole lot more coming as we start the countdown from midday, with Sky Sports News live from the iconic stadium to set the scene.
Here is a guide to the day ahead, including some vital booking information at the bottom of the page...
SKY SPORTS NEWS
Midday, live from Wembley
It is only hours away so there is no better to start your countdown in the company of Jim White and his team. We are bringing it live from Wembley Stadium for the next six hours until the coverage gets underway which means Fraser Dainton will be out and about and we will be getting regular guests throughout the day.
SKYSPORTS.COM LIVE BLOG
5.00pm, www.skysports.com/frochgroves2/live

We will be bringing you live updates from Wembley Stadium as soon as we can. We will show you all sorts of pictures and personalities as we gear up to the main event - which you can follow on your tablet or mobile as we bring you live and interavtive coverage of Unfinished Business.
FROCH v GROVES II: UNFINISHED BUSINESS - 6.00pm, Sky Sports Box Office (on Sky Sports 1 until 7.00pm).

It is finally here as the biggest night in British boxing history is finally underway! Anthony Joshua kicks it all off and you can also see that on Sky Sports 1 but you have to have booked the fight to see the big one - Froch v Groves II. David Haye and Paulie Malignaggi join our team and you will see celebraties galore in a sell-out crowd of 80,000.
THE RUNDOWN

CARL FROCH v GEORGE GROVES - Ringwalk 9.45pm

IBF & WBA super-middleweight titles

JAMES DeGALE v BRANDON GONZALES

Final eliminator, IBF super-middleweight title

KEVIN MITCHELL v GHISLAIN MADUMA

Final eliminator, IBF lightweight title

JAMIE McDONNELL v TABTIMDAENG NA RACHAWAT

Vacant WBA bantamweight title

ANTHONY JOSHUA v MATT LEGG

Six rnds heavyweight

IMPORTANT BOOKING INFORMATION

You can book via your remote or online at skysports.com/frochgroves2 and via your telephone by calling 08442 410888 (0818 220 225 from ROI).
There may be a £1 booking fee for telephone bookings and please note there is a £5/€5 surcharge for bookings made via the phone from midnight, Friday, May 30 to midnight, Saturday, May 31.