'Make it happen'
Ricky Hatton believes boxing needs to see Floyd Mayweather and Manny Pacquiao square off.
Last Updated: 09/02/12 6:06pm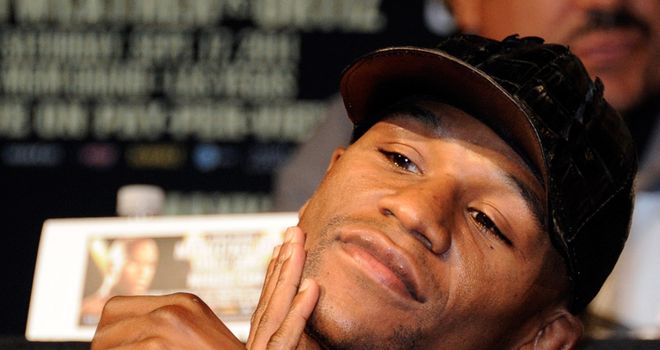 Ricky Hatton told Sky Sports News HD that it would be "a crying shame" if Floyd Mayweather and Manny Pacquiao never meet in the ring.
WBC welterweight champion Mayweather and WBO counterpart Pacquiao top boxing's pound-for-pound rankings, but a long-awaited bout between the two has yet to materialise.
"Money" will face light-middleweight titlist Miguel Cotto in Las Vegas in May, while "The Pac-Man" is set to tackle unbeaten light-welterweight Timothy Bradley in the same city the following month.
However, Hatton - whose only professional defeats came at the hands of Mayweather and Pacquiao - hopes it is not too long before the 147-pound kings do battle.
"They are probably considered the two best fighters of our generation so it would be a crying shame for boxing to miss out on it," said the former welterweight and light-welterweight world champion.
"There always seems to be a stumbling block and they're not getting any younger so it's about time someone put their foot on the gas and made it happen."
Masterful
Hatton believes Mayweather's swiftness and Pacquiao's punch power could lead to a classic bout, but he reckons the American's excellent defensive skills would make him the favourite should the two fighters lock horns.
"Floyd's strength is his speed, while I've never seen a fighter with the masterful defence that he's got," added Hatton, who has moved into promotion since he hung up his gloves last year. "I really struggled to hit him and when you do catch him, you never catch him clean.
"He likes it when he can sit on the rope and shoulder but maybe if someone comes and jabs and moves a bit, Mayweather would have to apply pressure and maybe you could get the better of him.
"Pacquiao is a southpaw, he's very aggressive and he hits hard. He's the only man I know who can go through the weights and look even stronger; he gives six or seven pounds to his opponents and still beats them up.
"But he tends to be second best when he fights a defensive fighter; somebody that can counterpunch and make him miss, a bit like (Juan Manuel) Marquez did in his last fight.
"He struggled to penetrate Shane Mosley's defence so if Manny faces Mayweather you'd have to give the edge to Mayweather."