Show me the money
Paulie Malignaggi must fight Pablo Cesar Cano again before tackling Ricky Hatton, says Wayne McCullough.
Last Updated: 30/10/12 9:27am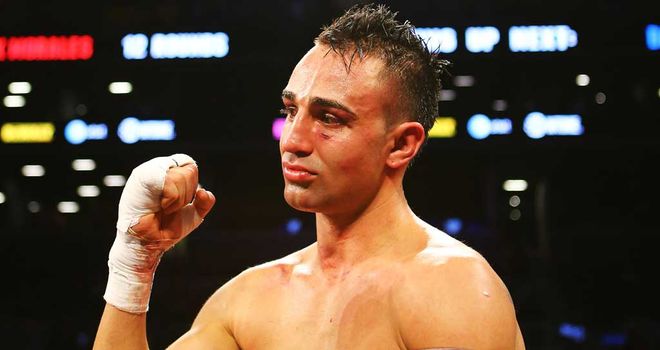 The question could be asked 'did Paulie Malignaggi legitimately beat Pablo Cesar Cano?'
Two judges thought so as they gave it to him 114-113 but the other judge went the other way scoring it for Cano 118-109. That meant Malignaggi only won two rounds on the 118-109 card but seven rounds on the others.
The two judges that scored for Malignaggi had most of their rounds the same. Malignaggi won both five and six on the winning card for Cano while all three scored round five for Malignaggi, so how could there be such a big discrepancy on the one judge's card?
The fight was close but it seemed as though Malignaggi scored more accurately with his jab and probably took the closer rounds. He also showed a lot of guts by getting off the canvas in the 11th, fighting back during the final round to hold on to his WBA welterweight title.
After the win Ricky Hatton was mentioned by Malignaggi as a possible future opponent. Hatton had stopped Paulie in the 11th round of their fight in 2008. He was behind on all three cards at the time of the stoppage so he was never going to win. But now with Hatton coming out of retirement to fight the guy that Malignaggi KO'd to win his WBA belt, Vyacheslav Senchenko, Malignaggi wants a rematch.
A good match for Hatton?
Surely it's all about money as Hatton will fill the stadium with fans at home or in New York. Malignaggi's four losses were to Miguel Cotto, Hatton, Juan Diaz (which he avenged) and his last in May 2010 to Amir Khan. But now with five straight wins and a world championship, Malignaggi is in a good position for Hatton to accept the fight.
If Hatton looks good in his return then he would favor himself to walk through Malignaggi again and, after last week, unless Hatton is completely shot, I would agree.
Malignaggi, who got the belt from a very weak champion in Senchenko, struggled - or in most eyes - lost his first defense to Cano. I do not think it's about fighting the top contenders because there are many fighters including Kell Brook, Marcos Maidana and Jesse Vargas who deserve a shot at his belt before he thinks about fighting Hatton again.
Brook and Vargas have the skills to beat Malignaggi and Maidana has the punch, so that may be why they aren't getting their chance.
If Hatton v Malignaggi does happen in Paulie's next fight it just proves it's all about the money and not about fighting the best in the division giving the younger fighters a chance whether he has a name or not. But if he beats Malignaggi he would have a big name.
Let's be real, in the welterweight division Malignaggi is a good fighter but with Manny Pacquiao, Floyd Mayweather Jnr, Timothy Bradley and Devon Alexander all here you can't blame him for wanting a rematch with Hatton.
Either way if you thought Malignaggi won the Cano fight or not I think the best thing to do is to give the Mexican a straight rematch before fighting Hatton again.
A sad loss
This past Thursday, boxing trainer Emanuel Steward passed away at the tender age of 68. He was arguably the last of the old school great American trainers that included my former coach, Eddie Futch, who died in October 2001, and Angelo Dundee, who died in February 2012, both at the age of 90.
These great trainers had coached many fighters who went on to become world champions or top contenders but they made their names mainly because of one fighter in their camp. For Futch it was Joe Frazier, for Dundee it was Muhammad Ali and for Steward it was Tommy Hearns. They trained numerous big names but these were the fighters that were linked to their successes as a trainer.
Steward's first champion was Hilmer Kenty and he was still working, to this day, with Wladimir Klitschko.
He was a great guy that I got to know over the years. We had one thing in common; we shared the same birthday of July 7 so every time he would see me he would shout out the date.
He was a good amateur fighter, a great professional coach and had been a broadcaster for HBO up until his death.
Steward will never be forgotten in the boxing world. He made a huge impact in the sport and many trainers will never do or accomplish the things that he did.