Bernard Hopkins should avoid Nathan Cleverly, says Johnny Nelson
Bernard Hopkins is an example to young boxers - but should avoid Nathan Cleverly, says Johnny.
Last Updated: 11/03/13 4:40pm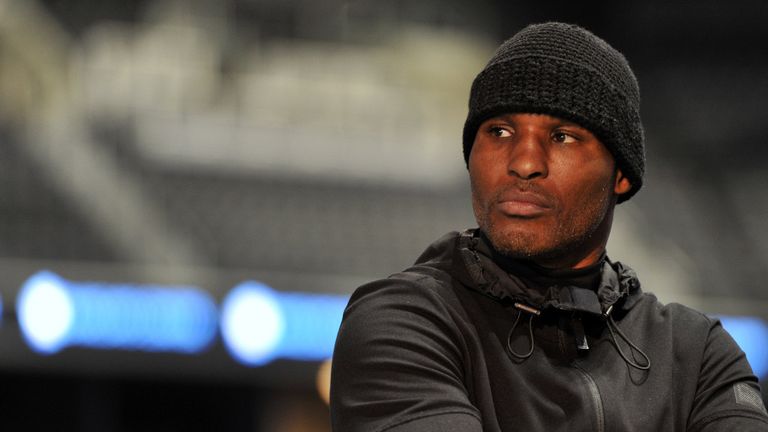 The 48-year-old has done unbelievably well to break his own record and become the oldest world champion ever once again by taking the IBF light-heavyweight belt on Saturday.
And he deserves plenty of credit for his unanimous points decision win over Tavoris Cloud, because I actually didn't think he'd pull it off this time.
It takes incredible self-belief and discipline to do what he's doing at his age. And those virtues are lost on a lot of the boxers of today.
You've got to live the life if you want to reach the top in boxing. You can't just turn up for training camp 12 weeks before a fight and think that's it. It's got to be your lifestyle - and Hopkins has shown that dedication.
He's not the sort of guy to go off and party and blow up out of shape when he wins - even when he hasn't got a fight he still looks in good condition.
But, he does need to remember he is now having to use his skills to compensate for the fact he's slowing down because of his age. Yes, he's got the world title but he has to think carefully about his next opponent and ask 'are there any big fights out there for me?'
He can't fight everybody and anybody because there are people out there who can beat him. That doesn't mean they're better than him, it means they're faster, sharper and younger than him. A lot of fighters, when they reach a certain age, get caught out by less-talented but younger fighters.
So he has to be smart about what he does next and the legacy he wants to create.
There is talk Nathan Cleverly, the WBO light-heavyweight champion, could face him but, if I was Hopkins, I wouldn't want that fight.
From the UK fans' point of view, then it's a great match-up. And if Hopkins feels he can beat the Welshman than good on him.
But, in my opinion, Cleverly is too busy and too fast for Hopkins. Look at how Joe Calzaghe beat Hopkins - Cleverly would be similar; he'd be too quick, his work rate would be too high and his intensity too much for the American.
Impressive
Elsewhere on Saturday night, Darren Barker continued his comeback from his long injury lay-off with a four-round stoppage of Italian middleweight champion Simone Rotolo at Wembley Arena.
It was an impressive performance from Barker and it's good to see him exhibit what he's got once again, after his long spell out of the game following his defeat to world champion Sergio Martinez in 2011.
At one point Barker was top of the tree in terms of British middleweights, although now Martin Murray and Matthew Macklin have stepped up to the summit of a formidable domestic scene.
It's hard to work out quite where Barker ranks among those fighters at the moment so it would be great to see him get in the ring with one of them soon. Murray seems the more likely opponent as Macklin, when he was on Ringside last week, appeared to have no desire to fight domestically at the moment, with American promoters showing an interest.
Barker v Murray would be great but in the meantime the Barnet fighter just needs to keep himself busy and sharp by fighting at British and European level and bide his time for that world title chance to come again.