Johnny Nelson says that on Saturday's evidence Amir Khan would give Floyd Mayweather one heck of a fight
Johnny Nelson says on Saturday's evidence Amir Khan would give Floyd Mayweather a great fight.
Last Updated: 06/05/14 10:27am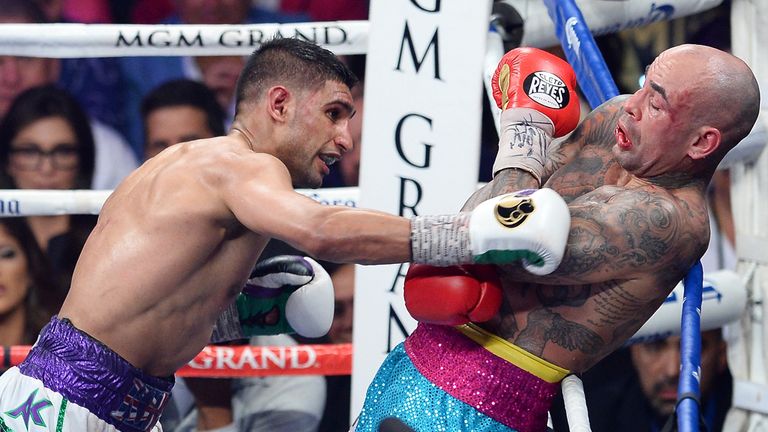 People may kick off and say that I have no idea what I am talking about but for me that was Khan's best performance since he fought Zab Judah. Where I may have hesitated before to see Khan get into the ring with Mayweather, on Saturday's performances I would really look forward to this fight and would not say it was a foregone conclusion that Mayweather would win it. I am not saying Khan would beat him, but from what I saw on Saturday he would give him one heck of a fight.
Match making
Khan had the speed, the movement and the discipline in his win over Luis Collazo and if Marcos Maidana can put Mayweather under that kind of pressure well then Khan could certainly make things very uncomfortable for Mayweather.
I am not saying that Mayweather is in trouble, I am just saying that he struggled to control the pace of Maidana in the first six rounds. That is the sign of a man who has reached a certain age and has to control the pace of the ring. Floyd Mayweather is an excellent practitioner and a excellent boxer but the one thing you cannot fight is age.
He now has to control the pace of a round against a boxer like Maidana who shouldn't really be able to put him under that sort of pressure. At times Mayweather tried to take the centre of the ring, control it with three or four shots and then have a break. But Maidana kept on coming at him and did not allow him to have those breaks in the first half of the fight and that is why Mayweather struggled with him.
Father Time
I really rate Mayweather - I think he is brilliant and I rate him as one of the best fighters I have seen in my lifetime but time is catching up on him and that is why he cannot control the pace of a fight anymore.
Khan is a real handful - he is really fast and unless you can catch him out and really bang then he is going to cause you trouble. Mayweather has not got that one punch that will knock you out - an attrition of shots would do it but Amir Khan is too fast and too busy to allow Mayweather to drill him with five or six shots to knock him out.
Khan has really learnt from his past mistakes and a lot of that has to be down to Virgil Hunter. Hunter said that Khan's problem was that he trained for a fight and then after the fight was over he just disappeared. He thought that is what everyone did but what you should do is keep on training - yes you step it up for a fight but it's like your job and you have to keep at it.
By doing it all the time you develop your style and your body - Khan didn't do that and that is why he started to get hit, hurt and stopped. Virgil Hunter has taken him back to basics; conditionally he looked in fantastic shape at the weigh-in and he looked very strong. He showed amazing discipline too. He knows that there is a lot at stake - he cannot afford another loss, especially if the goal is a shot at Mayweather.
Khan looked mature - one of his problems in the past has been the red-mist where he wants to get all macho and get involved in a scrap he shouldn't have.
What happens next, well we shall wait and see. Floyd Mayweather will do whatever he wants to do and obviously Amir Khan will lobby for a fight with him. However, inbetween now and that happening, I think Khan needs to have another fight.
Kell Brook is not on Khan's radar yet but he may leapfrog Brook and fight Shawn Porter. So there are plenty of options for Khan but hopefully we will see him getting into the ring with Mayweather soon.