Carl Froch and James DeGale to fight each other sooner rather than later, says Johnny Nelson
And are Fielding and Smith also on a collision course?
By Johnny Nelson
Last Updated: 23/07/14 4:11pm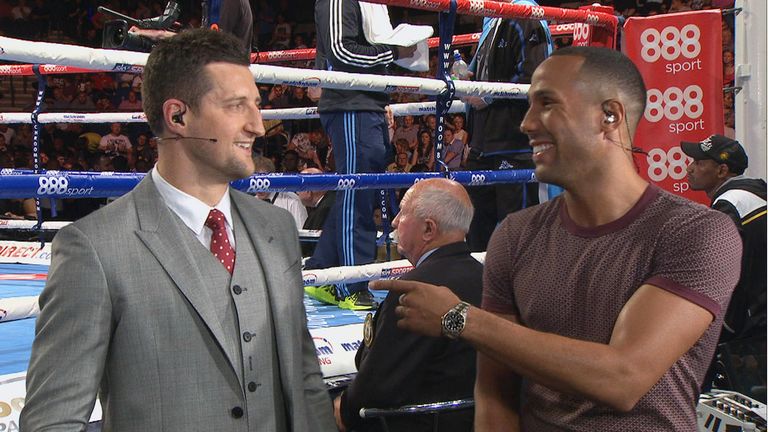 So Tony Bellew and Nathan Cleverly are going to get it on again... but it's not the only collision course we're on. Hopefully!
Throw Carl Froch and James DeGale into the mix and having been in Liverpool at the weekend, what about Rocky Fielding against Callum Smith? Well, the super-middleweights will not stay out of the spotlight for long!
It is going to happen and it needs to build up. It is not going to create the George Groves bitterness but believe me, when I say James DeGale is probably biggest problem out there for Froch, you will want to see them get it on too.
Johnny Nelson
I was joined by both Carl and James at ringside on a busy, busy night and there and then they pretty much told us it will happen.
I've got to be honest, I was surprised when they chatted about it. I was surprised they both seemed ok with it, especially Froch, who was supposed to be off to Vegas.
It seems the timing of it didn't help and while he does not have to defend that IBF for a while, we all know he is the sort of guy that will fight anyone - and even beat up an Olympic gold medallist!
It is going to happen and it needs to build up. It is not going to create the George Groves bitterness but believe me when I say James DeGale is probably the biggest problem out there for Froch,.
He is not your stand-up fighter like Froch is. He is awkward, he stops you building a rhythm, getting your shots off when you want to, he just scrambles your timing and makes it hard to establish your own gameplan. 
He reminds me of Joe Calzaghe and that says it all. Joe was never considered a big puncher but he was hugely under-rated and if you think the same about DeGale, that Brandon Gonzales show at Wembley proved he can also hit hard - and cleanly.
I am not saying he is going to win if they do fight but we saw enough against Gonzales to see how good he is. He lost to Groves as we all know and he had to go away again and almost rebuild from scratch and he has worked his way back to the top. He is the mandatory challenger, the next man on the list, by rights.
Direction
James did look a little bit star-struck though when they were side-by-side but he has matured so much that will not be a problem once the build-up begins. I am not saying for a moment he is going to beat Froch but it is going to be a wicked fight.
Then though, came the white elephant, in the shape of Fielding and Callum Smith. Yes they are both super-middleweights, of course they are both from Liverpool but straight away it looked like everyone wanted to avoid it.
Fair enough both of these are on different paths but they are both heading in the same direction and sooner or later they are going to have to get it on. Surely?

The one thing that struck me is that they both had great support but Smith's fans were cheering Feidling on and his fans were behind Callum. It suggested that right now it is not on the cards but before long I am sure they – and of course us – want to see who is the best young super-middleweight in Liverpool.
We love the rivalries we are getting on these shores and yes someone will have to lose if they do get ti on, but as George Groves showed against Carl Froch, it does not mean the end if your '0' finally goes.
The public demanded a rematch for that and I am sure eventually we will all be pushing for Fielding-Smith. Both are far from the finished article and I can't see Eddie Hearn pushing for it but the better these two get, the bigger fights we want to see them in.
I am hoping it happens and maybe in a year's time I will be trying to work out who is going to emerge as Liverpool's finest. Right now they are both still learning, they are both raw and both are certainly learning fight by fight.
And even if it was on collision course, I would be sitting on the fence on this one. It is right now a 50-50 fight for sure!