Kell Brook: Johnny Nelson says Ingle Gym schooling catalyst for world-title win
'Special One's next fight HAS to be against Amir Khan'
By Johnny Nelson
Last Updated: 17/08/14 3:20pm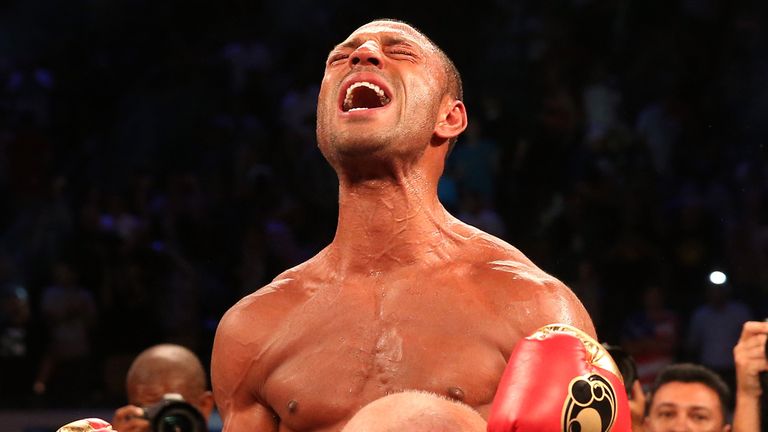 I'm so happy that Kell Brook is now world champion and I'm so happy for the Ingle Gym, too.
The gym has a massive legacy - we've had four world champions, umpteen British champions, umpteen European champions, umpteen Commonwealth champions - and it's not about luck but about schooling.
That's the message I want to get across and one that I got across to Audley Harrison on Twitter after he said Kell was in for a tough fight against Shawn Porter on Saturday night.
The threat beforehand was that it would too hard for Kell because he's away from home. I got that – I defended my title and won three times in Germany, twice for my world title – but you've got to get those ghosts out of your head and do your job.
Kell's composure is what stood out, without a doubt. It told us something new about him. You can now have faith in what he promises to do because he's now been in a rough fight away from home and won.
The turning point was rounds six and seven where Kell hit Porter with shots and Porter thought: 'I need to be more cautious here because this kid can hit me and hurt me'.
You've got to look at the punches landed – not the wrestling, not the grabbing, not the head-butting but clear punches!
I was aware Kell had landed more clean punches but I was also aware that the public would look at Porter rushing forwards. It's a boxing match not a wrestling match.
Waiting so long for this opportunity made Kell hungrier because a title fight was at his fingertips before and it slipped away twice. It made him question how much he wants it, made him question whether he deserves it.
Johnny Nelson
I thought the fight was closer than the judges scored. The first half of the fight Porter was all over him but you have to look at the clear punches that he landed.
Yes, he was pushing forwards and grabbing and dragging but you have to look at the clear shots that landed and then dissect it and score it.
Porter is very rugged, very dirty and you can see why Devon Alexander complained about this guy. If you're ever going to be in a rough fight it's with Porter – he was using his head to the point where it was pure blatant.
Calculated
He was making it hard to allow any rhythm so for Kell to keep his composure under such conditions against a naturally strong and athletic man I think tells us a lot about Kell.
It was more rough, wrestling tactics than calculated, leaping lunges from Porter. Kell had Porter's attention once he starting landing those shots.
Porter just wanted to rush him and keep in his face and you've got to rate those tactics.
If he was tighter, more Tyson-esque with his hands in tight, letting his jab go, letting some orthodox shots go as you edge in with the body and the feet, he would have been more successful.
But it was just wild lunges. If he was a bit more refined he probably would have won.
Brook surprised him with his sustainability. Porter would have watched videos and knew Brook is a good boxer and that's why it told us about Porter's tactics of rushing him – because he knew he couldn't out-box him. He thought 'I've got stay in his face' from the first minute.
The cut made no difference to Kell. Back in the corner he thought 'you boys do your job and I'll do mine'. It didn't bother him, he stayed cool. He probably didn't even know how bad the cut was.
My opinion on Porter hasn't changed. He's strong and aggressive but overrated. His boxing ability is nowhere near Kell's but his natural raw strength and aggression beats most fighters. It took someone who can box, who stays calm, who is fit and who can take the pressure to beat him.
Waiting so long for this opportunity made him hungrier because a title fight was at his fingertips before and it slipped away twice. It made him question how much he wants it, made him question whether he deserves it.
A lot of fighters only realise how much they want it after they lose – fortunately Kell didn't have to go through that. If he wasn't hungry enough last night he would have been broken and lost.
The next fight has to be Kell against Amir Khan.
Amir and Kell both want it, the British public want it. For us as Brits, that's perfect. Another one of those meaningful fights. You can build it up really, really well because you know what's personal and what isn't – and this is personal.