Glenn McCrory blogs on Floyd Mayweather and why Kelly Pavlik's retirement is sad for boxing
Will Floyd Mayweather fight Manny Pacquiao? Will he be remembered as a great? Glenn McCrory speaks...
Last Updated: 27/02/13 12:05pm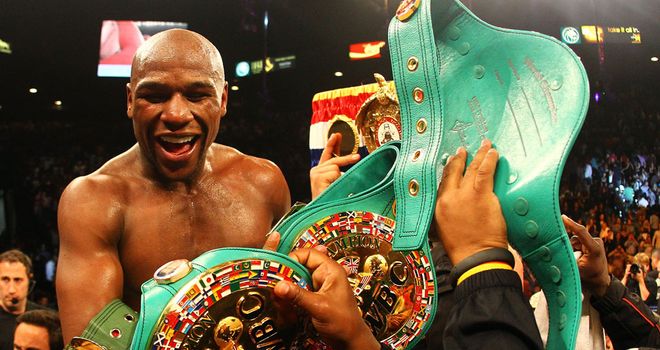 The clash is not dead in the water because they remain huge names, people are still clamouring for them to meet and money, more often than not, talks in boxing.
But like a professional dust-up between Lennox Lewis and Riddick Bowe and perhaps a bout between current British middleweights Darren Barker and Matthew Macklin, I fear Mayweather-Pacquiao will never take place - unless they both REALLY want it.
I think the main sticking point over the years has been financial; both fighters have felt that they were the pound-for-pound king - and probably still do - and would have wanted 60 per cent of the revenue rather than a 50-50 split.
But other factors would come into it, too, with both men wanting the choice of venue, ring and gloves, and, because they detest losing, every possible advantage going.
And I think because Mayweather and Pacquiao are so evenly matched, the bout would have hinged on those aspects.
It's a shame we may not see them lock horns because it would have been a classic contest between Mayweather's defensive skills, Pacquiao's attacking talent and two great personalities - and, quite probably, the richest fight in history.
Beating
Mayweather is not going to be short of a few bob after signing a deal with American network Showtime, which could see him have six pay-per-view fights over the next 30 months.
It will be good to see him in action more regularly but I would be very surprised if, after his bout with Robert Guerrero in May, he ends up facing Kell Brook, Amir Khan, Lucas Matthysse, Timothy Bradley and Pacquiao; I expect as little as two stellar names.
Guerrero seems pretty confident of beating Mayweather, though, and he has a real chance - he is a tough guy and Mayweather is getting older - but if he can't get the job done and "Pretty Boy" fulfils his six-fight contract, I think someone will.
My inkling is that if he has a couple of narrow victories and looks like he has lost a step during them he will find a way of getting out of the agreement; he doesn't want to lose his unbeaten record and he certainly doesn't need the money.
The 36-year-old is spectacularly skilled and is one of boxing's great winners - but, for me, he is not a fighter or a warrior, like Marvin Hagler, Harry Greb, and Muhammad Ali.
I have never seen him fight with a broken jaw, never seen him pick himself up off the floor, like Sugar Ray Leonard did against Tommy Hearns, and never seen enough bravery from him; I've seen more in Adrien Broner's handful of fights than in Mayweather's 43.
He is a great champion and a great technician - but not an all-time great.
Guts
Kelly Pavlik, who announced his retirement from boxing in January, will certainly not be remembered as an all-time great, but he was a blue-collar hero, who fought his way up from the back woods and did things his own unfashionable way.
The Ohio native, who fought at middleweight and super-middleweight, was not the greatest stylist in the world but, much like Ricky Hatton, he showed heart, guts and you enjoyed his fights; he was terrific value for money.
Pavlik had some great nights - he knocked out Jermain Taylor and beat him on points on another occasion and went 12 rounds with Bernard Hopkins and Sergio Martinez - and put in better performances than his talent should have allowed.
He was a real people's champion who had some excellent fans; I remember being in Atlantic City for one of his fights and his supporters launched into a rendition of: 'There's only one Ian Darke'! Boxers like him are a dying breed.
I think Tom Stalker, who made his professional debut last weekend, beating Kristian Laight, could be of that ilk, though; I'm not going to predict what's in his future, but he has turned his life around through boxing, worked hard through his amateur career and has that typical Scouse grit and spirit.
And we will get the joy of seeing perhaps the two toughest fighters in the world square off at the O2 Arena on May 25: Britain's Carl Froch and Denmark's Mikkel Kessler.
They are not the most streamlined or the most skilful but they will provide ample entertainment - and possibly the fight of the year.