Wladimir Klitschko: Ukrainian could retire in two or three fights
How long will Wladimir Klitschko carry on boxing? The end could be nigh, reckons Glenn McCrory.
Last Updated: 04/09/13 8:25am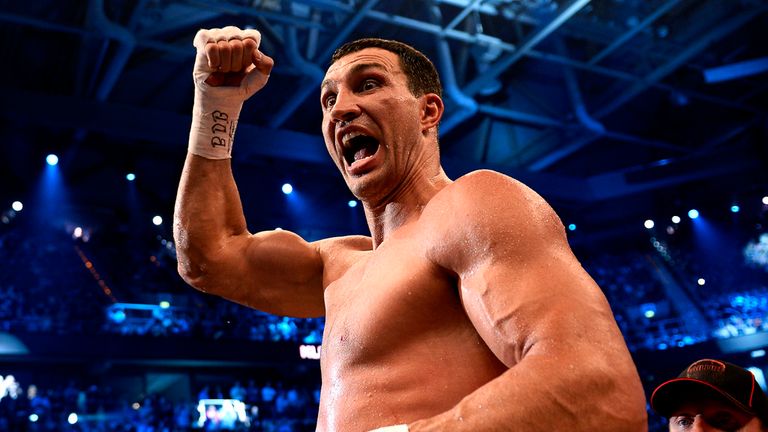 I don't think he is getting bored beating people so easily because that's what he and his brother, Vitali, have done since they were kids, and because he has had so few challenges his body is not breaking down either.
That said, I think Wladimir will want to go out on the top in the way that Lennox Lewis did and not have his mantle stolen from him, so I'm not sure that he will have too many more fights after he faces Alexander Povetkin in Moscow in October.
Winning in Povetkin's country will help cement Wladimir's legacy and prove he can do the business outside of Germany and come out on top while his opponent holds all the advantages, but I would be surprised if he called it quits after that.
I don't think he sees Povetkin as a big enough test and will want to beat one, maybe two, of the upcoming heavyweights like Deontay Wilder, Seth Mitchell and Tyson Fury before he goes - though I'm not sure another fight with David Haye would appeal to him.
But after that his time could be over because while Vitali hasn't retired yet it looks like he will soon and I don't expect Wladimir to carry on boxing for that long without him.
They have had little fallouts over years, but have always liked conquering the world as a pair.
Manufactured
I hope Wladimir and Vitali are remembered with affection when they hang up their gloves because although they have the God-given gifts of height, reach and athleticism and looked like they were manufactured to be boxers, they have worked hard to get where they are.
Yes, they have been well managed and looked after but they have always tried to make themselves better and when they have had setbacks, they have gone straight back to the drawing board in the gym and got fitter, stronger and worked on their weaknesses.
However, while they deserve the respect, I think the heavyweight division will become much more exciting when they are not in it; the Klitschkos are winners but they don't provide entertainment like Muhammad Ali, Joe Frazier, Mike Tyson and Evander Holyfield did.
There is no-one beneath Wladimir and Vitali jumping up and demanding to be noticed at the moment, but Fury, Mitchell, Johnathon Banks, Haye and the like are waiting for an opportunity to boss the division.
Wilder, too, could be the real deal but it is always difficult to judge someone on beating Audley Harrison because over the years he has turned into a bit of a laughing stock when stepping up to world level.
Super
Deontay needs to take a leaf out of the Klitschkos' book and keep himself right outside the ring otherwise he will achieve nothing, but if he does that he could become a star because America is crying out for a quality heavyweight.
There are some super fights coming up with Floyd Mayweather taking on Saul Alvarez and Danny Garcia boxing Lucas Matthysse, but Americans have lost a bit of interest in the heavyweight scene now that their country doesn't rule it. They need a new hero.
Tommy Morrison, meanwhile, was a real star and I was sad to hear that he has passed away because his charisma, looks, style and excitement brought a lot to the game and I really enjoyed commentating on his fights.
He was reckless, too, and went down the wrong path but he was elevated to superstardom when he starred in Rocky V as Tommy Gunn and had his great in-ring moment when he beat George Foreman for a version of the world title.
Boxing has lost a bit of Hollywood.