Glenn McCrory wants Anthony Crolla and Derry Mathews to fight again
Glenn McCrory wants Matchroom new boy Anthony Crolla to resume his rivalry with Derry Mathews.
Last Updated: 25/09/13 4:47pm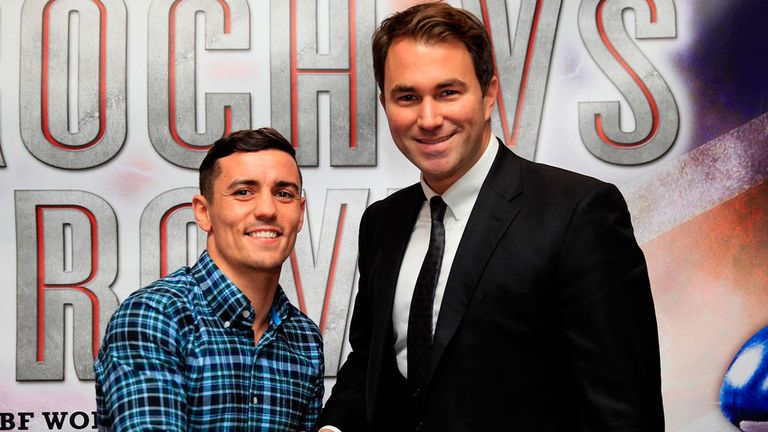 Styles make fights and these two fighters bring the best out of each other; they are both battlers, both want to win and both love having an entertaining scrap, but they are also great professionals and have lots of respect for each other, too.
Crolla lost to Mathews in fight one and drew with him in fight two, so he might not fancy another go at him, but I would love to see him try to settle the score because I think he could come out on top this time.
Anthony is using his head more and has shown good mental strength to bounce back from his losses to Mathews and Gary Sykes, with his points win over Gavin Rees a few months ago showing what he is capable of.
Crolla did a lot better against Mathews second time around - he lost the first fight in round six - and I think his best is better than Derry's.
We know Derry's level and if you are not up to it he will beat you but I think Anthony can be better.
That's no disrespect to Mathews, though, who is a throwback and a fighter I love to watch.
He is a master of picking himself up after knocks and he never gets deterred by a bad result; he always prepares meticulously before he sets foot in the ring and always believes he can win in good style.
Derry, though, cannot cope when he steps above British level whereas I think Crolla can; I expect him to do very well on the European scene and if he does that there is a great chance he could fight for a world title.
Tough
Mathews beat former footballer Curtis Woodhouse on Saturday night, but Woodhouse deserves massive credit for coming from a good level in one sport to a reasonable level in another, something I am trying to achieve.
I am a terrible golfer and have never really liked the game, but I am spending the next 12 months with a golf pro trying to see what I can lower my handicap to.
I am not interested in just being able to hit the ball, I want to be good at it, and that has been Woodhouse's mentality when it comes to boxing.
Anyone who has seen his fights will not have seen a footballer trying to be a boxer but an actual boxer, and there is no shame in being stopped by someone as gritty as Mathews.
On the same bill, Liam Smith beat Erick Ochieng to become British light-middleweight champion and I think Smith - who, like his brothers, is tough, rugged and dedicated - will do well at his current level, but the one Smith boy that stands out for me is Callum.
He dispatched a former Prizefighter champion, Patrick Mendy, at the weekend in far easier fashion than he had any right to, and with his brother's help he could quickly become a massive star in our sport.
We have a great history in the super-middleweight division and with Smith, George Groves, James DeGale and Rocky Fielding knocking about that looks likely to continue.
Carl Froch is going to have to be on his toes.
Grasped
I am also very pleased that Dereck Chisora is now European heavyweight champion because even when he had his silly moments and let himself down, I have always thought he was a pretty good person.
Dereck seems to have finally grasped that he has some talent and that if he applies himself in the right way he can do something; he has got himself together, his weight down and is in the best shape of his life.
David Haye and Tyson Fury are obviously hogging the headlines but Chisora will think he could be up there with them; he was beaten pretty convincingly by Haye, but managed to take Fury the distance despite not getting going in any way.
Dereck has put himself in a great position to fight one of them once they have fought each other, while he has also added to the British heavyweight melting pot which is really boiling at the moment.
We are going to talk up Haye-Fury for the next few months and no doubt chat about conspiracy theories and the like, but we also have Anthony Joshua making his way in the pro game and a potential return for David Price.
Let's hope at least one of them is ready to take over when the Klitschkos leave town.