Glenn McCrory wants to see Floyd Mayweather fight Gennady Golovkin
Glenn McCrory says Floyd Mayweather and Gennady Golovkin should lock horns in a 'box office' bout.
Last Updated: 05/11/13 2:53pm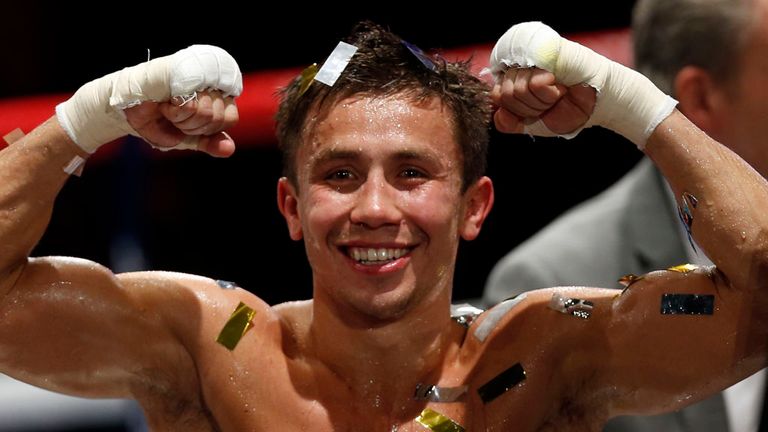 I think it would be a tough match for Mayweather because of Golovkin's size, punch power and talent, but Money surprised me last time by taking on Saul Alvarez and it looks like he is relishing big challenges since signing for Showtime.
I'm sure Golovkin would want the fight, too, as he seems like someone who would take on anybody and will probably need to move from middleweight to find a real test, having looked too good for his opposition at that weight.
I would love to see him go at it with Carl Froch at super-middleweight, should Carl get past George Groves, as that is a fight that could define Froch's legacy and prove that Golovkin is a tough, tough, competitor.
But a fight with Money, which is what fans want to see, would be great as well; Floyd hasn't really been in much trouble over the course of his career but it would be intriguing to see how he deals with a notably bigger man.
Golovkin is not at silky smooth as Mayweather - then again, not a lot are - but he gets the job done, doesn't shirk the work and is a very solid pro, so Money would have to be at his very best to beat him - but I think he would just do it.
I really hope we see the fight, though, because I would argue that Mayweather and Golovkin are the two most box-office fighters we have in the game at the moment - although Adrien Broner might have something to say about that.
Mayweather is amazing and Golovkin is a throwback, so let's hope they get it on.
What makes me believe that they might is that in this era people demand big fights and gone are the days when you can bring somebody along and put them in with anyone.
Boxing is big money on TV and these networks want stacked show after stacked show to keep their punters interested, which is exactly how boxing should be.
Pressure
I suppose Mayweather-Kell Brook is always a possibility but things like that - and talked-about fights with Amir Khan and Broner - should be put on the backburner until Kell wins the IBF welterweight title.
Brook (pictured) looks like a nearly man at the moment so his focus should be on his mandatory match against the winner of Devon Alexander and Shawn Porter, a fight I think he would win if he was at the peak of his powers.
However, Kell hasn't boxed at that level consistently yet and not had his career on the line in every fight, so we don't know how he will react to that pressure and whether he will be able to deal with it. Let's hope he can.
Elsewhere, Nathan Cleverly has announced that he will return to the ring as a cruiserweight which - unless he is struggling to make the weight at light-heavyweight, which I am not aware of - surprises me a little and seems a bit silly.
He has won a world title at light-heavyweight and I'm sure he could get it again; he has, of course, beaten Tony Bellew, who is now in line for a shot at WBC champion Adonis Stevenson so it's not as if he is outclassed at that level.
Perhaps this change from Nathan is designed to fire himself up again as he hinted at retirement after losing to Sergey Kovalev, but I think his main issue is that he has been too looked after during his career.
Cleverly's team have treated him with kid gloves and not really let him off the leash and I think that showed when he came up against Kovalev in his first big challenge.
I think the best thing for Nathan would be to get a series of top-level fights at light-heavyweight, but I wish him all the best at his new weight.