Glenn McCrory analyses Manny Pacquiao's return to winning ways
A slick victory for Manny Pacquiao can kick-start a journey back to the top, says Glenn McCrory.
Last Updated: 26/11/13 2:56pm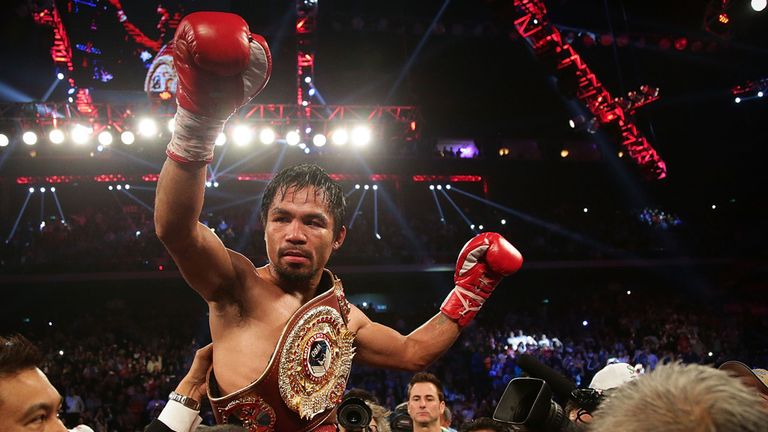 All of a sudden, he's got his passion to fight back. That's great. A little while ago, he was looking at retiring until he got knocked out by Juan Manuel Marquez and now the fire seems to have returned. He's so great for the sport and for his country.
I really felt for him ahead of this fight. What he must have had going on in his mind going into that fight must have been unbelievable because he's such a symbol of hope for the people of the Philippines who were hit by Typhoon Haiyan. It's a real test of a human being's character to come through something like that, still fight and still win.
His victory on Saturday night inevitably brought up talk of a Pacquiao v Floyd Mayweather fight but I was sat next to Amir Khan for the Carl Froch v George Groves match and he seemed quietly confident that he was going to get Mayweather next. It's not official and he was keen to stress that no deal had been done, but I've got a feeling now that's the way things are headed.
It could be that that's what Amir's put his career on hold for. He didn't take that fight with Devon Alexander and presumably the reason why he chose to miss out on that big pay day is because he thinks the possibility of Mayweather is pretty solid.
Khan is the one man who could actually worry Mayweather because he's the one man who's faster than Mayweather. Mayweather isn't the kind of hunt-you-down lethal finisher either, so Khan definitely has a chance. It's very hard to say he'd beat him, but he will give him problems because he's got speed.
The other thing is that Khan's usual weakness of getting hit won't be as much of a problem because Mayweather is more of a counter-puncher. Mayweather showed against Saul Alvarez that he can be tough and can push big men back, but he couldn't finish him. That would give Khan hope that he could be the busier man and maybe nick a decision. He's got the style to do it.
The welterweight division is such a great one, with potential great fights out there.
I think Pacquiao took his eye off the ball previously and can get back to where he was before. He was doing too many things outside the ring. You can't run political campaigns, go off singing, go off speaking to your nation when you're supposed to be a professional fighter and in with the best fighters in the world.
Pacquiao paid the penalty when he lost to Marquez, and I don't think he'll make that mistake again. That's a good win over Rios, so I'm expecting Pacquiao to come back to something approaching his best.
I still think Pacquiao will get the fight with Mayweather but as I've always said, it'll happen when Mayweather wants it to happen.
Mayweather is waiting for Pacquiao to get punched to bits, go in, clean up, put Pacquiao on his record as a 'win' and then you'd look down at Mayweather's record after he retires and he'll be undefeated with a record littered with great fighters.
He'll go down as one of the greats and he showed another side against Alvarez - fighting a bigger man and shutting 20,000 Mexicans up.
Confirmed
Saturday was also a great night for Scott Quigg as he confirmed his status as champion and Kiko Martinez might be there for him now.
Martinez seems to have a new lease of life having blamed lots of things for his defeat to Carl Frampton. The Spaniard is still a force, although I think Frampton would beat him again.
Joe Gallagher dismissed Frampton after the fight and said Quigg was sick of waiting and that an offer hadn't been taken, but Barry McGuigan has his own ideas for Frampton and he's done very well up until now.
I'm a fan of Frampton - he's a terrific fighter - and we are blessed in having two Britons that I think will both win world titles in the super-bantamweight division.
At some point, we'll have a great fight between Quigg and Frampton. I'd like to see Frampton go and take Martinez's belt and then both could come to the table as champions. It could be in Belfast or in Manchester and would be a terrific occasion. If they both bring belts to the table then it can minimise the debate over purse splits.
I think that at world level, you've got to say that Guillermo Rigondeaux is a level above the rest at the moment. He had a terrific amateur career and is a super champion, despite only having 12 fights.
I don't think he's unbeatable - he's getting on in age and I think the winner of Quigg-Frampton would leave him the only one left to conquer. I think the timing could come right because those two are getting better and stronger.
Dark horse
Andy Lee was another to impress on the night. He seems to have been around forever. He's a guy who had a wonderful amateur career, beating Darren Barker and going the distance with Gennady Golovkin, and then went to America to train with Manny Steward.
Lee possibly didn't get full attention and focus on him while with Steward as the Klitschkos dominated the gym. He needed someone to tell him where he was going wrong - which was a lack of spite. He needed to learn to finish the job and be a bit more vicious and I think he's doing that now.
Andy Lee, with a bit more bite, could be the best middleweight out there.
I enjoyed watching Lee. He wasn't in with anyone too great on Saturday but it was the way in which he beat Ferenc Hafner that impressed. He was turning in his hooks and getting some bite into them in order to get his man out of there. I've seen him in the past just pop away with his jab and win on points. It was good to see him stop his opponent.
As well as the performance, it was great exposure for Lee. You'd have been forgiven for wondering whether Lee was still fighting because he's been away. Of course, he has been fighting, but he's been away from the British and Irish public and that's where he needs to be seen.
Hopefully they can make the Matthew Macklin fight on St Patrick's Day.
Rosy
Anthony Crolla produced a clinical display again and he'll be looking upwards now. Obviously it's a tough division with the likes of Adrien Broner holding belts, but I think the fight that makes the most sense is another champion - Ricky Burns.
I think boxing on these islands is going through a rosy, rosy period at the moment. More people are talking about it than ever and we can keep big fights in Britain - just like Carl Froch v George Groves. Good world title fights in this country can keep happening. Just look at the middleweights - we've got four world class operators from Britain and Ireland. It's been a long time since we had riches like this.
You have to start handing credit to the system because Britain and Ireland have got such strength in depth now and there are more youngsters coming through. There are excellent development squads together - they've done it right in places like Dublin and Sheffield. We are nurturing young talent from the amateurs and bringing them into the pros.
If you're talking about some kind of Ryder Cup for boxing, the United States would have to call upon the rest of the Americas to stand a chance against us. They'd need Mexico on their side to even come close - when was the last time you could have said that?
One of the products of our system, Luke Campbell, really needs to step up. I mentioned earlier Rigondeaux being a world champion after just 12 fights. Campbell isn't learning by facing the guys he's faced lately - it's almost a detriment because he starts to look sloppy.
I think Eddie Hearn realises it and they'll push him forward now because time is being wasted. Campbell is 26. By that age, I'd won a world title and lost it. Amir Khan at the same age as Campbell is a two-time world champion.
Campbell is a man now and has had over 100 fights in the amateur division. He's a world silver medalist, an Olympic gold medalist and you could stick him in with anybody in the top 10 of that division.
With regards to Stephen Smith, they have to take a risk because he's the boss domestically in the division. There's nowhere left to go and you have to give him a chance to get the European title fights and get him into the world rankings.