Glenn McCrory wants Matthew Macklin to fight Andy Lee in Ireland
Matthew Macklin has come up short in world-title fights, but Glenn McCrory says his future is bright.
Last Updated: 05/12/13 3:46pm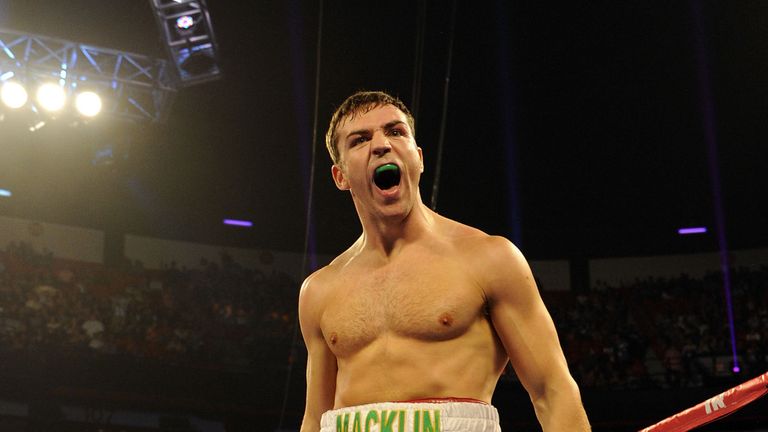 There's not a lot between Matthew and Darren but I think Barker - who has had a terrific amateur grounding and a father who was a boxer - has had a bit more success because he is a bit more polished.
Matthew, in contrast, has fallen a little short at the top level, losing world title fights to Felix Sturm, Sergio Martinez and, most recently, to Gennady Golovkin, a man that regular readers of this column will know I rate extremely highly.
It is hard to be too critical of Macklin's performance against Golovkin as he was simply blown away but while he was possibly outclassed over 11 rounds against Martinez and 12 against Sturm, I think he was a bit cautious and not as confident as he should have been.
However, I have always admired Matthew for facing tough boxers and always liked his ability to bounce back, while I think teaming up with Jamie Moore - whom he had had that great battle with in 2006 - is a massive boost for him.
He is not too far away from the Sturms of this world and if he can get past the unbeaten Lamar Russ in Atlantic City, he could get himself back in the mix for some really good fights - and possibly the IBF middleweight title.
If Barker comes through Sturm, though, I think he should defend his belt against Martin Murray; it would be a real clash of styles and I would implore Eddie Hearn to try and make it happen if Darren does the business in Germany.
That would leave Matthew free to tackle Andy Lee and if it took place on St Patrick's Day in Ireland, just imagine what sort of atmosphere we'd have. It wouldn't be quiet, that's for sure!
I don't think there is as much spice between the two Irishman as say George Groves and James DeGale - who, like Johnny Nelson, I think should fight again - but bragging rights would be up for grabs so I'm sure there will be some needle there.
That's my ideal scenario - and then the winner of Barker-Murray could fight the winner of Macklin-Lee - but whatever combinations we get, I just want these four talented British/Irish lads to meet because there are bound to be fireworks if they do.
Desperate
Meanwhile, Kell Brook - who will be joining the Sky Sports team out in Stuttgart for Barker's fight - will learn this weekend whether his shot at the IBF welterweight belt is against Devon Alexander or Shawn Porter.
Neither fighter will be easy to get past but you could argue that Brook would prefer Alexander as he has been preparing for him for the best part of a year so knows what to expect and will be desperate to finally face him.
Porter is also a bit more of an unknown quantity and, having seen him beat Canadian Phil Lo Greco on the Alexander-Lee Purdy bill in May, looks to me like a very dangerous boxer who can throw a series of powerful punches.
On the flip side, Alexander is more tried and tested at the top level so I don't really think Kell will care who he fights as he will just want to fight SOMEONE after a very frustrating year with injury.
Elsewhere, Pauli Malignaggi will box Zab Judah in a fight that may have had more lustre five or six years ago but is still an intriguing one as the loser will probably be done in the professional game.
I suspect Paulie is the favourite but both he and his opponent are having Indian summers to their career - Malignaggi gave Adrien Broner a good challenge last time out, while Judah took Danny Garcia to 12 rounds - so it is a hard one to call.
If Malignaggi loses and then retires you'd think he was nailed on to go into the punditry game as he can out-talk anyone and pulls off a baseball cap better than most.
But he still doesn't have my style - and certainly can't wear a tweed jacket as well as me...