Glenn McCrory gives his assessment of Britain's world champions
Glenn McCrory tips Ricky Burns for a strong comeback as he assesses Britain's world champions.
Last Updated: 22/12/13 4:24pm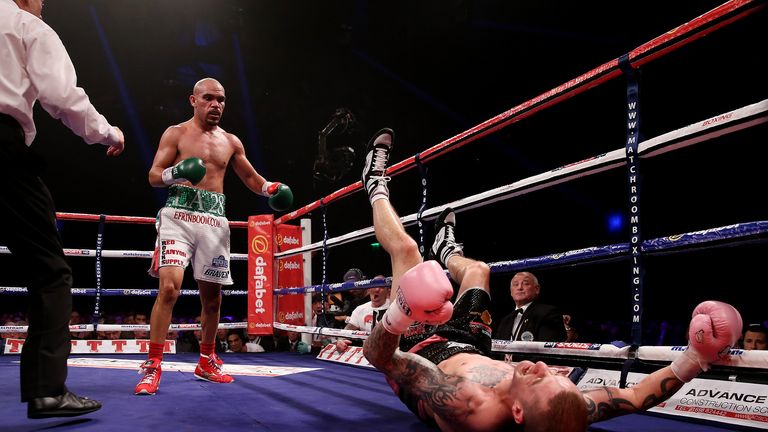 Ricky was lucky to come away from his fight with Raymundo Beltran with his world title intact and the jaw injury he suffered in that match means there are big question marks against him going forward.
But I think this break could reinvigorate him and help him come to terms with being a world champion, something which is far more consuming than setting foot in the ring every four months.
There are press calls to deal with, while you have to open this and visit that, so I think Ricky might have become a bit jaded around the edges with all his other commitments and taken his eye off the ball boxing-wise.
I expect to see a better Burns when he meets Terence Crawford, though, of course, we don't know what the after effects of his jaw problem will be and we probably won't know until his next fight night.
There may be mental scars to deal with, while he may also be a bit gun-shy so I am really interested to see how he responds - and whether any of our other British lightweights get a shot at him in 2014.
Damage
Kevin Mitchell has been taken apart by Ricky before but he is a much better boxer now that he is working with Tony Sims again and has sorted out his lifestyle - and he will feel he can do some damage.
Anthony Crolla is right up there, too, but I still feel that Burns is the best of the lot, so could we see a match between him and Adrien Broner, who was exposed during his first professional loss to Marcos Maidana in Texas?
I saw Broner at the weigh-in for that fight and he looked fat and overly bulked up; he seems to be a natural lightweight and I think he would struggle against the top names if he stayed at welterweight.
Scott Quigg, meanwhile, is a rightful world champion but even though there is a proliferation of governing bodies, you can't say that you are the best in the world while there is someone in your own country that a lot of people think is better than you.
For that reason, I think it is vital that Scott fights Carl Frampton; it is a natural match-up and one that needs to happen, although I think it may be put on hold until Frampton wins a version of a world title.
However, let's applaud Quigg for destroying Diego Oscar Silva to cement his status as a world champion after he was given the title before drawing with Cuba's Yoandris Salinas at the O2 Arena in May.
That win will make Scott feel like he belongs at world level, though I thought he did before because, for me, the only reason he didn't beat Salinas was because he stuck to his game-plan too rigidly and didn't pick up the pace.
Stellar
Carl Froch turned from hero to villain somewhat in his final fight of 2013 but I still believe he can look back on the last 12 months as a very successful period in his career.
When the dust settles on that George Groves controversy, I think people will see Carl's year as a continuation of a stellar run which began after he was beaten by Andre Ward at the backend of 2011.
Froch is a winner and he proved that in two great fights in 2013, firstly when he exacted revenge on Mikkel Kessler by beating him in 12 rounds and then when he got the better of Groves in Manchester in November.
Both matches were full of drama and excitement and with Froch-Groves we had all the rumblings afterwards, not to mention the words beforehand and shock value of Groves flooring a world champion in the first round.
But the Kessler clash was two warriors who respected the hell out of each other going at it again in a long-awaited rematch so I think that was probably my favourite Froch fight of the year, though both demonstrated his granite nature.
That determination is Carl's greatest strength as a fighter - his boxing skills are often underrated, mind you - but as he goes forward he needs to make sure he has the fear factor for every fight, as he didn't have it against Groves.
Against Kessler, he knew he was going in with a world-class fighter and knew he could get hurt, so he had the nerves that bring the best out of you, but against Groves he thought he would get in the ring and bash the kid up.
That is a very dangerous attitude to hold in boxing and when you are even the slightest bit blasé and don't feel like you are going to be entering the lion's den, you have a big problem and that almost cost him against Groves.
The difference between the elite and the ordinary in boxing is marginal if you are not in the right frame of mind, but I don't think Froch will make the same mistake again, especially against Groves if the rematch that should happen happens.
There's no guarantee that Carl and George will fight again - Carl is a Matchroom man so could be taken in a different direction by Eddie Hearn, while a mandatory challenger to his titles may also emerge - but I think it's a must for his credibility.
Froch-Groves was stopped prematurely and there is unfinished business that needs to be addressed.
Glenn's column was written before Stuey Hall claimed the IBF bantamweight title, but Mr McCrory would like to congratulate his fellow North East fighter and will chat about him in the New Year.