Glenn McCrory says Darren Barker can retire a very proud man
Darren Barker has taken the right decision to retire and will look back with pride, says Glenn McCrory.
Last Updated: 15/01/14 4:53pm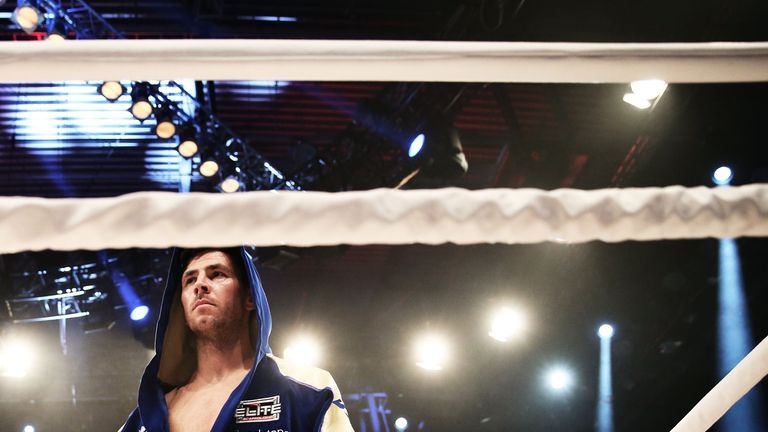 The Barnet middleweight enjoyed a special night in August 2013 when he edged Australian Daniel Geale on points in Atlantic City to fulfil a boyhood dream by becoming a world champion.
It's not a shock that he has retired. I was over the moon with how he came back after the loss to Sergio Martinez. With all the injuries and the way it was going, he was pondering retirement then and he would have done so as a good fighter.
He went on and had that great night in Atlantic City and won the world title, which he thoroughly deserved to do. I think they knew that he's been going on so long with a crocked body. His body has been too open for injury and I think that was part of the gamble with Felix Sturm.
They wanted to take the pay day and rightly so because you never know how long you've got. In the event, his body didn't hold up. He's a personal friend of mine and one of the nice guys in the business. I'd just like to say 'well done Darren' for entertaining us and for a great career.
I don't think there's any chance he'll come out of retirement. He's been through too much pain physically and emotionally in his career with his injuries and losing his brother. It was heartache, him losing his brother Gary. I lost my brother and I know what a terrible wrench it is.
There will always be something for Darren to do and I think he's well and truly saying goodbye to his life in the ring.
People have different opportunities. I won a world title and I didn't have a gym, I didn't have a trainer and nobody in the North East had ever won a world title. Therefore, my attempt was massive. Other guys have great facilities, great trainers and therefore it comes easier for them.
Scale
You have to put Darren Barker's career into context, too. He was a fine, fine fighter. He represented his country as an amateur and won medals. He was a lovely, silky-smooth, textbook boxer who won British, Commonwealth, European and world titles. That's top of the tree!
Some guys have the good fortune and the luck with the connections to make their careers last longer.
I know the argument about longevity. I would have loved to have seen him in with Matthew Macklin, Martin Murray and those other good domestic rivals that never happened.
Let's not forget, though, that winning a world title is massive. It's like putting your flag in the top of Mount Everest and he did it. You can rest on that laurel for the rest of your life because you scaled the heights that very few mortals every scale.
I had a very tough career. I was written off and told I would never win a world title and I won one. That was enough for me. I would have retired straight after I won the world title because I'd done it and conquered Everest.
It was about getting there. If there's nobody about in your division, you can make 10 defences and it doesn't give you a legacy. In a way, the journey ends when you become a world champion.
Some can carry it on but if you look at it from the other way, Larry Holmes was a tremendous champion who went on far too long and so was Muhammad Ali. When is the right time?
You reach those heady heights when you get that belt strapped around your waist and you can call yourself a world champion. You join a very elite group and you're up there.
Character
Darren is obviously a good talker and he's done tremendously well in a career. He could go on and do whatever he wanted.
He's that sort of character - an engaging, intelligent, nice guy - but I, for one, would like to see him around the sport.
It's quite difficult for world champions to become trainers. When you've been up there at the heights and then you become an assistant, it's difficult. There aren't many that go on to ply their trade as trainers afterwards.
It's because you were good at doing things for yourself. You were good at pushing yourself. Perhaps, also, you are so worn out from pushing yourself for so many years that you can't be bothered to push anybody else!
I would like to see Darren around the game.
He can talk well and there's always jobs for him in punditry... as long as he stays off my job! He's from a fighting family and I know he'll be around the game and that's good enough for me.
Rematch
Carl Froch is sill fighting, though, and if I was him and my options were Andre Ward, Adonis Stevenson, Gennady Golovkin, Sergey Kovalev and George Groves, I would take George Groves. It's a big pay day.
In addition, Carl made mistakes. He has to go back to the drawing board and address what he did wrong. Carl Froch is still a better fighter than George Groves at this moment, so if he does things properly next time then he should win in more style.
The thing about Ward is that he doesn't sell tickets and is far too good. If he was Floyd Mayweather Jr then it would be the only fight out there but he doesn't and he's struggling with the TV companies. I would forget about him if I was Froch.
Stevenson is too big and too strong for Froch. Kovalev is too big and too strong for Froch. Golovkin is just very, very good. Too good. So the best fight out there is Groves - it's the sensible one and the pay day.
Froch fell into every trap Groves set and he even told me in Stuttgart that he went into the bout 'not nervous.' He wasn't bothered. He went in there thinking he was going to smash him and you can't do that in this game.
You have to have some respect and you have to have some fear. Now when he fights Groves, he'll go in there wary and it'll be a better Carl Froch.
I think Froch will still beat him on brute force rather than just technically beat him, but he has to give him more respect.
He showed none before as if to say 'How dare you?' Now he's back down to earth, feet back on the floor and he can do it properly.
Showbiz corner
I was at a film premiere at The Dorchester and it was nice that Sylvester Stallone and Robert De Niro came over to say hello to me! Stallone came over wanting to meet me and that was lovely.
They came over to shake my hand. I told Stallone that I'm from the generation that watched all those Rocky films and they inspired me to win a world title. I used to watch Rocky wearing a headband!
I was stood there with De Niro and we're both grandfathers - that's all we have in common because he can act and I can't.
An interesting twist here is that Stallone once told me I wasn't tall enough to be in Judge Dredd. I was acting back then and the director, Danny Cannon, told me I was going to play one of the guards around Stallone... but when I got down to wardrobe they told me I was too tall!