Glenn McCrory wants Luke Campbell to move up soon - along with local Hull rival Tommy Coyle
Luke Campbell needs to move up a level but first he needs to win well back in Hull, says Glenn McCrory.
Last Updated: 01/03/14 11:25am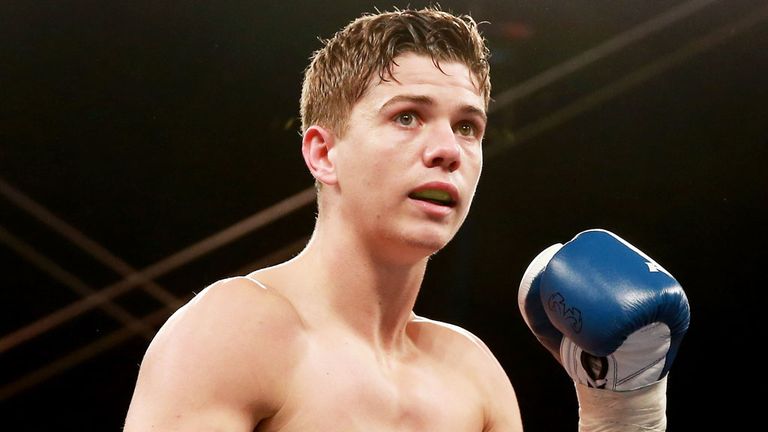 I have to be honest and admit that some of the Winter Olympics sports have gone right over my head - not literally of course.
Some of them seem so dangerous they are bound to bring a whole load of pressure with them and seem just strange! I know boxing seems straightfoward in comparison - but turning professional is a different matter.
It's funny when someone's won an Olympic boxing gold medal and turned professional because no-one really knows where they should pitch them. People sit there and watch every move but it is hard to gauge where they are at.
It is a fabulous achievement winning any medal in the Olympics, of course, and when it comes to Campbell, he has been arguably our most successful amateur fighter, too, having won the European title and been second in the world championships and so on.
But even with all that success all of a sudden people want to see what's next - and you can't just throw him in at the deep end because the professional game is a whole different ball game.
What do the promoters do? How quickly do they move these starts forward? Vasyl Lomachenko, the Ukrainian, is fighting for a world title in only his second professional fight and while that can be a huge risk, you also have to move these prospects forward at a decent pace.
You obviously have to get him experience with different styles, which is why Scott Moises gets his go on Saturday night, and Campbell needs that because our lightweight division is one of the toughest out there.
Battles
Moises is a tough little kid, too. He has only been stopped once in his eight defeats, he's been through 10-rounders before and has come through leukemia, so is used to winning bigger battles than many of us.
This, though, is the right sort of fight for Campbell. He moves up to eight-rounders and, after a couple more, I would either move him up to a 10-rounder or even an eliminator for the British title. It is nowhere near what Lomachenko is doing but they cannot afford to hold Luke back too much.
That will do him no favours and even his last fight, when Chuck Jones was a late call-up, we started to see that already. The change of opponent didn't help but when the winner criticises his performance, you know he needs a tougher test.
Anthony Joshua was critical of his last performance and the pair of them have already shown us that reality kicks in sooner rather than later, even if you have an Olympic gold medal.
That brings pressure itself and Campbell will know he needs to put on a show. Not now and then, but every time he climbs into the ring. They are supposed to look good and perform amazingly every time, but that is just not going to happen. And at the same time, I will admit that perhaps I was looking at Campbell and co with rose-tinted glasses, singing their praises after what they achieved.
But as a former fighter it is obvious to try and compare yourself with what they are doing, who they are fighting and how they are doing, so all of a sudden you start to find faults. And the one comparison I like is the fact that both these fighters are no longer riding the crest of a wave and they know when they need to step up.
I like the look of Campbell, though. He's got everything: he's got the boxing ability, he looks tough and can fight and he has all the characteristics you need to become a top fighter.
He may be baby-faced but he has been around the amateur scene for a long time, he's been in the gym a long time and has been in the big arenas under pressure, so he has the makings. And that is why I want to see them move him along quickly.
The British lightweight division is somethine he has to break into - and soon. But when he does, it is going to be tough whoever he takes on. Derry Mathews? Martin Gethin? Scott Cardle? Anyone will be tough.
Ability
Of course local rival Tommy Coyle is a name that springs to mind as we head back to Hull. And with his name comes my old mate, Jamie Moore.
He's a good pundit because he talks sense. If you can do that you can be a good trainer. It boils down to seeing things simply, with commonsense , knowing your fighter's limitations, it's about being his friend and bringing the best out of them.
Mooresy has got all that and what he also possesses, which he needs, is the ability to kick someone up the backside! The one thing I like about Tommy Coyle is the way he bounced back from that stunning loss to Mathews. Yes it was a great performance but that was a major lapse that cost him badly and could've wrecked his career.
But whether it was the trainer or the fighter, or both, he has bounced back now he has signed up with Matchroom and they want him to get the experience, move him on and move him up.
Daniel Brizuala has only lost twice in 19 fights and is clearly a step up in class, while already it seems a showdown with Kevin Mitchell is on the cards. People know Coyle will be in an entertaining fight, which helps.
I am expecting both Campbell and Coyle to win on Saturday but that is not enough. They need to wow the crowd and show they are ready to move up and kick on. Especially Luke Campbell.