Manny Pacquiao is back in contention for a Floyd Mayweather showdown, says Glenn McCrory
Manny Pacquiao is back to his best and could yet get it on with Floyd Mayweather, says Glenn McCrory.
By Glenn McCrory
Last Updated: 14/04/14 2:51pm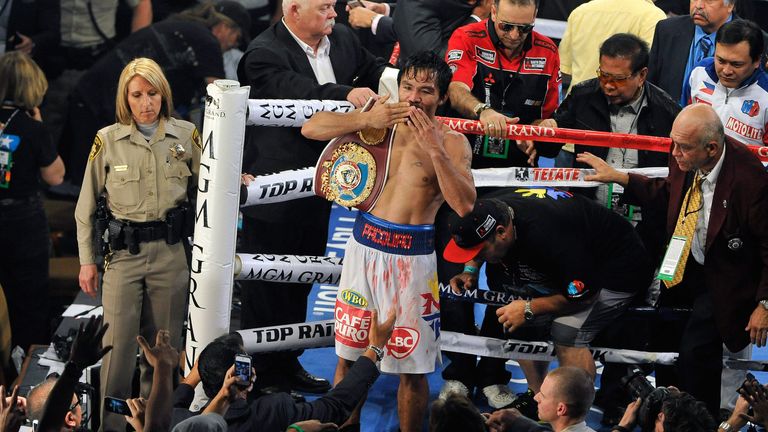 For a fighter to have had been involved in so many big fights, against so many good opponents, and been to the well so many times, anyone would find it hard to do all that again.
But Manny did just that and showed what a great, great fighter he is.
Timothy Bradley hadn't been beaten and I'll admit I thought he would be too strong for Manny, but it just went to show that when Pacquiao has his mind on the job in hand, he is unbelievable.
He is an eight-time world champion which is something in itself but he is an amazing, incredible fighter, too.
He took the fight to Bradley and you could see he was right on it.
Great
Bradley didn't help himself by trying to knock him out with every single punch but even when he did put a good cluster together Manny came back with more. And when you're in that frame of mind, you aren't going to be beaten.
Manny came in with big, big bursts himself, which not only caught Bradley but caught the eye again.
To do that against an undefeated champion who is strong and naturally suited to welterweight, showed us he is a great.
All the talk about Floyd Mayweather had subsided but all of a sudden, it is back on. Manny is back with a word title, in the same weight division and quite simply, has put that huge fight back on everybody's lips. And rightly so.
When you look back at his career you wouldn't be surprised if Manny gives Bradley a third fight to settle it, but there is also an old score to settle with Juan Manuel Marquez that must sit heavy on his shoulders.
Manny will fight whoever they line-up and where the money is, but Mayweather and him is right back in the mix, it really is.
Some people though Bradley was the only one out there who could give Floyd problems and many thought Manny was too far down the road to do that it, but all of that has changed.
Generalship
I think we all saw his political and showbiz career taking over but now he has put them to one side and can concentrate on what he does best, he is just great.
It was just a pleasure to see Pacquiao perform the way he did.
The speed of those combinations, the spring in his step and the smartness took us back, but the mental strength he has always head was right back, controlling the pace, controlling the opponent.
The way he takes the ring away from people has always been something else. He just cuts the ring down and leaves people with nowhere else to go and no matter how big and strong they are they are suddenly in his range.
At first I was sitting there wondering why Bradley was backing into the ropes, even into the corner, but then you started to see him lose his balance on top of that and Manny was just taking the space away.
It was ring generalship and he is the absolute master of it.
I did talk about Pacquiao calling it quits if he lost on Saturday night and even now that performance is the perfect sign-off. But you know Manny, he says he has got two years left and even if he is 35 now, he clearly has more left in the tank.
We don't want to see great fighters go on too long - like Larry Holmes or Evander Holyfied, for example - but he looks as if he has no ill-affects of his long, illustrious and outstanding career.
Manny has plenty left in the tank and is just hard as nails, and a tough, tough character.
He is simply a phenomenon.