Klitschko domination of heavyweight division coming to an end, says Glenn McCrory
Porter and Brook among many stars at welterweight
Last Updated: 24/04/14 12:23pm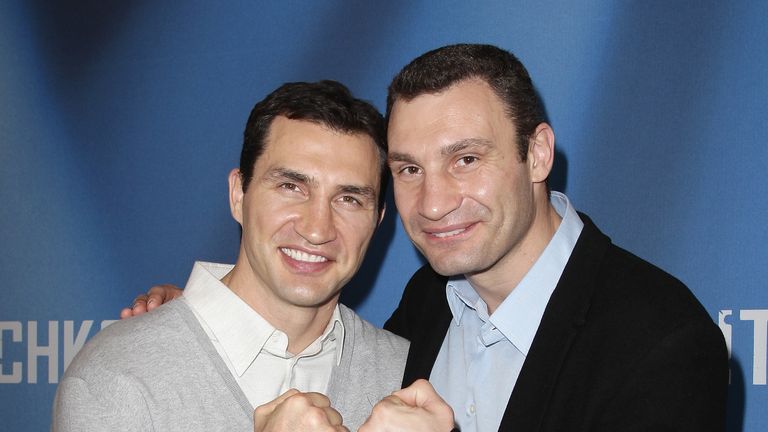 The younger of the Klitschko brothers, if he goes unbeaten for four more years, will break Joe Louis' record as the longest-reigning heavyweight world champion. But that's not going to happen.
Yes, he's very, very good but, with Vitali out of the picture - who, for so long, paired up with his brother to intimidate and out-psyche their opponents - the Klitschko aura is not what it was. One Klitschko doesn't look as tough as two.
But, also, unbeaten boxers such as Tyson Fury (22-0), Kubrat Pulev (20-0) and especially Deontay Wilder (31-0) are learning the game, getting better and more confident - and in the next two years there will be a new chapter in the heavyweight division.
Change is coming and the Klitschkos' stranglehold on heavyweight boxing will come to an end. It's not going to happen this weekend though!
On Saturday night, Wladimir faces Alex Leapai, who was scorned by Shannon Briggs in a pre-fight press conference this week. Briggs is angling for a fight with Klitschko but to be brutally honest, he's from another generation.
Briggs raised the issue of Klitschko picking easy fights, though. It's tough because between the brothers they've pretty much cleaned up the division, without having ever really done anything to bring excitement to the game - and the fight with Leapai is another example of that.
Klitschko is very, very good at what he does and is clinical but the great days of the heavyweight division have gone. You could say he's not had the opponents to make great fights, but there's nothing exciting about the way he or his brother fights.
Between them they've put the heavyweight division on the back burner, and I don't think anyone can disagree with that.
Wilder is causing a stir, though, Fury is improving - and I don't think we've seen the last by any means of David Haye, who can still play a part in the heavyweight division and will pick his moments when fitness allows him to.
It would also be nice if David Price gets back in the mix - and those fighters can bring some excitement back to the division and cause Klitschko problems. Wilder, Fury, Pulev... they're the people you want to see him in the ring with.
And then it's only a matter of time before our own Anthony Joshua comes in to take over the heavyweight division himself - which I'm sure he will. He's the best prospect I've seen in heavyweight boxing since Lennox Lewis and is looking formidable in every department.
Porter-Brook
IBF welterweight champion Shawn Porter made a big statement on Saturday night. He stopped Paulie Malignaggi in the fourth round - but he didn't just stop him, he did an absolute job on him.
I can't remember anybody treating Malignaggi that way before. Porter absolutely thumped him. He has made a name for himself and put himself well and truly on the map with that performance - in the best division in boxing.
At 147lbs you've got people like Floyd Mayweather, Manny Pacquaio, Juan Manuel Marquez, Marcos Maidana, Shawn Porter, Adrien Broner, Kell Brook and more... it's a great, great division.
There are big, big money fights to be had and Porter has landed himself a hot ticket with a demoralising stoppage of Malignaggi.
For me, though, it's very, very exciting to look ahead to Brook's mandatory showdown with Porter, which has to happen before July 19.
I rate Brook highly. He's an excellent talent. I've often thought his concentration has wandered in fights because he hasn't had the sort of challenge worthy of him, though.
He made handy work of the likes of Matthew Hatton but when fighting people such as Carson Jones - guys who aren't going to put the fear into Kell - he goes in with a casual attitude and doesn't perform as well as he should.
He and his camp have seen Porter, though, and they'll have a lot of respect for him. The fear element will be there for Kell, too, because he knows the American has the capabilities, not just of beating him, but of knocking him out. That for me will bring the best out of Kell Brook - and move him up to the next level.
We know how Porter fights - he's in your face, rough 'em up, wild and strong. I've seen him from ringside and I was very, very impressed. But Kell has boxing skills AND can fight. I think Porter has one game, which is very effective, but Kell has a couple of different ways; he can box, he can move, he can fight and punch.
That puts Kell in a very good position. It will be a tough fight because Porter looks a real handful but it's a fight I'm really looking forward to seeing.