Mikkel Kessler: Glenn McCrory says Dane can show how good his rivals are
Mikkel Kessler should have retired, says Glenn McCrory, but will not tarnish himself by fighting on.
By Glenn McCrory
Last Updated: 09/05/14 1:19pm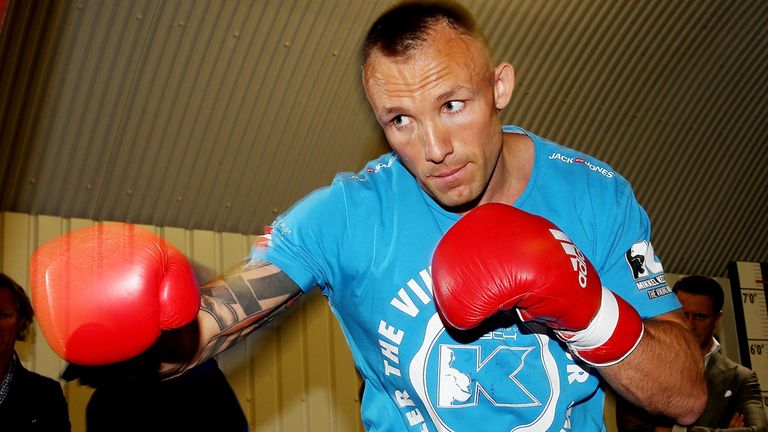 I don't want every fighter approaching their mid-30s to pack it in, I don't want that at all, but I don't like to see great boxers who have achieved so much go on too long and risk injury.
So from that perspective I would probably like to see Kessler call it a day, but now that he has revealed he will box on, I am interested to see who he steps into the ring with.
He looked done after his defeat to Froch but this is a guy whose only other losses have come to Joe Calzaghe and Andre Ward and who is a great competitor who has always given his very best.
Autumn
The Sauerlands will have to be careful with him as he gets on a bit, but I suppose 35 now is not what 35 was years ago, with fighters having better diets, medicine, fitness and gloves, as well as boxing less frequently.
There is not so much wear and tear as there was because the top fighters are only in action two or three times a year, unlike in the early 1900s when Harry Greb had 49 fights in one year.
The other plus for Kessler is that because of what he has achieved and because he is probably going to be fighting top names all the time from here on out, wins are not the be-all and end-all and he can enjoy the autumn of his career.
His legacy could get tarnished if he was beaten by a bum but if he goes down to Ward or Gennady Golovkin - and I think he would if he fought either of them - it will be no disgrace, as long as his performance was acceptable
With Carl Froch tied up with George Groves and the winner of that meeting James DeGale, the Golovkin match excites me as we are yet to see how he might go if he jumps up from middleweight to super-middleweight.
Kessler could tell us a lot about Golovkin and some other young fighters, so he can almost act as a yardstick for the big up-and-comers now - but he is also targeting a world title and with Sakio Bika and Arthur Abraham holding two of them, there are routes for him.
Quiet
As well as Kessler, the Sauerlands also look after David Price.
Price has been out of the limelight since he lost back-to-back fights with Tony Thompson, boxing - and winning - out in Germany and Denmark, and I think that has been a great move for him.
As Anthony Joshua will soon realise, when you have done well at the Olympics, especially as a Brit - Price won bronze at the 2008 Games in Beijing - you automatically have eyes on you and face scrutiny at every turn.
I don't think that's David's favourite thing as he is a pretty unassuming family man and because he fell apart against Thompson after looking fantastic up until that point I feel the pressure got to him.
So a quiet but active period away from the glare of Liverpool has done him good, as has teaming up with another private man Tommy Brooks, a great and knowledgeable coach who puts a fatherly arm around his fighters.
Doubts still remain about David's chin at the highest level but I'm sure he will pull it back together because he has the physical attributes to at least be fighting for a world title.