Brian Rose must go to war against Demetrius Andrade, says Glenn McCrory
By Glenn McCrory
Last Updated: 13/06/14 2:45pm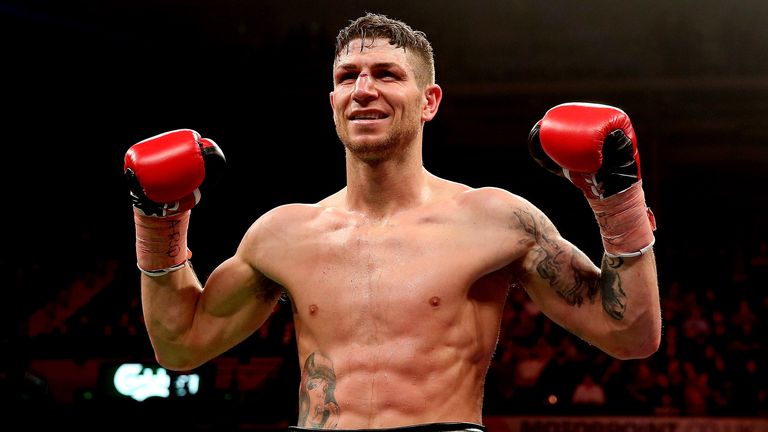 If Brian Rose is not ready for a world-title shot now he's never going to be.
He has had his ups and downs - the Jason Rushton situation really set him back - but he has come through those and done really well to get to the position he is in.
Whatever happens he will always be able to say that he fought for a world title, something that every boxer wants, and I am not going to completely rule out his chances of winning.
I scrapped and clawed my way to the world title and if Brian does the same he could win on Saturday.
Glenn McCrory
Demetrius Andrade has got decent quality - he is undefeated in 20 fights and is a former World Amateur Champion - but he hasn't done anything amazing as a professional and was floored in his last bout against Vanes Martirosyan.
As a 6ft 1in southpaw Andrade could be tricky, but he is not the sort of opponent that should put the fear of God into Brian, especially if Rose can get at him early, stamp his authority on the fight and take him somewhere he has never been before.
The key for Brian, though, will be how much he wants it.
FIGHT NIGHT INTERNATIONAL
WBO Light-Middleweight Title
Demetrius Andrade v Brian Rose
WBO Light-Welterweight Title
Ruslan Provodnikov v Chris Algieri
2am, Sat (Sun), Sky Sports 1
The pressure is really off for Rose as not many people expected him to get this far, so in that respect he can go out and enjoy the experience - but not too much.
If he is thinking things like: 'It's lovely to be here' or 'Wow, America's great' he is going to end up a loser, so he has to take the same view I did when I fought for the world title against the excellent Patrick Lumumba in 1989.
On the morning of my fight I was a massive underdog and read a headline that said 'Glenn's a goner' but that fired me up and made me realise that I wanted the world title more than anything and was prepared to die to win it.
I scrapped, clawed and warred my way to the title and if Brian does the same he could win on Saturday because Andrade does have a few areas which I think can be exploited.
Life
He is a tall lad but he likes to crouch and get involved by throwing wide and wild hooks - something that caused him to get smacked down the middle by Martirosyan - so if Brian keeps tidy and nails him with his right hand as often as possible, he could get some joy.
If Brian has the fight of his life - I'm thinking something similar to when Lloyd Honneyghan ripped Don Curry's title away - he MIGHT edge Andrade, but I have to go with the champion to retain, especially if Rose starts slowly.
Rose will be the star attraction for many Brits this weekend, but Ruslan Provodnikov is also on the bill and if you haven't seen him fight before you are in for an absolute treat.
I was on Ringside with Darren Barker on Thursday and when Provodnikov's name came up we looked at each other and said: 'Oh, my lord', because he is a member of boxing's must-watch club.
He is a fiercely hard man from freezing conditions in Siberia, but he is also a very fast, furious and exciting fighter and the nearest thing I have seen to the Tasmanian devil in a boxing ring.
Provodnikov only knows one way to box - and that is to have the mother of all tear-ups - and he elevated himself against Timothy Bradley, albeit in a losing cause, before winning his world title by beating Mike Alvarado.
He knows he can hang with the big boys and I really admire his steely spirit, a spirit that Rose, who has watched Provodnikov train in New York, is really going to need.
Let's hope Provodnikov has rubbed off onto Brian.