Burns v Zlaticanin: Burns will make a rejuvenated return, says Glenn McCrory
Trainers are only as good as their fighters
By Glenn McCrory
Last Updated: 30/06/14 12:48pm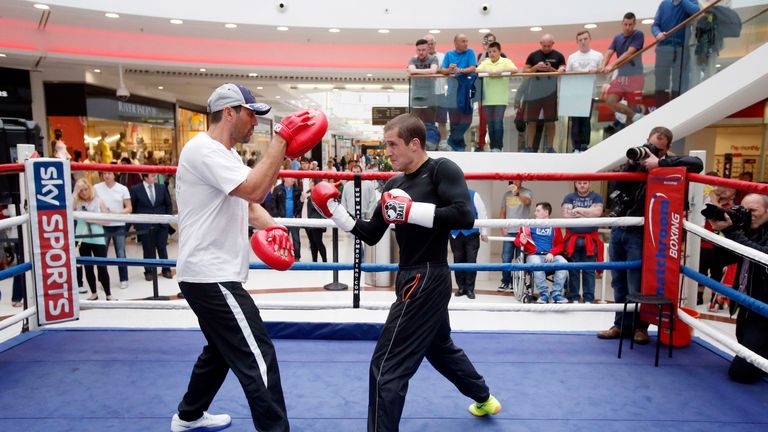 Are we going to see a new Ricky Burns on Friday night? I am not sure we need one.
We are going to see a new trainer in his corner in the shape of Tony Sims and they need to get past Dejan Zlaticanin and back to winning ways.
I am pretty sure Ricky will do that and for all the talk about the switch and the 'new regime', first and foremost it's all about the boxer. And a trainer is only really as good as his fighter.
We get all the hype and praise - and rightly so in some cases - about brilliant trainers and yes, there are some who are better than the others.
But some of those trainers are actually fortunate to get better fighters knocking on their doors.
The good trainers are the ones that bring them up from childhood - or at least their amateur days - and take them through to world titles.
Having a good trainer is like having a good parent, a best friend or just someone who suits you down to the ground.
You might get the best technical one the world has seen but if they can't motivate you, if you don't get on with them or if you just don't like them or can't listen to them, then it makes no difference how good they are.
Take Amir Khan and Freddie Roach. We have seen Freddie take Manny Pacquiao to the very top and we have just seen Miguel Cotto hit the top again with a new lease of life because it suits him at the stage of his life and his career.
With Amir, it might be the fact that he was second fiddle to Manny, it might just be Los Angeles and outside distractions; we don't know, but it just wasn't the right place at the right time for him.
One man's rubbish is another man's treasure and the trainer-fighter relationship really comes down to whether it suits the guy with the gloves on.
Split
And it seems to be the right time for Burns because we often see fighters move camps on the back of a defeat. It does not mean the trainer was to blame and it certainly isn't the case with Billy Nelson. It just means the fighter has hit a mental brick wall and they just need to hear someone else's voice, something new.
One man's rubbish is another man's treasure and the trainer-fighter relationship really comes down to whether it suits the guy with the gloves on.
Glenn McCrory
Ricky Hatton and Billy Graham had been together form the word go but once Ricky had reached the top, they split.
No doubt there were some behind-the-scenes issues and I do think a bit of trust had gone, but that can happen in any relationship. In and out of the gym.
People will point to Joe and Enzo Calzaghe as a classic example of how it can last but we all know, and Joe told us all at the time, that he nearly walked away to come to London.
And that is one thing that Ricky is doing. OK, you could say that after Terence Crawford he is not doing the thing Carl Froch did after he was beaten and out-classed by the best in his division - Andre Ward -  by sticking with his long-time trainer, Rob McCracken.
Maybe when it came down to it, Burns changing trainers might just have been a combination of things. In Glasgow, with a young child, those sorts of things start to get in the way and that makes it hard to stay focused, even when world title fights are coming up.
It was clearly a time to change everything. I don't think for a minute he would've got a new trainer and stayed in Glasgow and it is just the fact that he needed more of that, he needed to change everything.
Trust
They say a change is as good as a rest and I think that is the first thing we will see on Friday night. Ricky needed to change the situation and be able to fully concentrate on training.
Will we see anything different now he is under Tony Sims? Well, I think all we will see him looking rejuvenated and firing.
Sims' gym down in London is busy and that will keep Ricky busy. Sparring with Kevin Mitchell alone is a huge benefit, but throw in John Ryder, Martin J Ward and Luke Campbell, then you know that is going to get his juices going again.
He is away from the family, the friends and down here it means he is right on the game. Tony is a great guy as well and I am sure they will get on and slowly develop the trust and understanding.
Is there more to come from Ricky in the ring? Well, he has been a world champion before, so I am not sure there need to be changes.
Tony knows his stuff and the one thing that we all need and want is common sense. That is the most important thing because I think the best trainers and best fighters in the world know it is not rocket science.
And at the end of the day, it is down to the fighter.