'Groves is a goner'
Paul Smith told Ringside that he has the power to end George Groves' unbeaten pro record.
Last Updated: 03/11/11 7:13pm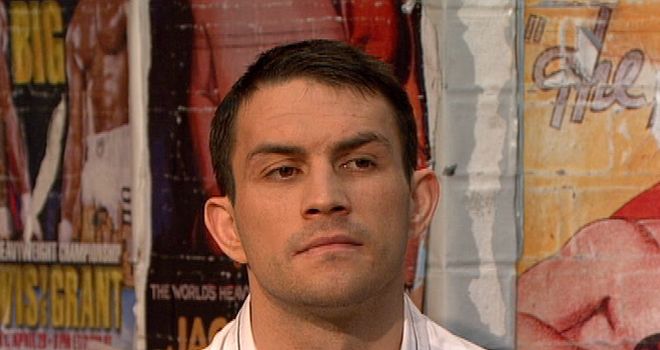 Paul Smith says he has the power to end George Groves' unbeaten pro record.
Smith, 29, believes he will beat the British and Commonwealth super-middleweight champion on Saturday at the Wembley Arena even though bookies make Groves, who has won 10 of his 13 bouts by knockout, the strong favourite.
"The bookies have got me as the underdog but I'm one million per cent confident of what I can do, especially in this fight," Smith told Ringside.
"It's a fight I've called out for, for a long time. He's there to be hit, he's there to be knocked out and I know I can punch hard enough to get him out of there.
"Besides that I know I've got the rest of the tactics if it becomes a 12-round gruelling fight, a 12-round boxing match, I know I've got everything to beat him."
Vulnerability
Groves returns to the ring for the first time since getting the nod from the judges to beat fierce foe James DeGale at the O2 Arena in May.
Five months earlier DeGale beat Smith by technical knockout in the ninth at Liverpool's Echo Arena.
Regardless of that defeat, Smith is adamant that he has seen sufficient weaknesses in Groves' armoury to take out his Frank Warren stablemate.
"As soon as the [Groves-DeGale] decision was announced, I said to Dean Powell 'can you make the fight?'," he said.
"It would have been a bit tricky with him being a Hayemaker fighter, but he's a Frank Warren fighter now and he's signed for the same promotional banner as me so the fight can be made.
"I had DeGale winning the fight beforehand; I had him on the night just squeezing past him.
"The vulnerability in him - he didn't show much of it in this fight - but I still think he's very easy to hit. A lot of DeGale's shots were glancing just by but he's had the same faults since he first turned pro, in my opinion.
"DeGale beat me fair and square but who better to beat James DeGale than someone who has sparred thousands of rounds with him and beat him in the amateurs?
"That was his first performance as a pro but it's whether he can only fight that one way, on the back foot; he fights on the back foot all the time.
"He's making noises that he is going to come out and stand and trade with me in the centre of the ring and I hope he does."